Book Reviews · 05/27/2013
Haven's Wake
by Ladette Randolph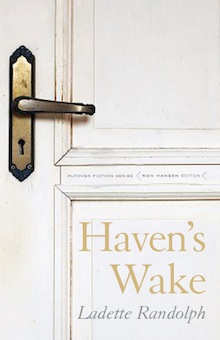 University of Nebraska Press, 2013
Haven's Wake by Ladette Randolph opens quietly in the pre-dawn hours as Elsa Grebel sits down to her piano and begins playing a Mennonite hymn. She is joined by her son, Jonathan, then gradually, by the other members of her family who are staying with her. Their voices and the music rise with the morning sun on this, the day of her husband Haven's funeral.
Here, the author plays against reader expectations, as the scene, far from giving a sense of comfort around death, instead shows Elsa's unwillingness to accept any comfort at all. Indeed, she uses the gathering as an opportunity to reflect on her various grievances and resentments toward the family members gathered with her.
Of her grown son, Jonathan, whom Elsa considers a "lost soul":
Only God's grace would help her forgive him his latest trespass. He'd broken her heart years ago, and he'd broken it again the night before.
And of her sisters:
They weren't the brightest of women, her sisters…But more than that, they were all fat. And why wouldn't they be? All they did was think about food…Elsa felt the tiniest bit of remorse for being critical of her sisters, but what other defense did she have against their relentless ganging up on her?
The opening chapter ends when Elsa, surrounded by her loved ones, ultimately finds relief in realizing they would soon all go away.
What Randolph demonstrates with remarkable skill in Haven's Wake is how a death in the family can open up old wounds, unearth buried secrets, and expose long-held grudges. Families are not at their best when grieving. They are in fact, at their very worst. The Grebels are a complex, hurting, angry bunch if ever there was one.
The setting is rural Nebraska, in the summer of 2009, in a community of Mennonite farming families. After years of drought, the landscape is blessed with gentle rains and bountiful crops. Aptly, Randolph features the huge Nebraska sky, God-like and watchful throughout, and also very aptly shows Nature insinuating herself eventually, wreaking havoc.
Given to us in flashback, Randolph's Haven presents as one of the most interesting characters of the book. He is a religious man but a conflicted, questioning one. He's a thinker, innovator, inventor; an advocate for peace and organic farming. In contrast, Elsa rarely goes against the rules or the status quo, everything she does motivated by a deep fear of offending her God.
The other central characters of the book are Haven and Elsa's grown children. Jonathan left the church and left Nebraska, living a reckless life until marrying Nina and settling in Boston. The older son, Jeffrey, once something of a golden boy, is now broken and depressed, cared for by his wife, Kathy. Another character, Jonathan's son from a former lover, Timothy, is a strange and troubled young man who was mostly raised by Haven and Elsa.
Jeffrey and Kathy's young daughter, Anna June, is a beautifully drawn character, a girl who "heard things people didn't say out loud. She heard memories in the grass of the pasture." Anna June and Haven shared a close bond. His death unmoors her. She compiles a "True Secret History" of the lives of the community members with the help of her father, who wants her to see things as they truly are. Though less heroic and spotless than the one she'd been helping her grandmother Elsa write, Anna June's history is honest, human, and compassionate.
Randolph displays a keen understanding of human nature and all the complexities of grief on every page of this novel. There are moments with each of the characters as the story unfolds that are so completely raw and honest as to take one's breath away. The grieving here are by turns devastated, angry, destructive, petty, distant. Randolph gives us all of it, in simple, uncluttered prose.
There is a strong attention to detail at work here, too, and the reader lives and breathes the story's place and time:
The windows were stiff with old paint, and Elsa had to struggle a little to get them open, but once she had, the morning air filled the room. She breathed in deeply, feeling as if she'd been holding her breath since the day before. She noticed the desiccated bodies of dead moths and flies in the bottoms of the window frames and resisted the temptation to clean. Outside she heard cattle lowing in the neighbor's pasture. A small plane droned across the fields. A meadowlark trilled in the ditch beside the gravel road. Inside a wasp knocked against the window glass, trying to get out.
At the novel's climax, one harrowing event in the family's past is eventually revealed to Anna June. This event informs the entire story of the Grebel family. It shines light on all of their behaviors and misdeeds and their tragic failures to connect and forgive. And much like Anna June's "True Secret History," Randolph doesn't coddle the reader, but gives us what we need to come to a greater understanding: that which is true and hard and lived.
+++
Ladette Randolph is the author of the novel A Sandhills Ballad and the short story collection This is Not the Tropics as well as the editor of two anthologies: A Different Plain and The Big Empty. She has published stories and essays in numerous literary journals. Currently the editor-in-chief of the journal Ploughshares and on the faculty at Emerson College, she was, for many years, an acquiring editor at University of Nebraska Press.
+
Kathy Fish's short fiction has appeared in Indiana Review, The Denver Quarterly, New South, Quick Fiction, Guernica, Slice and elsewhere. She was the guest editor of Dzanc Books' "Best of the Web 2010." She is the author of three collections of short fiction: a chapbook of flash fiction in the chapbook collective, "A Peculiar Feeling of Restlessness: Four Chapbooks of Short Short Fiction by Four Women" (Rose Metal Press, 2008), "Wild Life" (Matter Press, 2011) and "Together We Can Bury It" forthcoming from The Lit Pub.