Book Reviews · 10/14/2019
Happy Like This
by Ashley Wurzbacher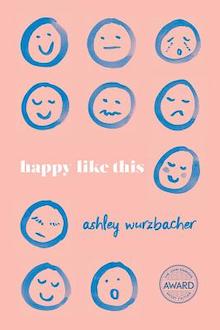 University of Iowa Press, 2019
"The line's so thin between here and there — sickness and health, better or worse, the things we place insistently, arbitrarily, at opposite poles." This is an observation of Mia's, the sociologist at the center of Ashley Wurzbacher's opening story "Sickness and Health" in her daring, often hilarious, and mostly satisfying debut collection, Happy Like This. That thin line Mia speaks of runs decentered through all of these stories, refracting delusions and proving that our own versions of happiness can look like a nightmare to someone else. Wurzbacher understands that happiness, as it's come to be known as a concept, is out of reach, beyond prescription, unknowable. In a time where the varieties of emotion are often referred to in absolute terms, especially in the social media era, it's refreshing to read an author who chooses to reside in murky grey areas of identity and feeling, especially in how they pertain to women's lives.
Wurzbacher received the prestigious John Simmons Short Fiction Award for the collection, chosen by Carmen Maria Machado, author of the acclaimed Her Body and Other Parties, and it's clear why. Where Machado's fabulous and fantastical stories upend the modern fairy tale, Wurzbacher's stories are sly and delicate, pulling at the strings that her protagonists have wound their identity around until they are left with a modicum of who they were before.
Throughout these ten stories filled with sisters, best friends, ex-best friends, dead best friends, and strangers, the lives of women are intensely examined and tested. Wurzbacher does this with clear and understated prose, yet pushes the conventions of the short story form in often fresh and interesting ways. For instance, "Sickness and Health" is told in the form of a dissertation on a group of girls with factitious disorders — footnotes and all — that breaks down over the course of the story, leaving Mia unable to separate herself from her subjects as she suffers from a recent breakup. She ultimately is unable to arrive at a conclusion, only able to pose more questions: "tell me, she might ask, in what realm can we be scholars of ourselves?"
In the standout story "Ripped," where this theme is most prevalent, Iris centers her entire life around her more beautiful and fit twin sister Circe. Iris even claims that they have the same dreams. Iris secretly sees Stefan on the side, a lover who likes to watch her do ordinary things like clip her nails or brush her teeth, and also not-so-ordinary things like remove a tampon with her leg propped up on the stove. The male gaze has never been more kinkily pedestrian. It is only with Stefan that Iris awakens to herself: "I become very aware of my teeth in my mouth, of each fine hair on my arms, of my toenails, my quiet breathing." Things start to collide when Circe asks Iris to help her prepare for a bodybuilding competition. Wurzbacher brings these two strands of Iris's life together in a reflection on body awareness that is exciting and unexpected. Ultimately though, it is the female gaze that the author really gets at, with an extreme, almost close-up examination of Iris's own inhabitation of her body to jumpstart her separation from her sister and become her own person.
While Wurzbacher's prose is always sharp and focused, occasionally the stories' double-down on symbolism and metaphor to tiresome ends, losing some of the freedom of structure and form seen in "Sickness and Health" or the magical-realist "What It's Like to Be Us." Some of the stories feel constrained precisely because they work so well by the modern laws of what a good short story is supposed to do. For example, in "American Moon," a story about Anna, an Italian foreign exchange student who moves to small-town Pennsylvania. This is an act that serves as an awakening for the narrator and her friend Sadie who both see their world as dead-ended and claustrophobically small. The "American moon" referenced in the title becomes suspiciously clear and a contrivance, its message clear as soon as Anna's plane lands. In "Fake Mermaid," a sex-less mermaid outfit becomes a stifled metaphor for sexual fluidity, involving some moments that stretch coincidence to a breaking point.
The author is at her best when she writes of the effects of grief on an individual, and the wormhole effect it can create in someone's psyche. All of these characters are struggling with grief in one way or another. Like in "Burden," about a ballet dancer suffering from postpartum depression and starts seeing her baby who she calls "Little Bean" everywhere: as a fly or a ghost. Or in "Happy Like That" where Elaine decides to go visit her dead best friend Lillian's ex-lover. (Wurzbacher isn't afraid of a convoluted situation.) When Elaine starts to discover some of Lillian's secrets, she realizes Lillian kept things from her, because she knew Elaine would be judgmental: "the fact was she had treasured Lillian's secret as though it were her friend's Achilles's Heel: a vulnerability, a sign of the imperfection that, after all, she'd needed Lillian to display in order to feel that they were equals."
Wurzbacher divides the collection into two sections: "Happy Like That" and "Happy Like This," reflecting ideas central to the stories, yet this structure becomes a sort of running joke for the collection as a whole. The women in these stories are all unique in their quests for happiness and self-identification, in their doubts and fears, so the sections become ambiguous as a grouping device, daring the reader to find clear commonalities while considering the dubious nature of emotion. Ultimately, Wurzbacher reveals how futile it is to categorize lives with clear-cut themes or boundaries. Being human is enough.
+++
Ashley Wurzbacher's writing has appeared in the Iowa Review, Kenyon Review Online, Prairie Schooner, Cincinnati Review, Colorado Review, Gettysburg Review, Alaska Quarterly Review, and elsewhere. She lives in Birmingham, Alabama, and teaches creative writing at the University of Montevallo.
+
Patrick Boyd
is currently a film directing
MFA
student at
UCLA
. He has written criticism for
Drunk Monkeys
. He resides in Los Angeles, California.