Book Reviews · 01/27/2014
Half as Happy
by Gregory Spatz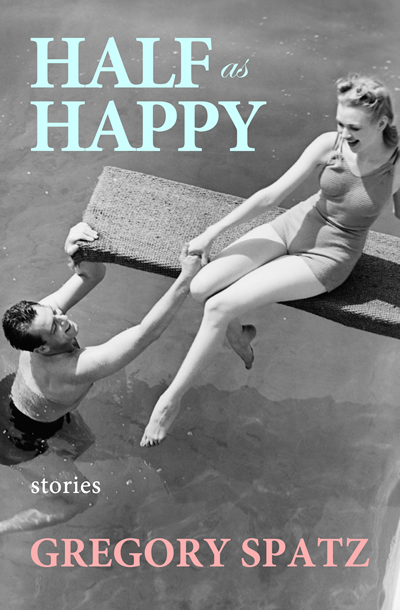 Engine Books, 2013
In his latest collection of stories, Spatz often looks to precious stones and minerals—a suitable preoccupation for a writer whose work combines a sense of deep mining and exquisite detail. A dead infant is "blue as a gem" in "Any Landlord's Dream." In "Happy For You," a woman is a "silver-town bordello queen." In "Luck," we meet another dead child—this one with "copper eyes." Among the tools in "The Bowmaker's Cats" is a "jeweler's lathe, shorn gold filings piled on the floor." Apartments are "carved" from "silver-miner's mansions"; pool water is "jade." There is beauty in these characters' lives, but it's often hard to the touch—a warning, perhaps, against lofty expectations.
Many of Spatz's characters have been hardened by grief. "Any Landlord's Dream" and "Luck" both center on bereaved parents. In the former, Seamus and Carolyne look for a new home after she delivers a stillborn son. Struggling through conversations with friends who have children, Carolyne thinks, "Family life […] One way or the other, if you had it or if you didn't, it ate you alive, spit you out in a waking dream."
Spatz plumbs grief persistently, seeking its variations—Carolyne and Seamus hardly resemble Margo and Herb, the mother and father in "Luck" who have also lost a child. Carolyne and Seamus seek resolution through sex, after a long hiatus in which he sees her as "off-limits" and she tries not to think of her body as "failed." When they finally reunite, Spatz approaches sentimentality but resists, with stunning results:
His shirt was halfway unbuttoned and his coat gone (when had that happened? Was it all that much of a blur? Apparently so), collar rumpled, gelled hair sticking up comb-like in disparate, serrated ridges. "Look," he said, gesturing. Sunlight sparkled on the parquet- tiled floor, in the glass in the windows, on every surface—russet, lemon, coming in prismatic bursts through the beveled edges of the dividing lights in the west facing window. "You made the sun come out."
In "Luck," Margo and Herb never reach such a transcendent moment—nor does the story want one. "Luck" is one of Spatz's grittier efforts, which may be part of its success. On a cruise to Alaska, Herb Zackowsky considers the difference between his upbringing and that of his (living) daughter Janelle.
[H]e'd worked this hard to give her the life he hadn't had—one without financial hardship, and without a booze-smelling, malign old man in cowboy boots, practically a stranger, chasing you around the living room with his belt in a fist because he'd lost his paycheck on a horse named Pagan, or because he hadn't lost at all and he was just plain mean. She believed the packaging: if it said "Fun" on the label, then fun it was.
Here Spatz shows his less lyrical, equally piquant side. Herb is one of the most vulnerable men in these pages. The owner of a chain of appliance stores, his discomfort with wealth is exacerbated by his disdain for his wife. "Quit putting on airs, he'd wanted to say [to her]. You're a farmer's kid from Yakima, and you always will be."
Privately, Herb berates himself as "a fool and a braggart." The story is already rich with conflict when Herb decides that he sees his daughter's killer on the ship. By the time he recognizes his mistake, he is standing at the man's dinner table, "towering over him." The man—unaware that Herb had just threatened to "bash" him, looks at him with "puzzled worry and politeness." Herb is not, in fact, a threat; he is confused and defeated by grief.
Spatz brings us to the brink of violence in the endings of two other stories: "String" and "A Bear for Trying." Both stories—particularly "String"—reveal Spatz's keen ability to build suspense. In "A Bear for Trying," Karl seduces his twin brother's girlfriend while his brother lies in the hospital. The confrontation between twins is not the story's strongest point—Eben catches Karl and Kelly holding hands in the hospital, and understands immediately. Later, when Karl breaks into Kelly's apartment, Spatz gets everything right: "coffeemaker in its spot […], bedspread on the wall […], blotchy antique mirror above the hearth." Into this familiar and silent space springs Kelly, "baseball bat in hand." She might suspect an intruder, but Karl has time to cry out, "'It's me!'" What we cannot know—what Spatz allows us to wonder—is whether or not this declaration spares Karl any pain.
In "Strings," two boys play a prank on a country road. We know someone is hurt—we hear "shattering glass"—but Spatz makes us wait to see the wounds. He suggests that it could be Ginny, a newly pregnant woman, so that we are guiltily relieved when it is not. The boys who played the prank are both cousins and half-brothers—a complication that may at first glance seem unnecessary—but "Strings," at its core, is an exploration of how and why any two people ever wind up side-by-side. The incipient violence here is a threat from the boys' uncle, whom we don't know well enough to grasp the threat's seriousness.
Spatz makes excellent use of hints and threats, flirtations and silences. His most provocative scene is a portrait of semi-restraint. In "Half as Happy," Stan drives his wife's best friend to the airport:
[S]he'd reach across the seat for the sip-cup of coffee between his legs, lift and drink from it and lower it again between his legs. She gazed evenly out the window or straight ahead at the dash between swallows. Again her hand appeared in his lap and again vanished, returning the cup[.]
Spatz's stories are filled with unfinished gestures, from Kelly's upraised baseball bat to Herb's aggressive stance—yet we know that something must follow those moments. Having made us curious—having shown us Carolyne's "nipples brown as blood pudding," having uncovered so much humiliation and grief—Spatz is inclined to feel merciful towards his readers. In doing so, he never compromises excellence; we are only partially sheltered, and there is still plenty to see.
+++
Gregory Spatz
is the author of the novels
Inukshuk, Fiddler's Dream,
and
No One But Us,
and of the story collections
Half as Happy
and
Wonderful Tricks.
His stories have appeared in many publications, including
The New Yorker, Glimmer Train Stories, Shenandoah, Epoch, Kenyon Review,
and
New England Review.
The recipient of a Michener Fellowship, an Iowa Arts Fellowship, a Washington State Book Award, and an
NEA
Fellowship in literature, he teaches at Eastern Washington University in Spokane. Spatz plays the fiddle in the twice Juno-nominated bluegrass band John Reischman and the Jaybirds.
+
Jackie Thomas-Kennedy
is a recipient of fellowships from the MacDowell Colony, Yaddo, the Ucross Foundation, the Saltonstall Foundation, Brush Creek Foundation for the Arts, and the Fine Arts Work Center in Provincetown. Her stories have appeared/are forthcoming in
Narrative, Glimmer Train, Georgetown Review, The L Magazine, Slush Pile, StoryQuarterly,

SLICE

, Canteen,
and the
Madison Review.