Book Reviews · 06/02/2013
Grind
by Mark Maynard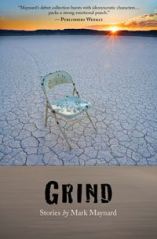 Torrey House Press, 2012
In Mark Maynard's short story collection Grind, the spotlight is on Reno, Nevada's surreal underbelly. A pawn shop owner is capable of a kind of psycho-kinetic, emotional transference; a horse-breaking work-release program allows inmates to taste freedom; a mysterious, schizophrenic homeless man wins a multimillion-dollar slot machine payout.
The small engraved plastic sign on top read, 'Mother Lode Casino/Split Any Pair/Dealer Must Hit On Soft 17/Tim Is An Eskimo Killer.'
Out of context, this line highlights one of the major themes of the work: the intersection of contemporary American culture — opulence, technology, cosmopolitanism — and the grungy West which has been epitomized in Gothic Westerns. Within the context of the collection's opening story "Jackpot," the line showcases Maynard's imagination and storytelling dexterity, his ability to create complex tension.
For the most part, the narrative is cinematic and objective, but there's a palpable empathy for these castoffs and underdogs, a sympathetic brushstroke in each character's portrait, which adds to the sadness of the work as a whole, such as in "Deadheading," a Steinbeckian tale about a tragically endearing truck driver named Billy Donovan:
"How's your peter built, Billy?"
That one always made him laugh. He knew it had something to do with both his truck and his pecker. He didn't get why it was funny, but the guys always chuckled, so he laughed along.
The stories within Grind often end without conventional resolution, and satisfyingly so. George Saunders, when recently asked about why his stories often end so abruptly, said that failure was a motif in his work and that he felt the structure of his narratives, and their subsequent endings, represented that. In this line of thinking, the structures of the Maynard's stories can be viewed as successful failures. They fail to wrap things up neatly, to deliver resolution, if only because the characters are personally denied that pleasure by Reno itself.
A check made out to Timothy Kelleher in the amount of twelve point two million dollars sits in a manila envelope in a vault at HDG headquarters.
Some of the symbolism is expertly subtle, such as in "Penned," a story about several inmates who are members of a horse-breaking work-release program. The horses represent freedom, virility, self-possession, but also recklessness and danger, and the men have to confront their fears, master themselves as well as the horses. Despite this, the story is not saccharine or overly mottled with sentimental redemption; Maynard's characters just experience what they experience and move along.
Although the dialog is often pleasantly consistent, it becomes unnatural at times, the characters reverting to obvious statements, which are conspicuous in their attempts to dredge out information and plot development. The language can also be a little hardboiled:
"Let's call out the troopers, they'll find him."
"No. There's only two places that he could be headed—one's eastbound, the other west."
"What's westbound?"
"The Blue Canyon exit."
"And east?"
"Palomino Ranch."
"The whorehouse?"
"Yep."
"Then let's head eastbound, friend."
Regardless of whether the dialogue is accurately representative of present-day Reno or not, it sometimes lends the book the feel of a cliché John Wayne film, cutesy in its attempt to be so "gritty." In places, the description also gets a kind of wonky, crammed-together feeling, such as in the opening sentence of "Sirens":
The radio crackled in Gus Shipley's fighter pilot helmet as he coaxed the throttle forward and tapped the stick to maintain his place in the formation of aircraft flying east over rocky slopes.
and unnecessarily informative and alliterative, such as in "Around the Bend":
Frances cracked two eggs at a time on the glass lip of a measuring cup, sliding the viscous yellow orbs onto a layer of butter already bubbling brown on the shimmering surface of the griddle. She added six strips of bacon, then turned her back to the sizzling mass of meat and eggs to begin the pancake batter.
The fact of the matter is that the best aspects of Maynard's style — his deftness with realism, his intensive scope, his creative idiosyncrasies — are sometimes undermined by his unnecessary descriptors and modifiers which belabor and cheapen the prose. At places it feels like ten pounds of description in a five-pound bag.
Whereas "Sirens," "Around the Bend," and "Letdown" (coincidentally) sometimes have trouble defining themselves, seeming to lack development and meaning, "Jackpot," "Trading Up," and "Deadheading" are great stories. They accomplish a sense of "fullness" or "satisfaction," and explore interesting ideas and situations.
For its length and scope, Grind is worth the read, if only because of Maynard's characters, people who are so touchably human and humanly broken that they live beyond the page. One could expect to find them meandering the streets and surrounding countryside of Reno, Nevada.
+++
Mark Maynard
earned his
MFA
in Creative Writing (Fiction) from Antioch University Los Angeles. His short fiction has been selected as runner up in the
Our Stories Gordon Fiction Contest
and as honorable mention in the Torrey House Press Winter 2011 Fiction Contest. His work has also appeared in
Shelf Life Magazine, The Duck and Herring Pocket Field Guide, the Tall Grass Wild Things Anthology,
and
the Novel and Short Story Writer's Market 2010.
Mark is the Fiction Editor for
The Meadow
literary journal.
+

Joe Trinkle lives in Philadelphia. His fiction has appeared or is forthcoming in Birkensnake, Pear Noir!, Atticus Review, New Fraktur Arts Journal, among other places. He is the author of White on White, a collection of short stories that is due out this fall.