Book Reviews · 08/25/2013
Grey Cats
by Adam Biles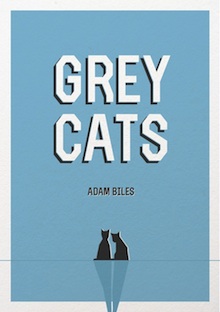 3:AM Press, 2013
In 2011, 450 novellas from 34 different countries were entered for the first Paris Literary Prize created by the legendary Shakespeare & Company bookshop and the de Groot Foundation. Grey Cats, set in Paris where its author lives, was one of two runners-up.
I must confess to bias at the outset: Paris is a city I know and love.
This is Paris, however, under a cloud of volcanic ash. Its title is a reference to the French expression La nuit, tous les chats sont gris. Literally, at night all cats are grey, or, as explained early in the text:
At night, everyone looks the same. Outside and in. Night is when the line between virtue and vice dissolves.
But I anticipate …
This is a Paris of subtly shifting shades – from the epitaph, taken from Tanizaki's In Praise of Shadows, through the deafened and disconcerting world of ash, to night and its disorienting threats. We begin on the terrace of Le Sélect, a well-known Parisian café on boulevard Montparnasse. The geography of Paris is there, named, as the narrator traces the route from his apartment to Le Sélect: rue d'Alésia, avenue Général Leclerc, Denfert Rochereau (and the Barrières d'enfer, in case we should miss the allusion), boulevard Raspail, Montparnasse. This is recognizable, solid as the three café patrons, the Tuxedos, at the end of their copious dinner.
And wham—four black-clad rollerskaters, "weightless wraiths", pursued by two whistle-blowing bicycle cops burst onto the scene, and one skater throws a blazing stick "that leaves a trail in its wake, blistering a line across the face of reality." The tone, the pace, has changed and we are faced with something neither we nor the narrator understands. This pattern of a sudden shock against a background of foggy, calming description recurs at strategic points and each time the narrator (and the reader) loses further grip on reality while the atmosphere of mystery and, yes, menace intensifies.
The story is one of the search for a loved one. The (unnamed) narrator wakes up in the middle of the night to find that his lover Melina is no longer beside him. Although this has happened before and Melina has previously come back, he decides this time to go and look for her. His search begins at Le Sélect where the waiter gives him a clue—a name and address – but warns,
The most common mistake … is to assume that the night is essentially the same as the day. It isn't. Things work differently after sundown.
He also suggests that Melina might not be pleased to see the narrator, nor want to follow him home.
So with flashbacks that uncover his life story, the narrator sets off. He meanders through the ashen night, in ever-descending circles of Paris, into a basement sex-club whose host is ASPHODEL (a name of many components: ash, ode, hades, Sapho, lash, Sade, hélas!), along the river. He encounters other street wanderers by night: a criminal possibly newly released from jail/potential suicide, various homeless people, mysterious "guides", the invisible Commissaire's wife, the skaters again …
Sometimes, the narrator's descriptions are sympathetic and strangely comforting:
Memories interred so deeply in the cerebral morass that I can't be sure if they are my own or if they are pilfered from picture books or films, long forgotten. Memories I wanted so much that I fooled myself into believing I actually had.
or
The tea is as thick as nectar; warm, bittersweet, restorative, grounding. It telegraphs good tidings right down to my bruised toes that wiggle gratefully in their socks.
The reader is dragged along or follows without protest. Paris anchors this tale of almost suffocating confusion. We can taste the ash, focus (just) on the well-known building across the river, hear the haunting Brel refrain "Ne me quitte pas" (Don't leave me) and recognize (late) another character in disguise.
Occasionally the ash-fog of Wonderland clears enough for the narrator/aspiring journalist (or author) to add details that should pull us up short, if we were not so entranced by the story. For example, those who frequent the Grands Magasins on boulevard Haussmann are described ferociously:
In the daylight hours moneyed swarms, with their grotesque, over-nourished, lolloping progeny, criss-cross from one store to the next, between cavalcades of shunting, honking automobiles, fumigating the neighbourhood with a tart and floral miasma of bourgeois despair.
Likewise the magnificent window displays of the Grands Magasins (traditionally an attraction for shoppers and tourists alike) are seen as "monstrous set pieces":
A dining room, fuschia pink, is crammed into the first window. A table at its centre – Doric columns for legs and loaded with candelabras, crystal goblets – rocks deliriously back and forth as a dozen marionettes dance a ring-a-rosy about it. Barely knee-high, they sport dwarfish evening wear – natty celluloid tuxes and chiffon ball gowns. The outfits may be finely detailed but the marionettes themselves are crude, twisted, it seems, from pairs of stuffed stockings. Hairless, mouthless, and with stitched-on black-button eyes, that glare through the window with a grotesque vacancy as they waltz past. A chandelier swings above the table, ridden like a bronco by another stuffed stocking, an empty champagne flute stapled to its fingerless palm.
The narrator is so involved in his observation of three separate vitrines that he fails to understand that the sacred din he hears is not coming from inside the window:
…a sinister rhythmic clunking that seems to make the very air around me shudder.

And then I see why: beyond the barnacled rump of the opera house, at the intersection with the rue La Fayette – an oleaginous sea of tall black skittles, a hundred, maybe more, their smooth round heads menacingly refracting the silver moonlight. … Score upon score of them, with black bowling-bowl helmets and arcing plastic shields.
Riot police are real.
I recognize this Paris that I cannot know. As will many readers. The author (re)tells a tale that mixes illusion, knowing, the impossibility of knowing, recognition, identity, night and dark, shadow and light, with all the textures and sounds. Few colours, except for Melina's blue dress – purchased in one of the despised Grands Magasins. And grey. There are actually two grey cats.
And did I say that the book is funny? Orpheus does not find his Eurydice but…
It was a tragedy, of course, but it was a comedy too – a distinction which suddenly seems unimportant. Life certainly doesn't make any effort to prise the two apart.
A treat.
+++
Adam Biles is a Paris-based writer and translator. Grey Cats was a finalist in the 2011 Paris Literary Prize, run by legendary Parisian bookstore Shakespeare & Company. In addition to Grey Cats he is the author of The Deep / Les Abysses, published by Editions de la Houle in Belgium.
+
Susan Jupp has worked in academic publishing in Canada and France and as an editor and communications specialist in international non-governmental organizations including the World Economic Forum, International Save the Children Alliance and Global Forum for Health Research. Originally from the United Kingdom, she has lived in Switzerland since 1977.