Book Reviews · 08/10/2015
From Here
by Jen Michalski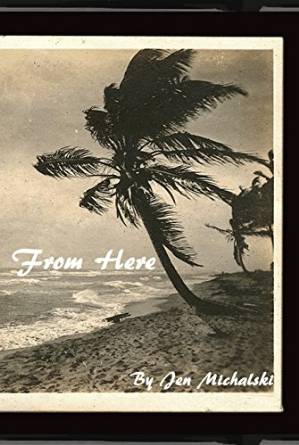 Aqueous Books, 2014
In her collection of novellas, Could You Be with Her Now, Jen Michalski showcased an incredible range in only two stories, capturing the voice of a mentally-challenged teenage boy and delicately portraying the joy and heartbreak of a relationship between two women of drastically different ages. Much like these novellas and her novel, The Tide King, Michalski's latest collection, From Here, confirms the power of her imagination, offering twelve stories that ultimately align more with the realism of her novellas rather than the magical realism of her novel. The opener, the short piece "Orion," is the sort of story at which Michalski excels. It's a mood-driven number that relies on the repetition of the word "They" at the beginning of each sentence to punctuate the feeling of unity that seems to evolve over the course of four pages. Michalski forges a path for her two subjects as they split a joint and a six-pack and join in a passionate session of lovemaking outdoors. Afterwards, the couple, whose gender remains unknown, lay naked, staring into the vast night sky until something unfamiliar catches their eye:
They watched as the leaves and branches waved to the moon. They saw something shiny moving in the tree, a moonchild. … They began to become a little afraid, because it really looked like a silver moonchild in the trees. They thought that maybe the moon had bestowed ethereal powers on it. They got closer but were really afraid.
What they discover is nothing more than a tangle of Mylar balloons, which they determine look like a constellation, but in their hazy state they cannot recall its name. The story ends with the two subjects gazing into the sky, having "connected the stars with their eyes," an act that seems to suggest the two have recalibrated their vision and expectations. The story suggests something of perception and how to accept the ordinary in a world that sometimes forces the unexpected. "Orion" establishes a tone that the rest of From Here follows.
The same kind of abruptness appears at the critical moment of "Dog Days," one of the instances in From Here where Michalski's portrayal of male characters feels most authentic. Centered on three young brothers and their trip to a neighborhood baseball field, the story captures the wide gulf of temperaments seen in three mischievous boys ranging in ages from nearing adulthood to soon-to-be-teenager. They clearly love one another, but in true brotherly fashion, they're highly critical of one another as well: "For the only one of us who plays baseball, Sandy is kind of fat. Which is funny, since so is his idol, fat fuck Roger Clemens." Swipe of a disgraced legend notwithstanding (although this may prove to be one of the funniest moment in the book for some readers), this sort of tone appears throughout, revealing Michalski's ability to create authentic and convincing voices for these boys. After a stray dog wanders onto the field and is ceremoniously adopted by the three boys, a fluke accident leaves the boys suddenly coming to terms with the death of the dog. This unforeseen change might rattle another set of boys, and admittedly, these boys do momentarily grieve, but given that their father has left them and their mother, these boys are more than equipped to deal with sudden and unexpected change, and they exhibit their quick-wittedness by coming up with a burial plan on the spot. The ending of the story reveals a powerful moment of brotherly bonding threatened only by the appearance of their over-worked mother. As the day concludes, the boys seek solace in isolation from one another in order to contemplate what they've experienced: "We each go to our rooms and stay really, really quiet for the rest of the night, reflecting on the nature of our sins". Their sins, perhaps nothing more than the everyday scrapes of young boys, weigh on them, but we see how their witnessing the death of a stray dog has matured them. Again, there's the subtle suggestion of a change in perception and how certain events can lead to a re-examination of the world.
Michalski's talents are most on display, however, when narrating from the female point of view, and of the many stories in From Here that take such a perspective, the few that come from the vantage point of teenage girls are perhaps the best the collection offers. "The Queen of the Swords" follows thirteen-year-old Tara as she slowly comes to an understanding of her eccentric next door neighbor Vanessa Falkenstein, a community college art instructor who at the onset of the story is seen throwing her dinner plates into the backyard. Her girlfriend has left, and Tara — still young and impressionable enough to be fascinated by the apparent tantrum — is drawn to Vanessa. She's soon visiting Vanessa and modeling for her, and in the process, Tara finds her view of the world changing just as the world's view of her is changing. It's no surprise that when Vanessa remarks to Tara that "Your body is ready to change" that soon after, Tara admits that her mother's glamour magazines, which Tara claims to read out boredom, were in fact nothing but lies: "I refused to believe that the universe Cosmopolitan advertised existed and often wondered why they spent so much time and money trying to create it." To accompany these changes, Tara dreams up a plan for a business she would one day like to start, a store that allows people to pay to break items. The destructive angle obviously mirrors Vanessa's demolition at the beginning of the story, and even though Tara is able to convince a few classmates to buy into her idea, by the end of the story, Vanessa has moved out, leaving Tara to navigate her budding world alone. The story ends cleverly as Tara roams Vanessa's abandoned yard, where the pieces of the shattered plates still remain. Michalski's parting image is of Tara retrieving one of these shards and running it against the scars she's gained from breaking items in her makeshift business. Sometimes this action results in a cut, and it's an indication of the great shift in Tara's life, perhaps an opening to a life full of opportunity as well as challenges. In either case, Tara, like many of Michalski's characters in From Here, is equipped for such possibilities by way of a broader perspective of the world she is now much more a part of.
The stories in From Here reveal a steady hand capable of astute development of character; on occasion the prose can be imagistic while some may find instances of bordering sentimentality, but through such highs and lows, Michalski continues to provide intriguing fiction worth applauding.
+++
Jen Michalski
's novel
The Tide King
was published by Black Lawrence Press (2013; Winner of The Big Moose Prize). She is the author of two collections of fiction,
Close Encounters
(So New, 2007), and
From Here
, as well as a collection of novellas,
Could You Be With Her Now
(Dzanc Books, 2013). In 2013, she was named one of "50 Women to Watch" by
The Baltimore Sun
and won a "Best of Baltimore" for "Best Writer" from
Baltimore Magazine
. She is the founding editor of the literary quarterly
JMWW
, a co-host of the monthly reading series The 510 Readings in Baltimore, and interviews writers at
The Nervous Breakdown
.
+
Brian Seemann
's fiction appears or is forthcoming in
REAL

, Red Savina Review
, and
Mojave River Review
, among other journals, and has been anthologized in
Home of the Brave: Somewhere in the Sand
(Press 53) and
The Mix Tape: A Flash Fiction Anthology
(Flash Forward Press). Winner of the William J. Stuckey Memorial Prize for fiction, a Southern Writers Symposium: Emerging Writers Contest Finalist, and an MA and
MFA
graduate of Wichita State, he currently lives in Colorado.