Book Reviews · 07/28/2014
Echo Lake
by Letitia Trent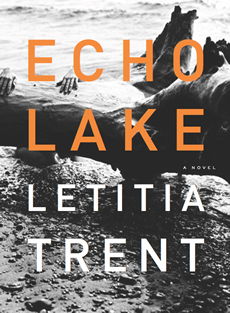 Dark House Press, 2014
Dark secrets are held below the murky surface of Letitia Trent's debut novel, Echo Lake. The author's previous outings with her two published poetry collections have served her well when evoking a textured landscape that is full of lurking trouble and withheld memories. The language, even when describing minutiae, feels tactile, which is suitable for a novel that concerns itself so much with what isn't there and what had once been.
The novel's heroine, Emily, is teetering between holding her life together and truly finding a relationship with her now dead mother, who appears in Emily's dreams. The thirty-something's life is fluid after a recent break up when she receives notice from a lawyer about the death of her great aunt, Fran, who was brutally murdered in her own home in Heartshorne, Oklahoma. Emily packs up and makes her way to the house—and inevitably the town—where so many unspoken secrets are trapped. The house, of course, butts up against the titular Echo Lake, a spot that carries a heavy mark on the town. It is listed as one of the most haunted spots of Heartshorne and Emily's mother even showed a strong dislike for the lake:
Heartshorne proper began with Echo Lake, a man-made lake still new enough that the dead trees, their branches blackened, broke through the surface of the water. Emily's mother had hated the lake…She'd told stories of teenagers jumping from the reservoir tower on dares and impaling themselves on trees still standing deep underwater and how in the summer, the lake released a yellow fog like condensed poison.
We weren't allowed to swim when it fogged up like that.
An ugly place. Cemeteries and trailer houses and animals all down there at the bottom.
The central pull of the lake is established early on and emphasis on its possible otherworldly quality is noted throughout the beginning chapters. It also manifests as dread in the inhabitants of Heartshorne as they deal with Fran's death and other unsolved murders and disappearances that have racked up in the previous weeks. However, for a locale so central to the plot that even the title bears its name, Echo Lake is always on the periphery. Its tangential placement is sometimes forgotten and the supernatural emphasis is less dastardly and at times, only marginally considered in the novel. The lake and its import are too occasional for a book trying to make sense of a town's secrets and its own connection to Echo Lake.
Yet, Trent has created tension by interspersing short sections away from Emily's narrative giving frightening peeks at the other murders and disappearances in Heartshorne. She even pens sections dedicated to Emily's mother as a girl in the 1960s who had gone missing for three days. Like all small towns, the truth is skewed and details are withheld—in short, no one really knows the whole story—and as her mother leaves Heartshorne behind, the other residents believe the family to be peripatetic troublemakers.
Echo Lake is part mystery and part search for a new perspective on one's own life. Sprinkled in are a few menacing characters who make up the landscape of Heartshorne, Oklahoma, where drug use has exhausted the residents. This final point being an excuse they use to repress the true crimes and deeds:
People disappear and the police investigate and the circumstances are always mysterious, the bodies rarely found, the disappearances called runaways, deadbeat fathers and mothers, suicides. Drugs, now, are the most popular.
The town and its inhabitants all feel slightly askew. Trent foregoes direct dialogue with quotation marks, creating speech that feels unformed and more like an echo itself. In more ways than not, this approach works for the narrative; the reader never really feels grounded in Heartshorne as Emily is trying to find her way in her new home. Where it feels as if this is a hindrance is with the progression of Emily's search as she steadily peels back Heartshorne's layers. For secrets that seem so heady and mythologized, most tumble out quite easily. Trent presents a concealed past that is too shameful to consider, but if you ask anyone directly, they are more than able to clear things up.
The search is not altogether as complicated as initially presented and the astounding qualities of Echo Lake are less weighty than the author wants us to believe. The dark prose, which so blanketed the first half of the novel, lets too much light in and what's illuminated isn't entirely inspired.
The moments of Echo Lake that marvel in the restraint of the narrative—not allowing too much to become clear for the reader—are strong suits. Revelation versus when to hold back information is unbalanced, but this can be distracted by Trent's attention to Heartshorne's details. Fran's house is the most specific of places and when Emily finally leaves it to visit the local church, the mayonnaise-drenched Ambrosia salad is saccharinely-sweet on the reader's tongue. Perhaps, it is the fact that Trent's writing is so strong that it becomes more obvious when certain plot points are languid.
The end sweeps over the novel both washing away and revealing Heartshorne's horrors. Whether Emily will stay in the small town is less a part of the conclusion and more about her late mother, who even in death pierced through moments of the novel. Although the momentum's trajectory could be inconsistent, the sensory prose and the attention to tone elicit a dreamy place, half dangerous and half comforting, where the characters are never quite as they seem and offer the potential for wicked terrain.
+++
Letitia Trent
grew up in Vermont and Oklahoma and spent her teenage years traveling with her flea-marketing parents. She received her
MFA
in poetry from Ohio State University. Her work has appeared in journals such as
The Denver Quarterly, Fence, Folio, The Journal, Blazevox,
and
The Black Warrior Review.
Her poetry collections include
One Perfect Bird
(2012) and
You aren't in this movie
(2012).
+
Ariell Cacciola
is a writer whose work has appeared in the
Brooklyn Rail, Words without Borders, Publishers Weekly, Monkeybicycle,
amongst others, as well as in journals and anthologies in the US and abroad. She holds an
MFA
in Fiction from Columbia University and is finishing her first novel. She can be found online at ariellcacciola.com and on Twitter at @ariellcacciola.