Book Reviews · 06/09/2014
Dreaming Rodin
by John Michael Flynn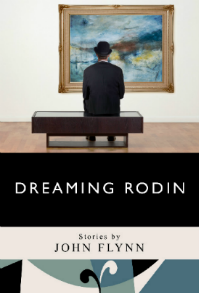 Publerati, 2013
We all intermittently lose our internal compass, whether it's from the physical disorientation of a new environment, or the psychological confusion concurrent with hunting for glories long passed. In these situations, logic clashes with ego, producing a mindset unable to see the proverbial forest from the trees, trapping an individual without the need of a cage. And while such internal suffocation hinders the verve of those afflicted, it often brings about excellent opportunity for narrative conflict: for what is story if not character, struggle, and resolution? John Flynn understands how these ornery methods of self-sabotage—the wrong turns, the wrong moves, the wrong words—fit perfectly into compact narratives, and he applies these moments of bafflement to the twelve stories in Dreaming Rodin, his second collection.
Though occasionally meandering in quality—Flynn unfortunately relies on inelegant info-dumps to establish some of his protagonists' vitals—the volume works best when the author trains his eye on domestic narratives. The book opens with "Pluto on Sundays," a fine appetizer of a story that focuses on the vivid imagination of Rollo, a young boy dragged to his grandmother's for a Sunday visit. While nothing tremendous transpires during this visit—Rollo decides his grandmother must be an alien; his mother scolds him and complains to her mother; Rollo eventually acts up and knocks over a pot of pasta sauce—Flynn chooses playful language throughout, fluctuating his vocabulary in a way that propels the tale to a satisfying conclusion.
This story also establishes Flynn's penchant for characters operating on multiple planes, with different personalities for different situations: internal and external; family and friends. "Where the Mountains are Tinged with Silver" and "The Size of Need" effectively advance this concept, with the first circling around a man's visit home after being mugged, and the second concerning a travelling salesman's attempts to scam the owner of a hot dog shack. With "Where the Mountains…," Flynn sharply illustrates the mindset of a man, Sal, trapped between being an innocent son and a flawed adult. As his mother stirs a pot of pasta sauce (there are quite a few scenes of mothers cooking pasta sauce in the collection), Sal fidgets:
He pops out of his chair and with two long strides he's at the sink next to his mother. He flattens emptied cans of tomatoes and Contadina paste and puree. He's taller than his mother, and it's easy for him to reach around behind her and toss the cans into a trash bin. Nora, frowning, ignores him.
As his mother urges him to do something about his mugging, firmly believing in the good of man, Sal moves as if on eggshells. He tells her he already spoke to the police, but he refuses to fill her in on other details of his life: his prescription for Valium, his lack of health insurance, his distrust of the police, and his perhaps romantic involvement with his male "friend," Kim. Sal knows these revelations will change his mother's perception of him, so he continues to exist as two beings, eventually leaving the house for a long walk to clear his head.
Likewise, in "The Size of Need," salesman Lenny, introducing himself as "Bertrand Kindred," uses his work personality to harness his best routine in convincing shop owner Most to purchase items from his suitcase of religious merchandise:
Lenny runs through his rules of thumb: never talk weather, never give up, and use every angle in the book to open the proceedings. Could take two beers, could take four. Quit at six or until you start slurring.
Obviously, "Bertrand" is not the true Lenny, and everything he says to Most exists purely to lure the man's desire. But what makes the story resonate is Flynn's wise decision to make Most more than a simple patsy. As the story continues, a chess match of sorts takes place, with Lenny gradually working to form his intentions and Most doing his best to deflect. The shop owner meets Lenny's feeble jabs head on, eventually turning the tables on his customer, and there's elegance in the way Flynn achieves this reversal, for it takes the reader by surprise as well.
Perhaps the best story in Dreaming Rodin, though, is "The Fig Tree," a piece that could fit snuggly alongside the best of John Fante's tales of Italian-American families. The basic storyline does not stray far from many of the collection's other stories: After breaking up with his girlfriend, Paul travels home from college for winter break, only to find his family home radically changed: his mason father is debilitated after a gallbladder operation, his bedroom has been cleared out, and his every move is met with disappointed looks. Here, while continuing to expand narrative through lost characters existing on multiple planes—Paul urges his parents to no longer call him Paulie, displaying the gulf between his college and home-life, as well as his state of limbo in waiting to be recognized as a man—Flynn also crafts a story with a huge amount of dynamic. Paul wants to grow up, yet flips out when his mother throws away his baseball card collection. Similarly, his parents feign happiness for their son's presence, yet secretly want to be vacationing in Bermuda. These constant tugs strengthen an already strong story, so much so that when Paul finally has a breakthrough moment with his father, a potentially sappy scene reads as incredibly powerful.
Of course, not all of the stories in Flynn's collection work. Some, like "R-Man the G-Unit," meander and end without fanfare, while others, like "Cajolery," never quite find proper footing, spinning their wheels and spitting out dialogue in rapid fire. Still, overall there's a great amount to like in Dreaming Rodin. The collection does an admirable job in speaking to both the ways in which we wander off of life's path and our attempts to right our way.
+++
John Michael Flynn, who also writes as Basil Rosa, has published five poetry chapbooks; a story collection, Something Grand; a book of poems, Moments Between Cities; and a collection of translations from the Romanian poetry of Nicolae Dabija, Blackbird Once Wild Now Tame.
+
Benjamin Woodard is a staff writer for Numéro Cinq Magazine and helps edit the literary magazine Atlas and Alice. His recent writing has been featured in Publishers Weekly, decomP, Cleaver Magazine, and The Bygone Bureau. Find him on Twitter @woodardwriter.