Book Reviews · 06/30/2014
Commentary (A Tale)
by Marcelle Sauvageot
Translated by Christine Schwartz Hartley and Anna Moschovakis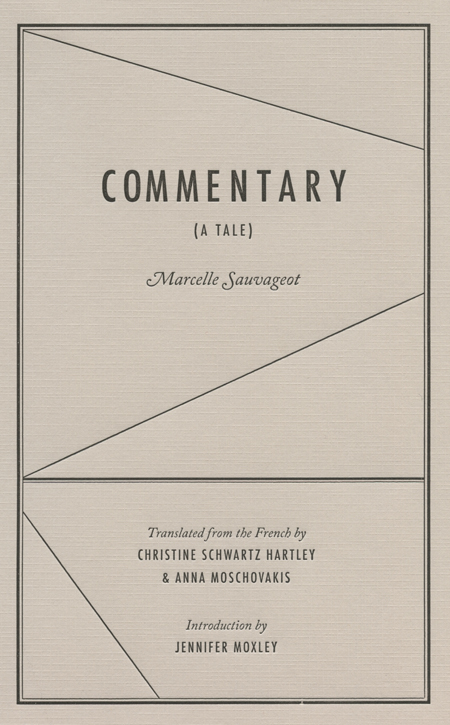 Ugly Duckling Presse, 2013
I bristle at the subtitle—"a tale"—appended to this edition of Marcelle Sauvageot's fascinating document, Commentary. Party I bristle because "tale" seems, in the context of this otherwise lucid and glowing translation by Christine Schwartz Hartley and Anna Moschovakis, an unusually quaint and antiquated rendering of "récit." But my unease with the appellation has less to do with its translation and more with its false framing of the book. The translators note that they pull this "tale" from a 1997 edition which, for some reason, invented for Commentary the subtitle "récit d'un amour meurtri" (a story—or, fine, tale—of a wounded love). There is indeed here a wounded love, but I would hardly begin to call this document a fiction, a story, a tale—even if it is, certainly, imagined. Commentary isn't a story, but an essay in the greater sense: it searches, it tries. It comments. It is not so much a récit-as-tale as it is a récit-as—a somewhat liberal translation here—an-account.
If there is a story here, it is this: the narrator travels to a sanatorium and writes letters to her past love who has abandoned her and who is now engaged to another woman. Tale indeed. But what is so riveting about this document—a word I continue, frustratingly, to return to in describing this collage of letters and unmarked sections which are, what, monologues? journal entries? thoughts-as-unmediated-linguistic-objects?—is its unflagging capacity for introspection and contemplation. Perhaps it is best to let Commentary be its own commentary:
I could let myself be a mess…the kind of lyrical, unexpected mess where every instinct is surrendered in words or cries so that later, the sure-handed steering of the soul can return it to its path to continue on.
Though "mess" is unfair, Commentary is nothing if it is not "lyrical" and "unexpected." Reading this document is like hopping on beautiful stones across a river—stones like: "I sense in my legs the almost voluptuous hesitation that makes you hold still when you have just one minute to take a decisive action" and "I look intensely at the sanatorium to absorb in advance all the suffering I will experience there." This document is intensely, beautifully self-aware: there are gorgeous periodic sentences which point back to their own periodicity and paragraphs which seem to exist only to point toward the paragraphic structure of the love they probe. I found myself trying to imagine what the original French sentences must have been—not because the English is in any way lacking, but because Hartley and Moschovakis's translation is so generous and rewarding that I wanted to experience the raw materials out of which they forged this subtle book.
Commentary is, too, a feminist document—and in this it is perhaps the most successful, most moving. Structurally, it is a document of a woman speaking; in her eloquent, powerful speech, the figure of the sanatorium with which the document begins fades into the background, the limp specter of a distinctly male version of how this "tale" might otherwise have been told. "O, Man!" she says, parodically turning the male gaze back in on itself with one of its most favorite cris-de-coeur,
You always want to be admired. You do not judge, you do not measure the woman you love. You are there, you take her; you take your happiness, she seems not to belong to herself anymore, to have lost all sense of anything: you are happy.
Later, reformulating this (as any good commentary must constantly reformulate itself), she says:
People say to a woman: "The man you were made for," and to a man: "The woman who was made for you." Can they envision: "The woman you were made for?"
This document is then, I still hold, not a tale but an essay. And perhaps the defining essayistic feature of Commentary is its intense desire to be present, as in this particularly brilliant insight:
I don't mind losing my head, but I want to capture the moment when I lose it, to push my understanding of my abdicating consciousness as far as it can go. We must not be absent from our own happiness.
It is this desire to be present, this exuberant desire to expand past the failings of language, that begins to spill out of Commentary as one learns to be a better reader of this enigmatic book.
Writing on two poems by Paul Celan, Phillipe Lacoue-Labarthe says,
A poem wants to say; indeed, it is nothing but pure wanting-to-say. But pure wanting-to-say nothing, nothingness, that against which and through which there is a presence, what is.
This is precisely the rubric in which Commentary operates: it is a pure wanting-to-say nothing, a pure desire for an articulated silence—a place beyond language, beyond especially the masculine language the narrator must continually reject—that ultimately becomes a palpable presence. This presence is a silence that dominates the center of Commentary. Less the silence of the unanswered letters and more the silence that inheres in emotions for which we are intensely present, Sauvageot has rendered more clearly in Commentary than in any other text I have encountered—or, at least, any other prose text—the silence of true irony. In an essay on Commentary included in this edition, Jean Mouton quotes Henri Gouhier's observation that:
An irony without malice or metaphysical pretention sheds a soft light on this devastated landscape, an irony that seems to be less a disposition of the mind than a quality in things.
Irony is language that points away. And in the way that any commentary must ultimately be a sort of "Would you look at that!" this book can't help but quietly point elsewhere.
+++
Born in 1900, Marcelle Sauvageot was connected to the Surrealists by friendship, love, and artistic practice, but has been excluded from the dominant narrative about that movement until a reissue of her single book, Commentaire (initially retitled Laissez-Moi), was published in Paris in 2002, prompting a revival of interest in her work and inspiring a successful one-woman show in Paris. She died in 1934 of tuberculosis.
+
Christine Schwartz Hartley is a freelance editor and writer based in Brooklyn. She has translated Venus of Khalakanti, by Angèle Kingué (forthcoming from Griot Project Book Series/Bucknell University Press); Kate Moss: The Making of An Icon by Christian Salmon (HarperCollins); Mamika: My Mighty Little Grandmother by Sacha Goldberger (HarperCollins); and African Psycho by Alain Mabanckou (Soft Skull Press).
+
Anna Moschovakis is the translator of The Jokers by Albert Cossery (New York Review Books Classics), which was shortlisted for both the Best Translated Book Award and the French-American Foundation / Florence Gould Award in 2011. She has also translated The Engagement by Georges Simenon, The Possession by Annie Ernaux and Nazis dans le Métro by Didier Daeninckx.
+
J.M. Gamble is a PhD student in English & Women's Studies at the University of Michigan. He edits poetry at Sundog Lit.