Book Reviews · 08/01/2016
Bystanders
by Tara Laskowski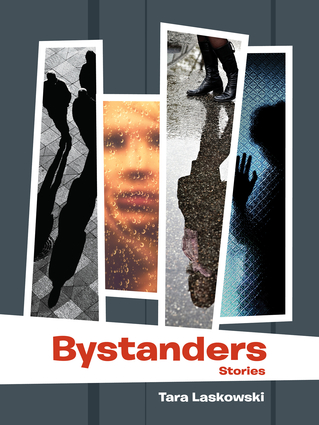 Santa Fe Writer's Project, 2016
The thirteen short stories in Bystanders are filled with imperfect, guilt-ridden men and women at crossroads in their lives. Many are starved for change and want to make daring choices, yet shame, responsibilities, and self-loathing keep them trapped and unhappy. In their paralysis, they are spectators to accidents, hauntings, bad acts, and misplaced love.
In "The Witness," Marie, a young wife, is an eyewitness to a little boy being hit and killed while riding his bike. In the following days, Marie becomes fixated on the man who was driving the car. Her empathy is showered on the driver, to the point where her lack of attention to the boy seems almost callous. As the story unfolds, it is revealed that Marie is about to end her marriage and destroy her husband's life:
She opened her eyes, and looked at Bud through her tears. He looked like he was ready to crumble with worry, his eyes large and focused, this man that she'd promised so much to a long time ago when they were both different people. "No, Bud. I mean it's really over," she said, and waited for the impact to register.
Other characters in Bystanders overstep into the personal boundaries of those around them. They lurk in the shadows, unseen, and attempt to temporarily abandon their lives out of boredom, disappointment, and fear.
In "There's Someone Behind You," Ruthie is having an affair with William, a married man with a high school-aged son. Like a ghost, Ruthie haunts William's family. First, she visits his son's workplace; then she sneaks into Williams's backyard and taunts his wife. The scene Laskowski creates with Ruthie and William's wife with nothing but the darkness between them is disturbing in its simplicity and one example of the accomplished writing throughout the collection.
Myra, the main character in "The Monitor," is a new, uncertain mother who is visited by her neighbor's dead child through a glitch in their video monitors:
When the flash of movement came in the top corner of the monitor, Myra thought she'd just imagined it. But then she saw it again. A face, peeking into the room. It was a little boy. Like he was playing peek-a-boo, his face would appear in the doorway and then duck back fast. The baby continued to sleep.
As Myra struggles with the responsibilities of an infant and the apparition's visits through the baby monitor, she grows distant from her husband, Corey. Instead of pushing through the emotional wall, she creates a list of all the "Things I Can't Tell Corey":
He works too late.
I have dreams that I accidentally break Eva's fingers trying to get her shirt on.
Eva has fallen off the bed twice when I wasn't looking.
I hate him.
I want him to show me his cell phone text messages.
The tortellini pasta dish he likes so much is not low-fat.
The red tie he bought on sale is ugly.
The Boy is going to kill the neighbor's child and I don't know what to do about it.
Laskowski keeps the reader shifting and off-balance, uncertain if Myra is displacing her fears onto this other mother and child or if there is something more sinister at play.
In "The Oregon Trail," a young couple with a three-month-old baby abandon their life and decide to explore the "Oregon Trail, albeit backwards" because "that's what people do when they are afraid":
"So is it all you thought?" Craig asked. His hair was tossing about and he looked thin, like the storm might just scoop him right up. It occurred to me that sometimes being a true pioneer meant protecting the ones with whom you were taking the journey. "Oh yeah," I lied. "It's exactly what I imagined."
Many of the stories in this collection delve into deeper questions of when and how to relinquish the desire to understand the inner workings and choices of others and leave them to their own fates.
Nati, the middle-aged owner of a lingerie store in "Support," receives a letter from her late husband who, it turns out, faked his death eight years before: "Parts of the letter kept coming back: I know you can't understand…I was a different person then…the routine of it all…tired."
Nati is forced to choose between meeting with her husband and getting answers for his betrayal or being a support to their daughter whose marriage is falling apart. As she struggles with trying to choose her future or her past:
She thought of an article she'd read once—some science fiction piece or philosophy—something about all the different worlds out there that disappear every time you make a decision, all the doors that close that you can never go back to.
Jack, in "Scabs," crosses the picket line at the town newspaper where he works, incurring his father's disdain. His father, a union member, vocally disapproves of Jack's choice and allows others to judge and abuse him. After a night of drinking, Jack scatters newspapers over his parents' rain-drenched yard. As in many of Laskowski's stories, a shift in awareness occurs, leaving room for redemption. Jack puts himself in his father's shoes as he imagines him cleaning up the soggy newspapers: "What it is, is: When the dirty deed is done, you still have to look at yourself in the mirror."
The thirteen stories in Bystanders zero in on the anxiety and doubt that most adults feel at times in their lives. Her characters are new parents, those who struggle with lost love and lovers, and others who bear the heavy weight of disillusionment, dying dreams, and passing years. Laskowski looks directly at the ambiguous aspects of life and refuses to look away. The everyday and mundane become electric, filled with uncertainty, danger, and intrigue. These characters are every man and woman who has ever made a choice and then regrettably had to un-make that decision. It is hard to read these stories without empathizing with these flawed and intensely familiar characters. Laskowski's collection is a pleasure to read and stands as a testament to the rich life short stories still have in our world.
+++
Tara Laskowski grew up in Northeastern Pennsylvania and now navigates traffic in the Washington, D.C. suburbs. In addition to Bystanders, she is the author of Modern Manners For Your Inner Demons (Matter Press 2012). Her fiction has been published in the Norton anthology Flash Fiction International, Ellery Queen's Mystery Magazine, Alfred Hitchcock's Mystery Magazine, Mid-American Review, and numerous other journals, magazines, and anthologies. She was awarded the Kathy Fish Fellowship from SmokeLong Quarterly in 2009, and won the grand prize for the 2010 Santa Fe Writers Project Literary Awards Series. Since 2010, she has been the editor of SmokeLong Quarterly.
+
Lisa Heidle
is a writer and editor. Her book reviews and short stories have appeared in
Sabal Literary Journal, the Chattahoochee Review, Rebecca's Reads,

WOW

! Women on Writing, Scratch Anthology, Flash Fiction Magazine
, and more. Lisa will be releasing a short story collection in 2016. You can follow her blog at
moderndayscribe.wordpress.com
and Twitter at
@lheidle08
.