Book Reviews · 01/05/2015
Bright Shards of Someplace Else
by Monica McFawn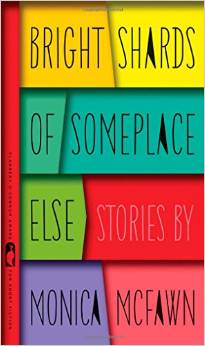 University of Georgia Press, 2014
The title of Monica McFawn's debut story collection, Bright Shards of Someplace Else, comes not from the title of one of the eleven stories, but from a character's thought in one of the many moments of longing found in McFawn's work.
Marti, one of two older women who've given their lives over to caring for broken down animals in the story "Snippet and the Rainbow Bridge," wants a cigarette. She also wants to drink, wants to go into town and dance, but instead, Marti stays put, having made peace with her many unmet wants throughout her years of caretaking. To cope, she squeezes her eyes shut and watches the colors that burst across her mind's eye, remembering the stars she saw when pushed to the ground by her stepfather: "Those flashes of light…They were bright shards of someplace else, she always thought as a kid, evidence of another world peeping through."
One of the 2013 winners of the Flannery O'Connor Award for Short Fiction, McFawn's Bright Shards of Someplace Else offers ample evidence for those other "world[s] peeping through." Her characters, like Marti and her partner, are often positioned in familiar settings, but McFawn's exacting prose reveals how these people toe the edges of normalcy. McFawn sometimes teases out the strangeness, as in the first story, "Out of the Mouths of Babes." What begins as a straightforward setup—a new babysitter, Grace, meets a coddled child—turns into eerily unexpected intimacy. McFawn deftly paces the action between Grace and her charge, slowly pulling away our ideas about what kind of person Grace may be:
Grace ranged wildly in her talk to the boy. She felt, sometimes, that he was the perfect confidant—mature enough to understand, young enough not to have his insight clogged up with learned falsehoods. At those moments, she talked to him like a man. Other times he seemed more like a dog or a cat, some questionably sentient being to whom she could spew her thoughts without concern about judgment or even comprehension…Or she sometimes spoke to him like an object, a key stuck in a lock, and in these cases she mumbled to herself about him while looking at him: Stop it. Stop. He's just a little boy, you shouldn't be talking to him this way.
The final result is a darkly humorous story that throbs with real tension and danger, and sets the tone for the rest of this fine collection.
The stories range in subject matter, but common themes emerge. Horses, and the people who care for them, appear in a few stories, but these animals are arguably functioning in the same way as Grace's secrets—the stories in this collection are most concerned with how the individual's passions affect their experience in the larger world. McFawn's characters include a zealous horsewoman, a slightly obsessive amateur mathematician, a passionate teacher questioned over the death of a student, a biologist turned outsider artist—all possessing strong motives and passions. McFawn's stories play with the ways in which these drives can create or reveal conflict.
In "A Country Woman," one of the shortest, and more stylized stories of the collection, McFawn describes an unnamed woman who serves as a kind of reverse mirror. She displays those traits that others seem to lack, "that is, if you are slothful and prone to depression she will be whistling and weeding in the single place in her yard that you can see from the recliner you have not left since last night." The community feels rankled, judged, by her industrious nature. But then, like a woman from a fairy tale, the country woman simply disappears: "We listen for her like the clear tone of a bell long after being struck, a kind of warbling vibration that held us in thrall while we waited for it to cleanly end…Hers is the most palpable of absences…"
The impact of absence is another theme explored in these engaging, insightful stories. The final story, "The Chautauqua Sessions," brings together Danny, a former lyricist, with his recording partner for a creative reunion, but the session is interrupted by a visit from Danny's junkie son, Dee. When Danny recalls Dee's upbringing, he notes the way it was colored by his interactions with his own father:
I'd been raised by a cold, withholding father who demanded dark and silence whenever he got home from work. When I would fix him his drink, I'd place it into his hands with the gentleness of a small spider, its legs no more than filament. I treated Dee with the same delicacy, only touching him lightly if at all, and when I hugged him I did not even press away the air under his baggy shirt.
The absence between father and son becomes the gap between truth and lies, reality and imagination as Dee tells a wild tale of getting suddenly sober after saving a man's life. In lesser hands, this story could become maudlin and trite, but McFawn skillfully manages her narrator within his community of family and friends to reveal the impact of years and years of distance, both physical and emotional.
A satisfying and entertaining read with consistently excellent prose, Bright Shards of Someplace Else is hopefully the first of many collections from Monica McFawn.
+++

Monica McFawn
lives in Michigan and teaches writing at Grand Valley State University. Her fiction has appeared in the
Georgia Review, Gettysburg Review, Web Conjunctions, Missouri Review
and others. She is also the author of a hybrid chapbook,
A Catalogue of Rare Movements,
and her plays and screenplays have had readings in Chicago and New York.
+

Caitlin Corrigan
lives in Portland, ME. Her fiction, reviews, and essays have appeared or are forthcoming in
Word Riot, SmokeLong Quarterly,

PANK

, The Review Review, The Nervous Breakdown, English Kills Review
, the
Tin House
Open Bar blog, and elsewhere. She can be reached at:
www.caitlincorrigan.com
or on Twitter:
@corrigancait
.