Book Reviews · 02/27/2017
Between Life and Death
by Yoram Kaniuk
Translated by Barbara Harshav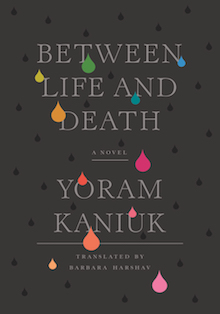 Restless Books, 2016
Were Yoram Kaniuk to change that age-old adage about the only guarantees in life, he might have revised it to death and illness. A largely autobiographical novel, Between Life and Death is the final book published by the prolific Israeli writer. It can be read as a sort of comedy of errors, with Yoram's body taking center stage and the errors being his continuous ailments. Kaniuk's outlook is never exactly cheerful, yet he maintains a tone of restrained optimism and wit throughout his various ordeals:
I thought, despite the death that was lurking for me twice yesterday and seemed determined to harm me, I was quite a healthy man," he says. "Old age had indeed leaped on me as it leaps on all of us, and age isn't something that showers favors and not a big holiday either, and my blood pressure is quite high, and I've got back problems and migraines, and I had a prostate operation, and once I had herpes like Golda, which was an affliction, that is both of them, herpes and Golda.
This is a good example of Kaniuk's wry sense of humor. The Golda referenced here is Golda Meir, the fourth Prime Minister of Israel, whose tough reputation earned her the nickname "Iron Lady" before Margaret Thatcher, and whom I doubt has ever before been employed as a yardstick for the severity of an STI.
Throughout the majority of the novel, Yoram is hospitalized, in and out of a coma, and the narrative follows him in and out of consciousness. He is visited by old friends and family members, although it is clear that some of these visits are hallucinations. Flashbacks are intertwined with the present narrative, and it's not always clear what is real and what is a delusion brought on by his condition. This makes for a thin plot, but an easy platform for Yoram to reflect on the experiences of a long and full life. He remembers lovers and achievements, as well as darker moments, including his time in the Palmach and connections to the Holocaust: "A woman once showed me a photo from Tarnopol where you see masses of people, and my family too, standing in two lines and German soldiers are shooting them and in a little while they'll fall into the ditch that they themselves dug before."
Translator Barbara Harshav has over two decades of experience in translation in several different languages, and this is the second book by Kaniuk that she has translated into English. Between Life and Death is a finalist for the 2017 PEN Translation Prize. For Kankiuk, who died in 2013, the notice could bring a wider recognition and greater audience outside of Hebrew readers.
The ultimate conclusion Yoram arrives at after coming out of his four-month coma is this: "there's no meaning to my life or to the life of anybody else." Yet this pronouncement doesn't come across as an expression of sadness or despair. For Kaniuk, life does not need a "meaning," rather the value of life is in all the day-to-day experiences, both the pleasures and sufferings alike.
+++
Yoram Kaniuk
(1930-2013), one of Israel's leading writers, was born in Tel Aviv. After being wounded in Israel's 1948 War of Independence, he moved to New York for ten years. A novelist, painter and journalist, Kaniuk published many novels, memoirs, short stories, non-fiction and books for children and youth. He was awarded many literary prizes, including the Ze'ev Prize for Children's literature (1980), the Brenner Prize (1987), the Prix des Droits de l'Homme (France, 1997), the President's Prize (1998), the Bialik Prize (1999), the Prix Mediterranée Etranger (2000), the Book Publishers Association's Gold Book Prizes for five of his books (2005; 2010), the Newman Prize (2006) the Kugel Prize for Lifetime Achievement (2008), the France-Israel Foundation Award (2010), the prestigious Sapir Prize (2011) and the Italian
WIZO
Prize (2013). In 2011, Kaniuk received an Honorary Doctorate from Tel Aviv University, and, in 2012, the prestigious French decoration of Officier de l'Ordre des Arts et des Lettres. A feature film based on
Adam Resurrected
, directed by Paul Schrader, was released to critical acclaim in 2008. Kaniuk's books have been published abroad in twenty languages.
+
Barbara Harshav has been translating works from French, German, Hebrew and Yiddish for over twenty years and has currently published over forty books of translation including works of poetry, drama, fiction, philosophy, economics, sociology, and history.
+
Thomas Michael Duncan
writes fiction, fact, opinion, and the occasional bit of nonsense. A recent escapee of upstate New York, he lives in Lexington, South Carolina. You can haunt him on twitter
@ThomasMDuncan
.