Book Reviews · 08/24/2015
Beneath the Neon Egg
by Thomas E. Kennedy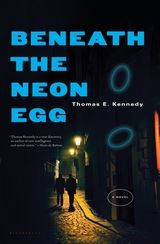 Bloomsbury USA, 2014
Equal parts rumination on starting over in middle age, a love song to Copenhagen, the tale of a man belatedly growing up, and a mystery story, Beneath the Neon Egg, the final installment in Thomas E. Kennedy's Copenhagen Quartet, follows its Irish-American protagonist, Patrick Bluett, through the course of a winter in Copenhagen as he attempts to rebuild his life after a bitter divorce. Taking the chapter titles from jazz standards (with the occasional nod to pop and rock groups like Bad Religion, who Bluett's daughter fancies), Kennedy structures the novel after John Coltrane's A Love Supreme, imbuing his prose with the improvisatory quality of Coltrane's music. Yet while Coltrane's magnum opus found its composer obsessed with spiritual purity, Kennedy's protagonist seeks love of a decidedly earthly variety, one that eludes him until the novel's climax, when the crime plot intersects with Bluett's quest for the perfect woman, and Bluett realizes that when it comes to romance, he might seek the divine in the mundane.
When we meet Bluett, he's ditching work on a wintry Friday afternoon to liaison with the wife of a colleague, who induces him into bed not just with her, but also with her husband's — Bluett's colleague's — sister. Self-employed as a translator, Bluett spends his nights barhopping in Copenhagen, walking through the city with his Discman, seeking live jazz and willing women. The season being winter, we understand he's hibernating. Like the lake out his apartment window, Kennedy suggests, Bluett is frozen. Middle-aged, with fatherhood and married life behind him, he wonders what's left. "'Those wasps are like us,'" fellow divorcee Sam tells him over lunch. "'Their work is done, their queen is dead, the hive is gone. They have nothin' to do now but take what pleasure they can get from the little time left before they freeze to death or get swatted out.'" Shallow though this rationalization for hedonism might seem, Sam's words prove prophetic. His pursuit of pleasure undoes him, throwing the conflict between Bluett's desire for a relationship, or at least meaningful consummation, and empty sexual encounters into sharper relief.
If it sounds like Bluett is experiencing a midlife crisis — or a second adolescence — he is. He rejects his coworker's wife — reasonable though that choice might seem — not out of any qualms about his own behavior but because her sexuality (their threesome) proves too much for him. Eventually he settles on the novel's love interest, Liselotte, but either he's not ready to move on after his divorce, or he isn't mature enough to handle a relationship. In one comic scene that walks a fine line between inspiring pathos and being merely pathetic, Bluett looks up the word intimacy in the dictionary, trying to come to terms with what he's feeling for a woman who seems the perfect companion — until she wants more. "'I hate these questions. I hate this conversation. It reminds me of everything I hated about being married,'" he tells her when she tries to pin him down to a commitment. As much as we appreciate Bluett's desire to remain unfettered, he exasperates us as much as he does Liselotte.
As the novel gains momentum, many of the strongest scenes occur between Bluett and his children. Like Liselotte, Bluett's children get him out of his head; they force him to stop hypothesizing about love and to act, to make the word love a verb. The novel asks real questions about masculinity, about family, and especially — as so much of Kennedy's work does — about fatherhood and the compromises adulthood entails. When son Tim says he wants to take a year off college, Bluett tries to talk him out of it: "Bluett hears what he is saying, hears cliché after cliché, knows that he is saying what he wishes his own father had said to him all those years before instead of giving him permission to do what he pleased, make his own mistakes, his father who was too lost in his and then died." Bluett's awkward attempts at renegotiating his relationships with his children make him relatable, redeeming him in the reader's eyes, which is what ultimately causes the novel to succeed.
The crime plot keeps the reader turning the pages, and if the good woman-bad woman dichotomy Kennedy establishes early in the novel comes dangerously close to reducing his women to goddesses or (literally) whores, fortunately, Bluett grows out of that, too. In the end, Kennedy works a twist on noir formula, undermining genre tropes, writing a mystery that's also a tale of personal transformation. Perhaps as a result of watching his friend Sam unravel, Bluett achieves a synthesis of which he hardly seems capable — never mind worthy — at the beginning of the novel. And though she might be the novel's antagonist, Kennedy gives us enough context to understand why Svetlana Krylova behaves the way she does.
Bluett seems a typical Kennedy hero. Like Breathwaite in Falling Sideways or Kerrigan in Kerrigan in Copenhagen, two of the other stand-alone novels in Kennedy's Copenhagen Quartet, he's a literary man who has made compromises, balancing the Dionysian excesses art and literature promise practitioners with the mundane reality of making a living, not to mention sustaining a marriage or raising a family. Yet in compromise, Bluett finds maturity, dignity, and freedom. Over the course of Beneath the Neon Egg, he discovers an adult sexuality that seems to reconcile his carnal desires with the practical realities of a romantic relationship. The world might not need another book about men behaving badly. But the world might desperately need more books about men learning to live within their limitations and — however belatedly — growing up. This is one of them.
+++
Thomas E. Kennedy
's many books include novels, story and essay collections, literary criticism, translations and anthologies. He teaches in the
MFA
programme at Fairleigh Dickinson University.
Beneath the Neon Egg
is the final book in his Copenhagen Quartet, following
In the Company of Angels, Falling Sideways
and
Kerrigan in Copenhagen
. The multiple awards he has received for his writing include an O. Henry Award, two Pushcart Prizes, an American National Magazine Award and many translation grants from the Danish Arts Council. Born and raised in New York, he lives in Copenhagen with his two children.
+
Tom Andes has published fiction in Witness, Natural Bridge, Secret Behavior, the Akashic Books Mondays Are Murder Flash Fiction Blog, Best American Mystery Stories 2012, and elsewhere. He has previously interviewed Thomas E. Kennedy for the South Carolina Review and reviewed Kennedy's Falling Sideways for The Rumpus.