Book Reviews · 02/08/2016
Benchere in Wonderland
by Steven Gillis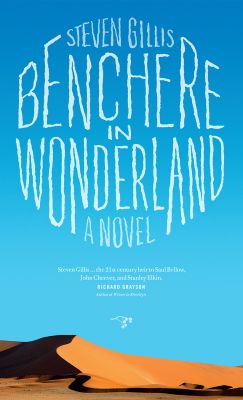 Hawthorne Books, 2015
The place of art in the world has always been debated. Whether it's a luxury of the elites or a universal language that can push humanity forward, its mainstream importance is often obscured by an air of exclusivity. But the subtle ways in which art can impact people and shape events occasionally come into sharp focus. In his latest novel, Benchere in Wonderland, Steven Gillis finds the intersections between art and society on both the micro and macro levels.
Michael Benchere, a famous artist, is deep in grief following the death of his wife and partner, Marti, when he decides to go to the Kalahari. There, he plans to complete the final project he and Marti undertook, a combination of his artistic eye and her engineering skill. The sculpture he plans to build, rising a few hundred feet over the desert, draws international attention. Soon after he arrives, Benchere is surrounded by a growing community of fans and supporters, all hoping to be close to the act of creation.
But as unrest sweeps Africa, Benchere is absorbed by protesters and becomes a symbol of resistance. Meanwhile, the over two hundred people who have joined him in the Kalahari become restless, and Benchere is confronted by a couple who hope to capitalize on what they see as an incredible economic opportunity. Struggling to maintain his vision and independence, Benchere's hand is increasingly forced by strife both international and closer to camp, until his espoused neutrality threatens his legacy and he must decide where he and his art stand.
Gillis is able to fold a great deal into the story, jumping between continents and characters multiple times within each chapter. The core people who join Benchere in Africa each bring with them a need to get back to themselves, be it his daughter Zooie who is caught up in a dead-end relationship or Linda Darling, a reality tv star at rock bottom. For those characters, art is a means by which they can connect with something more essential in the human experience, clearing their heads and resetting, in a sense. It's art as therapy, creation as comfort:
Linda Darling proves a pleasant surprise. Resourceful and engaged, she asks for assignments, rolls up her sleeves and dives into each task. Spirited, she jokes with the others, starts a friendship with Harper, follows Benchere's instructions as she would a director on set. A marked improvement from her first night, when she disappeared after dinner, reemerging stoned. Benchere took her aside then and said, "Listen, Darling, this is not celebrity rehab. You want to get fried, have at it. But if your being here fucks with my work, we'll put you on the next truck back to Maun.
But soon they are joined by others, including Dancy and Gabriella Mund, entrepreneurs who see the open land surrounding the sculpture as a chance to develop a resort. Benchere's reputation is far reaching, and his name being attached to a project can bring in a steady flow of capital and tourists. While the Munds hope to capitalize on that potential for themselves, Benchere's son Kyle is in Providence, Rhode Island, doing much the same but for the public good, working on a set of Benchere-designed rowhouses he hopes to manage as a cooperative to rebuild a largely rundown neighborhood. Littered with mentions of "Benchere originals" and allusions to his wealth, Gillis doesn't avoid the commercial value of a well-known artist, but he doesn't paint the impact of such moneyed interest with broad strokes.
One of the larger questions the book asks is what it means for an artist to lose control of his work. Even as the community built up around his latest project begins to segment and collapse, Benchere's name is co-opted by demonstrators throughout Africa. Protesters build faux-Benchere sculptures from found objects, leaving their work behind when forced to flee by police. Overnight, Benchere goes from a private artist to a seditious political figure, his work representing the hopes of people fighting for their rights. Although he supports the cause personally, Benchere struggles to draw lines between his own work and the works being built in his name, with those around him pulling in either direction:
"These sculptures," Stern says. "The two you made and then the rest."
"They muddy the waters."
"Stir the pot."
"Give people a reason to rally."
" You have to remember," Rose says, "war is tricky business."
"For every Mau Mau there's a dozen disasters."
"A dozen or more."
With so many layers of meaning, and Benchere's memories of Marti a steady thread throughout the story, it's no small task to keep it all together. But Gillis does just that, and Benchere in Wonderland is a comprehensive view of the role of art in both the personal and political realms. Engaging, moving, and at times funny, it's a stark reminder of the way art can and does change the world.
+++
Steven Gillis is the author of the novels Walter Falls, The Weight of Nothing, Temporary People, and The Consequence of Skating, as well as the short story collections Giraffes and The Law of Strings. A three-year member of the Ann Arbor Book Festival Board of Directors, and a finalist for the 2007 Ann Arbor News Citizen of the Year, Steve taught writing at Eastern Michigan University before founding 826michigan in 2004. Steve is now the co-founder and publisher of Dzanc Books.
+
Bridey Heing
is a freelance writer based in Washington, D.C. She has written reviews for
The Daily Beast, The Mantle, Paste, The Intentional,

PANK
, and
Bust
. Her writing has also appeared at
The Guardian, Guernica Daily, Hyperallergic
, and
Broadly
. You can also find her on
Medium
and at
www.brideyheing.com