Book Reviews · 02/01/2016
Among The Wild Mulattos and Other Tales
by Tom Williams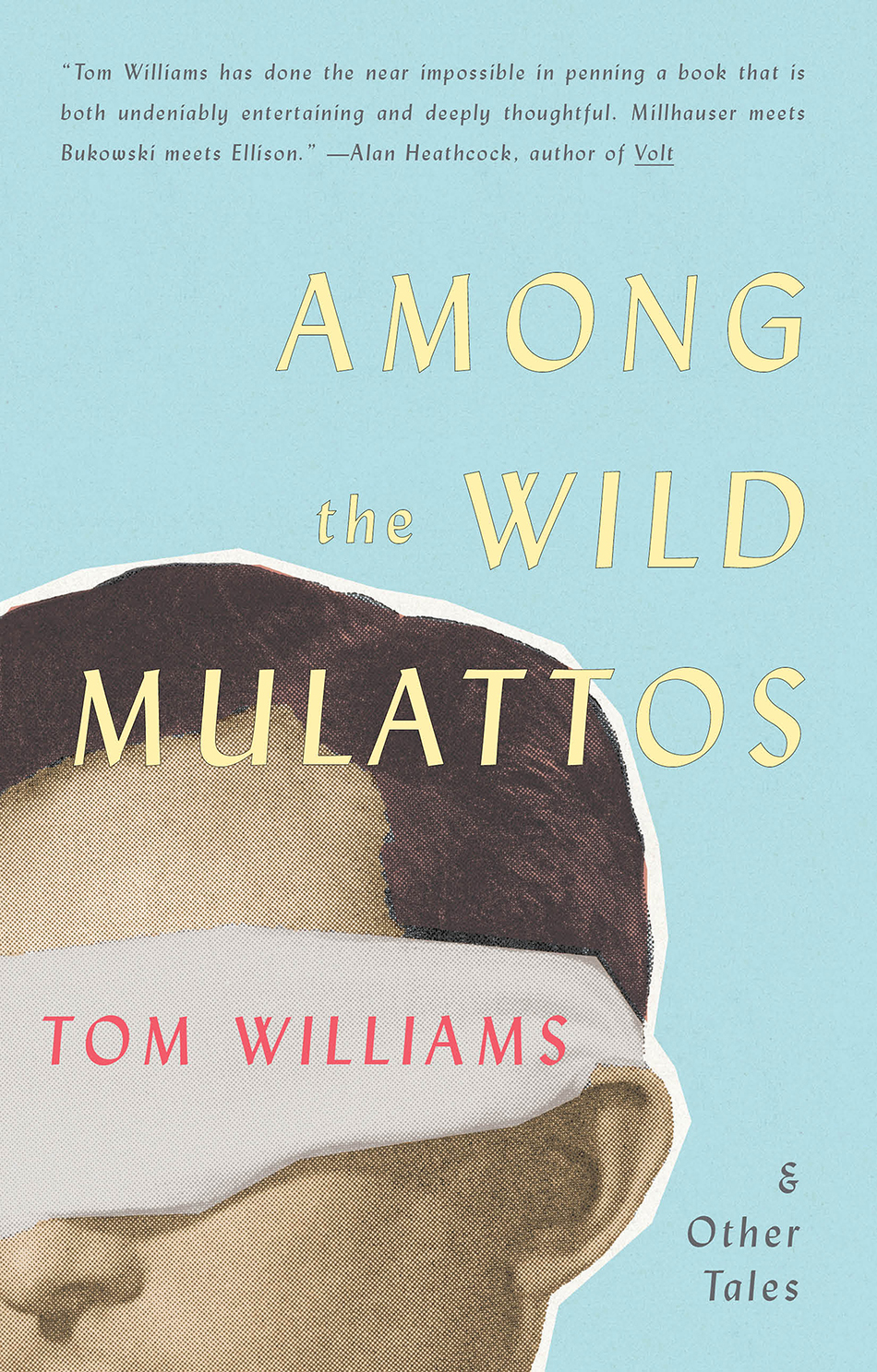 Texas Review Press, 2015
The central conceits in the writing of Tom Williams are the ideas of duality and alienation, people inhabiting two worlds without really fitting in with either. He explores this liminality in several ways. His first book, the novella The Mimic's Own Voice, follows Douglas Myles, the last and greatest "mimic." Myles has the ability to copy any other performer perfectly. He's a kind of savant, a biracial man who has never been at home in his own skin and so pretends to be other people with a genius that propels him into fame. Williams's novel, Don't Start Me Talkin', tells the story of a traditional blues player whose entire persona is manufactured, from his socks to his age to his accent, in order for him to find commercial success fulfilling the stereotypes blues fans expect. His latest book, the collection Among the Wild Mulattos and Other Tales, continues this exploration of duality in often funny, entertaining, and poignant stories.
A common theme in Williams' writing is biracialism. Most if not all of Williams's protagonists are biracial, struggling to find balance and peace in a society that wants to categorize people in one of a handful of boxes. In the title story, the separatist Wild Mulattos refer to the rest of the world as "Two Box," referring to forms that ask people to identify their race and only offer choices like "white" and "black." They've left Two Box behind and live on a commune hidden near the Mississippi River. Some of them travel to Memphis to work, and the group owns rental property to make money, but for the most part, they eschew contact with the outside world and dislike it when they have to venture out. The story brings to mind a Victorian travel narrative, in that the narrator is an anthropology professor who seeks out this mythical community. When asked, he claims he's a waterbed salesman so the group won't immediately reject him. Williams's protagonist struggles to find peace as he's torn between the two halves of his personality, represented by his biracialism. Does he belong in the "white" world that sees him as black, or the "black" world that offers fewer opportunities?
"The Hotel Joseph Conrad" tells the tale of a travel writer given a mysterious assignment to write about a hotel he can't seem to find. He becomes obsessed, traveling the world with limited success. While searching, he examines the problematic fiction of Joseph Conrad — problematic because of its colonialist treatment of Africans — and tries to fit into this space between the world he's left behind and the new one full of the mystery of this hotel.
Williams balances a kind of "fiction of witness" with compelling narrative so that his stories don't feel emotionally manipulative. "The Lessons of Effacement" is a classic story of a "double" that opens with Jerome, a middle-of-the-road office worker, confronting a man who's been following him for days, only to discover that the stalker's intentions are to replace Jerome and take over his life. Jerome can't fathom this situation because nothing in his life seems worth taking, and so he agrees to let the man try, more out of amusement than anything else. Jerome wants to know if anyone will notice. In a sense, though he's biracial, he's living in a "white world." When his boss calls him by the name of a previous black employee, Jerome doesn't correct the man. His upbringing and attitude have focused on making himself unnoticeable. He even cuts his hair short so no one will see his curls. Once Jerome has been replaced by his double, he begins to explore a different world: the "black world." Instead of spending time exclusively around white people, he makes black friends. He no longer has to worry about alarming his peers by being different. The question becomes has this impostor hurt Jerome by taking over his life or saved him?
"Ethnic Studies" is a shorter piece that explores a handful of men of color who are hired to pose for an art class at a rural, lily-white college. They're highly educated but broke men who take the job, not realizing how potentially humiliating it might be. And, weirdly, as they are exploited more and more, a path for true communication begins to open between the men and the white students.
Though he deals with serious issues, Williams is also funny as hell. The first story in the collection, "The Story of My Novel, Three Piece Combo with Drink," is about a struggling writer who loves a fast-food restaurant so much that he proposes writing a novel about it as a kind of long-form advertisement. Surprisingly, the company accepts his proposal and gives him a small advance. The story plays out in absurdist fashion as the novel becomes massively successful. "Movie Star Entrances" deals with a man so shy that he hires a team to help him make a good impression at a company party. They teach him how to walk, how to talk, they even give him a suit with built in speakers to play his own, personal, theme music. "The Most Famous Man in the World" is a scathing satire of our 15-minutes-of-fame culture as it tells the story of the only man left in the world who hasn't been on TV.
Williams can turn an absurd premise into an enjoyable, readable story because he understands, fundamentally, how absurd real life actually can be. There's a lot of pain beneath the surface of these stories, but Williams avoids cynicism. His characters struggle to fit in to a world that doesn't accept them, but they are immediately recognizable as everymen. I'm reminded of something my father used to say, "Sometimes, you've got to laugh to keep from crying" and Williams stories will make you laugh.
+++
Tom Williams, who earned his PhD from the University of Houston, is the author of two previous books of fiction: The Mimic's Own Voice and Don't Start Me Talkin. The Chair of English at Morehead State University, he has over fifty publications in such periodicals as Boulevard, Connecticut Review, Indiana Review, The Collagist and Booth. His fiction has earned him fellowships from the Wisconsin Arts Board and the Arkansas Arts Council.
+
CL Bledsoe is the author of a dozen books, most recently the poetry collection Riceland and the novel Man of Clay. He's been nominated for the Pushcart thirteen times, had two stories selected as Notable Stories of the year by Story South's Million Writer's Award, and has been nominated for Best of the Web twice. He lives in northern Virginia with his daughter.