Book Reviews · 12/15/2014
Prague Summer
by Jeffrey Condran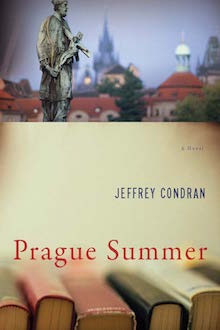 Counterpoint, August 2014
Henry Marten is an American abroad, ten years married to his wife Stephanie, and in love with the "circus" that is his adopted city, Prague. A rare bookseller, one of Henry's many charms is his ability to wax poetic about, for example, a first edition copy of To the Lighthouse:
I don't want to be too romantic about it, but just imagine who might have been among the first readers of those books, perhaps this very copy. John Maynard Keynes? E.M. Forster? T.S. Eliot? …The book is light in the hand yet substantial, too. I don't know how else to say it except that it feels right, as it should…
Of course, he's entirely romantic about each book, this one priced at $18,500, bought and then sold again by one of his best clients. And that romanticism is part of what makes a reader fall for this narrator; readers of literary fiction like Prague Summer are sure to sympathize with—and envy—the man who holds and valorizes an original copy of To the Lighthouse. The book-selling business is part of what drives the plot of this novel, as Henry and his shop partner Morgan banter about books and sales, and Henry eventually sets off to sort and price a collection outside of the city.
The real heart of the story, though, is Henry and Stephanie's seemingly strong relationship, and the ways they're challenged once Selma Al-Khateeb, Stephanie's old friend, arrives for a visit. Months earlier, Selma's husband was arrested by the FBI, and while Stephanie isn't sure why her friend wants to visit Prague, she insists that Selma be "surrounded by people who believe" that Mansour, her husband, is innocent. Henry's job will be to entertain Selma with excursions around the city, giving her an introduction to literary Prague. "She wants to see the house where Kafka lived; the Café Slavia, where all the '60s writers and intellectuals drank their coffee and slivovitz…" Henry is all too happy to oblige, for his wife's sake, and does his best to keep Selma in good spirits.
What becomes immediately evident, however, is Henry's attraction to Selma. Over the course of the first days of her visit, he watches her interact with Stephanie, and remembers when he first met her and Stephanie's other roommates back in DC over a decade earlier. That first night in the house together, Stephanie told Henry the story of Charlotte and Audrey's argument over Roy, who was dating one and then slept with the other. In the end, Selma brought the women back together by making paper dolls labeled "Roy" and tossing them into the fire. This moment, the only story told from Stephanie and Henry's earlier lives, feels foreboding, and foreshadows the tension that rises up later in the novel, as Henry's attraction to Selma grows. Another seed planted is Henry's interaction with a young waitress at a party in Prague; she flirts with Henry, and Stephanie enters the room and is angered by what she reads as betrayal—a minor bump, an easy fix, but it raises the possibility of cracks in their marriage.
These closely observed moments build, as Henry realizes that Selma's hiding something from Stephanie:
Selma's smile fades a little and she shakes her head, loosening the long hair on one side so that it slides down like a curtain in front of her face. I stop peeling for a moment to watch more closely. I've never seen a woman make that move with another woman before. Hiding behind your hair.
Later, Henry hears Selma in the shower, and, aroused, his attraction to her is confirmed. All of the plot elements are laid down—the rare book collection that needs assessing because of a friend's financial troubles, Henry's trip to assess it, outside of Prague with Selma at his side, overnight, the small rifts in Henry and Stephanie's marriage—to entice the reader to the climax—but the surprise is not the events that unfold but Selma's motives. It's the revelation of what she expects from Henry and Stephanie that turns the novel in a surprising direction, right near the end, when it seems that Henry's fate is closed.
The delight of the novel lies in our exposure to Prague's bookstores, cafés, and history, as well as of the easiness of Henry and Stephanie's marriage, all of which is undercut by the darkness that Selma carries with her—not just of Mansour's arrest but also of her and Stephanie's history as roommates. Likewise, Prague's "circus" conceals its more complicated and dangerous elements. When Henry sees an open construction site, he notes that this would be an opportunity for a lawsuit in the States, but "[h]ere the people know that life is dangerous and, for the most part, governments are powerless to protect them from it." This narrative thread reemerges later in the novel, when it becomes clear that Selma thinks that Stephanie's government job might save Mansour.
The implicit danger that underlies the Americans' happy-go-lucky life in Prague, is the thread that kept me reading: the threat of the happy couple's marriage cracking, the danger that Selma carries as the object of Henry's attraction, and as a victim of 9/11 surveillance, the pressure under which Henry and then Stephanie fall as the plot turns at the end. As Henry notes,
It's not as if people don't think about these things [the War on Terror] in Prague. Weren't the early stages of the 9/11 cell, or was it the Underground bombing, organized here? I feel sure I read about that somewhere. And, of course, everybody knows about the Russian mafia, the Bulgarian mafia, the mafia's mafia. Fuck. What I mean is that Prague feels like an open city. What couldn't happen here? What hasn't already happened here? Perhaps Stephanie had it wrong. Perhaps History has not ended in the Czech Republic.
And of course, for Stephanie and Henry, it has not ended. They're left to face the consequences of Selma's visit, and the secrets she's revealed during her stay, in a series of final scenes as surprising and alluring as the early descriptions of a literary Prague party. Everything that happens to Stephanie and Henry may have happened here before, but its rendering in this place, in such closely-observed scenes, pushed me to reach the end of this literary page-turner in a single day.
+++
Jeffrey Condran is also the author of the story collection, A Fingerprint Repeated. His fiction has appeared in journals such as The Kenyon Review, The Missouri Review, and Epoch, and has been awarded the 2010 William Peden Prize and Pushcart Prize nominations. He is an Assistant Professor of English at the Art Institute of Pittsburgh and the Co-founder of Braddock Avenue Books.
+
Rachel May
's writing has been twice nominated for the Pushcart Prize, awarded the William Allen Creative Nonfiction Award, the Geraldine McLoud Commendation for Fiction, and others, and has recently been published or is forthcoming in
Southeast Review, Indiana Review, Michigan Quarterly, Meridian, Memoir(and), Night Train, Green Mountains,

EOAGH

,
and many others. Her book on modern quilting was published by Storey/Workman, and her book of fiction and sewn images is forthcoming from Dusie Press. She earned her
MFA
from The University of Montana, and is completing her PhD at The University of Rhode Island.