Book Reviews · 04/10/2017
Agnes
by Peter Stamm
Translated by Michael Hoffman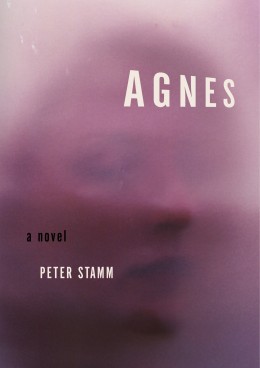 Other Press, 2016
We'd rather believe he's speaking figuratively: "Agnes is dead. Killed by a story." So read the opening lines of a novel named for a maybe-dead woman. He (the nameless narrator) goes on to tell us that he and Agnes met nine months ago, at the Chicago Public Library. They became lovers. Reflecting on it now, he is full of nostalgia—is that a symptom of spurn, or of grief? He goes downstairs to buy a pack of beer, and he tells the man in the shop that "She's gone," and he might be smirking when he says it (is that a symptom of guilt?) He doesn't correct the man in the shop when it's assumed that Agnes simply left him, took off: "They all go," the man says to him, "don't worry, lots of pretty women in the world."
Published in German in 1998 (Peter Stamm's debut), Agnes received its first translation to English by Michael Hofmann in 2016. The narrator and Agnes are an unlikely couple in their age disparity—she is 25 and he is old enough to be her father—and unlikely too due to his being a visitor, from Switzerland. But the two loners are at ease with each other. They go for dinner at a Chinese food restaurant; she spends the night at his apartment. They make breakfast together, and divulge their professions: writer of non-fiction, PhD student of physics. One day, they pack sandwiches and go for a hike. While resting on a blanket by a lake, he's overcome with a feeling of closeness and dependency on Agnes. They move in together.
One can almost forget, at this point, the dark introduction. Affection swells between the new lovers to the point of cliché, which, perhaps, is a space Stamm wants his tale to inhabit—a space that also contains the fables, the old fairy tales (the scary, deathly ones.) Though unintentional, there is also something wistful, something fabulist about the burgeoning of love in 1998—no cell phones, no Facebook. Through the Millennial reader's eyes, this is indeed a magical fabrication.
On the narrator's first visit to Agnes's apartment, she is eager to show him something: a short story that she's written. It's spare, eerie—a woman is haunted by a man who makes her unrecognizable to herself: "My clothes are too small, my shoes pinch me, my hair has gotten lighter, my voice darker. I have to go. I get up. I leave the house." Agnes wants her new lover, a writer, to read it and offer his impression, but he responds with spite; who is she to write a story? She who doesn't read, who owns no books! A hurtful response, but she is stoic. A few days later, she revisits the topic, obliquely: "Why did you stop writing…stop writing for yourself, I mean?" He admits to feeling jealous of her story, and what they arrive at—a sort of reparation—is this: he'll write a story, one about her, and for her. A portrait, about which he says: "I was in love and saw no reason not to sacrifice a couple of days and write a story. Agnes's enthusiasm had me curious about whether the experiment would succeed, whether I still had any ability…"
So romantic! Love. Sacrifice. But Stamm offers something more here—something more compelling than a swelling of affection: a peek at a man's insecurity, his egotism. He's motivated by love, but also by jealousy. He wants to prove his ability—prove it superior to hers. Ego unblocks his creativity and he begins writing. From their first meeting at the library up to the present, and then—well, what can he do but write into the future? It begins playfully. He writes that she'll wear her blue dress, so she does. He writes that she'll accept when he invites her to move in, and she does. At first it draws them closer. But, like this reader, Agnes becomes disconcerted with his commitment to the story. In what seems a sociopathic line of reasoning, he disbelieves her when she doesn't think or act as his story predicts.
In an aside, he recalls a pregnancy scare with a former girlfriend—a few weeks during which he endeared himself to the idea of fatherhood. When it turned out to be nothing more than a scare, he "was disappointed and blamed her for it, as though it were any fault of hers." By his own admission, he was irrationally angry; he was angry with "another woman who only existed in [his] imagination." And we should heed this as a warning of the way he's now considering Agnes, as a character, as his character.
"A man lives and dies in what he sees, say Paul Valery, but he can only see what he thinks." Another woman, not Agnes, tells this to our narrator in the novel's third act. After a brief separation, he and Agnes get back together. He says that she left him and then came back. She upholds that he left her. A trivial disagreement, but they're having more and more of those now. Nevertheless, they stay together and spend the Christmas holidays together. And he continues to write her story, eventually reaching a conclusion, which comes to him with great clarity, a sort of vision. But what he sees (what he thinks) perturbs him, so the next day he writes an alternate, a happy ending, because "In America, all stories end happily." Unfortunately, it's the first version—not the happy alternate—that Agnes finds and reads on his computer. And then she's gone.
On the book's cover is a woman's face, heavily blurred, as if covered in the plastic film used to frost a bathroom window. It must be so, that we can only see what we think, because Agnes's image—in this reviewer's mind as on the book's cover—is hazy. We don't know what happens to her, but we remain haunted by the possibilities.
+++
Peter Stamm
is the author of the novels
Seven Years, On a Day Like This
, and
Unformed Landscape
, and the short-story collections
We're Flying
and
In Strange Gardens and Other Stories
. His prize-winning books have been translated into more than thirty languages. For his entire body of work and his accomplishments in fiction, he was short-listed for the Man Booker International Prize in 2013, and in 2014 he won the prestigious Friedrich Hölderlin Prize. He lives in Switzerland.
+
Michael Hofmann
has translated the work of Gottfried Benn, Hans Fallada, Franz Kafka, Joseph Roth, and many others. In 2012, he was awarded the Thornton Wilder Prize for Translation by the American Academy of Arts and Letters. His
Selected Poems
was published in 2009, and
Where Have You Been? Selected Essays
in 2014. He lives in Florida and London.
+
Taryn Grant
was born in Calgary and lives in Halifax. You can follow what she's reading on Instagram
@onletters
.