Book Reviews · 06/16/2014
A Shelter of Others
by Charles Dodd White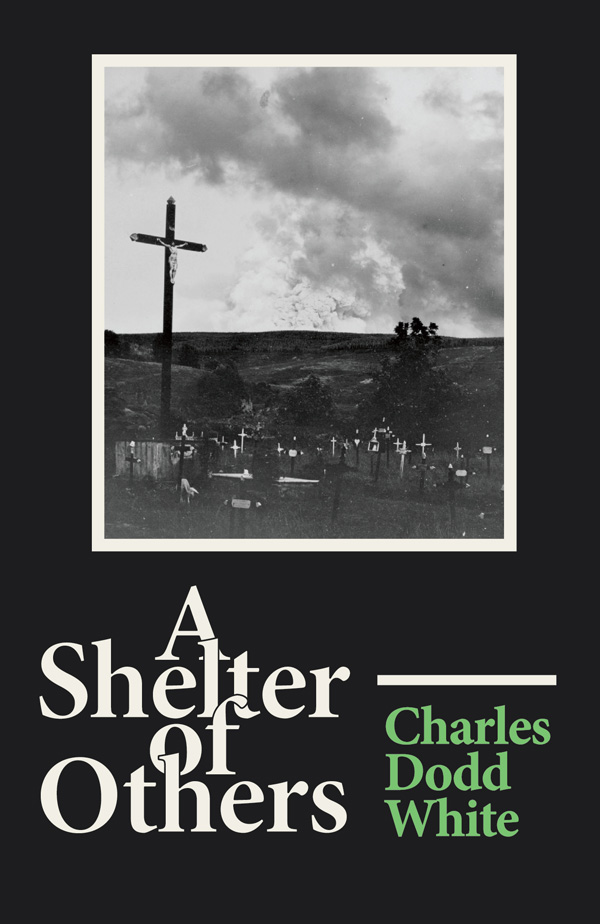 Fiddleblack Press, 2014
At a compact 216 pages, A Shelter of Others concerns the release of Mason Laws from prison, and split into three sections, the novel focuses not only on the trials of Mason's freedom but on how his reemergence affects the lives of his estranged wife, Lavada, and aging father, Sam. Early on, the novel tends to shy away from overly plot-heavy writing in favor of allowing White to establish a solemn, introspective tone, and in these sections, the scenes are fleshed out emotionally; rather than rushing through them, White lingers in the moments of Mason's newfound independence in much the same way Hemingway followed Nick Adams upon his return from war in "The Big Two-Hearted River" stories. Upon hitching a ride after his release, Mason approaches the familiar territory of his past, and White writes:
As they came into the foothills and later the mountains, the trees nudged in closer, attending him, constricting the passage into some form he could reasonably suffer. So different than the unfamiliar world of the piedmont, a place that was crushed, dimensionless. Here there was grip and hold, a country with legacies not easily slipped. This place held no guesses, no deceptions of promise, only the fate of knowing what others who had ridden these same roads and byways knew, that the world of bluff, creek and gorge was without parallel, that the grim and beautiful were locked together and that the men and women were owned by it in equal measure, released by nothing so simple as God given will.
The passage immediately touches on the physical descriptors of the region but also captures the psychological toll that seems to shape the newly freed Mason. The internal struggle, represented by the shrinking and ravaged feel of the landscape, is what White is most after, and what's impressive about this paragraph and the many others like it is the way White writes so grandly about an externally small scale moment that is, in fact, internally, rather momentous. The prose is elegant but not flashy, artful in the method of handling such a significant yet personal experience, and throughout the opening sections of A Shelter of Others, White continually embraces the same meditative and expressive quality as Mason slowly reenters society.
Write's style, however, probably comes out best in his depiction of Lavada, who unquestionably carries the greatest burden in the novel, having been left to carry on in the absence of Mason while simultaneously becoming the main caretaker for Mason's infirm father. Even after Mason's release, several months pass before the two are united mostly due to Mason's unwillingness to own up to his transgressions, and in the interim, she relents to her boss at the local café, beginning a relationship that does more harm than good. But throughout the novel, Lavada, despite the limitations her situation has forced upon her, serves as the emotional focal point. The scenes between her and her father-in-law exhibit a level of patience and compassion, and when given a moment of respite between her familial obligations and café duties, she's allowed her most pensive and solitary moments:
[She] was out for her evening walk, Sam put to bed. The creek breathed cool beds of fog. Alone and pleased by the closed circle of another completed day, she listened to the oncoming night. Opening herself to it like a child. Life could spread itself in thin and rare shapes, unseen but palpable, material elements that belonged to her as certainly as if she were their mother. So much diversity let loose in the world, inflicting its own chaotic will, wrote new histories of desire. It granted to everything a dangerous and deep and soft music.
Selections like this go a long way in confirming the empathy White has for Lavada, and just as he depicts Mason, White often captures Lavada with a quiet, strained sense of isolation. Given what the reader knows of Lavada's struggles, however, she garners far more compassion than any other character, and White handles that sort emotional resonance incredibly well, never once coming off as pandering or overtly sympathetic.
By the final pages of the second section, A Shelter of Others begins to transition into its frenzied third act, and in the final sixty or so pages, the novel's contemplative mood gives way to something a little more recognizable to traditional modern Appalachian fiction. The violence that before seemed to barely register becomes much more prevalent, and while the third act does contrast from the remainder of the novel largely in the manner of pacing and action, White manages to avoid succumbing to any easy solutions or any sort of narrative stereotypes (often the hallmarks of big press Appalachian and Southern fiction). The language befits the action of the scenes while still managing to reveal White's linguistic talents, and while the apparent timelessness of the early sections gives way to an almost breakneck speed as the conclusion nears, the novel closes in a manner appropriate to White's aesthetic. A final scene finds Lavada prepared to sort out the damages the world has brought upon her life, and again, with graceful and notable language, White writes the scene marvelously. In a novel with an unending supply of quotable lines and paragraphs, it's a fitting end to a story well worth reading.
What White has accomplished is much more than just a finely-crafted portrayal of a region he clearly knows so well. Evident from his two previous works of fiction, including the outstanding collection of stories, Sinners of Sanction County, White knows Appalachia, but he also knows how to compose strands of prose that read poetic, and while he may have rightfully ascended to the top of contemporary fiction's greatest chroniclers of Appalachia prior to the publication of A Shelter of Others, White has cemented himself in perhaps the less-crowded categorization of a prose stylist, a writer with a keen eye and ear for language and the deft ability to know how to use them. A Shelter of Others is certainly a modern landmark depicting White's native region, but it's also compelling evidence that White is one of the better novelists working today.
+++
Charles Dodd White was born in Atlanta, Georgia, and grew up in both the city and the woods. He currently lives with his wife and boys in Candler, North Carolina. He has been a Marine, a fishing guide, and a journalist. He is the recipient of the Jean Ritchie Fellowship, an individual artist grant from the North Carolina Arts Council. He is also the author of the novel, Lambs of Men (2010), as well as the story collection, Sinners of Sanction County (2011). He is at work on a new novel called Feasts of the Sun.
+
Brian Seemann
is a part-time teacher and bookseller. His latest fiction appears in
REAL

, Forge,
and
Fast Forward.