News · 10/27/2010
Writer In Residence, November 2010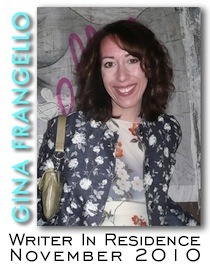 I'm pleased to announce that November's Writer In Residence will be the inimitable, inexhaustible Gina Frangello. I won't embarrass her by asking if she remembers, but I met Gina a few years ago at the Pilcrow Lit Fest in Chicago. I knew her name already, and her novel My Sister's Continent, but in person I was struck by how seamlessly and gracefully she blends her commitments to writing, publishing, literary culture, and to speaking up for what a recent review called, "lives lived on the emotional and sexual margins of contemporary life." In everything she said, whether on panels or in conversation, she seemed aware not only of herself as a writer but of the broader, complex contexts in which her writing takes place. And the more familiar I've become with Gina's writing and editing, the more evidence of that commitment and awareness I see. To call it inspirational would be an understatement.
She edited the journal Other Voices, among other projects, and now is executive editor at OV Books. In an interview she told Knee Jerk Magazine,
I've made a very conscious choice to focus my career on helping bring other writers to publication as well as being a writer myself, but this is not a trivial or lightly made choice. Especially considering that my editing work does not pay anything approaching what could be considered a livable wage, my work with other writers has to be done as a labor of love, plain and simple.
That commitment to other writers is equally apparent in her astute commentary on literature culture, and its death or resurrection — depending who you ask — on the web; this report for the Huffington Post is just one example. And, of course, there's her fiction.
Minnesota Reads recently wrote of Gina's collection Slut Lullabies, "In my head if Mary Gaitskill's writing and Philip Roth's writing were to meet, have sex, and create a baby, that baby would be Gina Frangello's writing." I'm not sure more than that needs to be said, but I'll try, because what fascinates and impresses me most in her fiction is her attention to the distances and miscommunications between characters, and how those differences get expressed in everything they utter, are, and do. To say she writes powerfully and brilliantly about sex is by now so obvious as to be a cliché, but for me its the way her fiction weaves the erotic thrill of well-written sex with her characters' struggles for power, communication, and understanding that makes those moments so rich. To borrow her own words from an interview with The Rumpus, her fiction "gets to the heart of how we define 'difference,'", and I'd add to that how we define connection and communication — how we define ourselves against our definitions of others. As she went on to say in that interview,
Difference is much more about who you feel you can empathize with, who you think you can believe, than it is about what somebody looks like or who they sleep with.
I can't think of a better way to understand that than to just read her stories, as we'll be lucky enough to do here for the next month.