News · 04/30/2012
Writer In Residence, May 2012
For the next month, we'll be doing something unusual with the Writer In Residence section here at Necessary Fiction, as we host work by the high school students participating in a free community creative writing program at Emerson College (which, full disclosure, happens to be where I work). I've asked my colleague Mary Kovaleski Byrnes to tell us more about the program, and what to expect in May.
+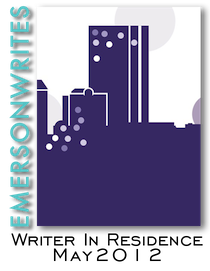 At the beginning of a new school year, I spend a lot of time talking about building a writing community with my Emerson College freshman writing classes. I'm certain there are internal eye-rolls when I launch into the kum-bay-ya importance of having a place where you can take risks and try out new ideas. I talk about how writing doesn't happen in a vacuum, and how much writers need other writers: people who have, for some crazy reason, a similar drive to take the complex and messy insides of our heads and turn them into something that reaches out to another person's complex and messy world.
For the past two years, I've had the privilege to see this kind of community develop among a group of people who might have otherwise never held a conversation: Boston public high school students, and Emerson College graduate MFA candidates. EmersonWRITES, a free creative writing program for Boston Public School students, asks high school students from all over the Boston area to wake up early on Saturdays to come to a creative writing classroom on Emerson's campus. From the start, we weren't sure how this would work out — if the students would come, if the teachers would come — and we worried that this potential shared love of writing wouldn't be enough to hold everyone together, and the classrooms would remain as they normally are on Saturday mornings: quiet, monochrome spaces, the whiteboards empty and waiting for Monday to come around again.
Needless to say, our biggest fears never materialized. For the next month, as I proudly guest edit Necessary Fiction, I will be attempting to reflect on this blog the kind of community that EmersonWRITES is. It is a place where graduate students take a break from writing, or working, or reading, or thesis-ing (which is absolutely a verb) and lead writing classrooms full of high school students, who are taking their own breaks from SAT prep, and homework, and jobs, and all the fun that is being sixteen. For twelve Saturdays every year, these two groups of people meet to be writers together. They study the music of poetry, from hip-hop to Shakespeare. They write about their lives — their fears and wildest hopes, and about the adult world they are rapidly advancing toward, and their disappointment, even, justifiably, their outrage at how their own identities are misrepresented there, or ignored, or pre-written. I hear them reading each other's fiction and poetry in the halls, and see them on the warmer fall Saturdays, wandering the Boston Common gathering inspiration from the sinking gravestones and monuments, letting their imaginations soar to other times and places.
After our first semester of the program, one of the students wrote that to him, there was one reason he got up on Saturday mornings to come to EmersonWRITES. He wrote that this was the first time he'd ever encountered people who, like him, loved to write. Interestingly, every semester after this, students have echoed this same response. As a writer, I understand what this means — I am fortunate to work at an institution, surrounded by people, who, like me, love to write. They wrestle with it, they talk about it, they fail at it, they do it over and over again. All around me. Every day. It's gotten to the point where I almost take it for granted to know that someone else, like me, was up early this morning revising, for the 100th time, their collection of poetry.
I want to thank the EmersonWRITES graduate instructors and EmersonWRITES high school students who together create, extend, and redefine this kind of writing community every Saturday on Emerson's campus. The writing that happens here is important. But what's also important is that it has a space to be and grow, from an idea to a paragraph, or a stanza, and that it is heard by fellow writers, people who care about both the writer and the stanza, enough to keep the conversation going long after that stanza has been rewritten.
+
A Word About The Next Month
I wanted the writing here on the blog this month to reify the kind of community I've been describing above. To that end, the EmersonWRITES teachers will be introducing their student writers and saying a bit about the students' work. The teachers are all graduate students in the MFA program at Emerson College, and writers themselves. They interview for the position and team-teach Saturday classes for free. Their students, all from Boston Public Schools, are all in the formative stages of their writing, and for some, these classes are their first attempts at a new genre, whether it is poetry, or fiction, or memoir. Others have been writing for years, squirreling away drafts of novels and film scripts on the family computer. And still others are already venturing into the world of texts, lending their voices and ideas to various publications at their high schools and in the Boston community. The writing here is truly fearless, and comes with a kind of pure, truthful energy and uniqueness of voice. Thank you in advance for reading their work this month.
A special thank you to Steve Himmer for offering this forum to showcase the EmersonWRITES student writing.
+
EmersonWRITES
If you'd like to learn more about EmersonWRITES, please visit: http://www.emerson.edu/admission/undergraduate-admission/learn/emersonwrites
New courses for Fall 2012-Spring 2013 will be posted in September.