News · 02/29/2012
Writer In Residence, March 2012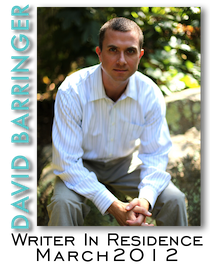 The best of the web is the potential it creates for the unexpected, and for writers and artists and works that might otherwise be overlooked to find their audience after all. Whether it's supporting a project through Kickstarter, or discovering that more people are excited about maps than we might have guessed, or remaining true to an artistic vision that is personal, and insistent, and wholly unique. Those visionaries make the web what it is, and it's thrilling to see some of the earliest, one-of-a-kind voices in online writing and publishing now receive the wider recognition they deserve. It's equally thrilling to host one of those voices as our Writer In Residence for March 2012: writer, editor, designer, artist, insect undertaker, and all around web renaissance man David Barringer.
From writing a picaresque rooster epic for his novel Johnny Red, to grappling with what it means to be a modern father in American Home Life, to exploring the myriad possibilities of short fiction, Barringer's writing is like no one else's. And it is driven by a vision of what writing can be, not what a market dictates. Describing the frustrations of his early attempts to interest literary agents, he told an interviewer,
So, refusing to be cynical, I quickly moved on to small presses and micropresses and people who are working hard to learn the business and get their work done. I treat writing in two ways: first, it's a passion and an art, something that creates my personality even as I create it; second, it's a job, a craft, and so I work at it, hammer and chisel, and keep moving. It's both avocation and vocation, and I never mistake the limelight for the desk lamp.
Control, craft, and creativity are always in tandem for Barringer, from writing a book to designing it and, at times, publishing it himself. As he told an interviewer for AIGA Charlotte,
As a creative person, I have more power to control what I make. I can write the book or magazine and also conceive and execute its design. Professionally, I can achieve efficiencies in speed and cost. I can get things done faster, and I am a staff of one. […] You can own a niche market defined by design and content. This also means you'll need business skills as an entrepreneur who can market and properly value your work.
It's exciting to see that single-minded vision get noticed, not only with his receipt of the 2008 Winterhouse Award for Design Writing & Criticism, but also with his publications in the New York Times and elsewhere. But what's most exciting to me, I think, is to have watched a process he described to Print Magazine as, "I skid into things, break glass, bruise a shoulder. I like to make connections between seemingly unconnected things." I've been a fan of David Barringer's unexpected connections for a long time, and have admired how fully committed he seems to be to the unity of his life: writer, designer, father, and teacher are all very much the same person, and that unity is the subject in a way so attuned to that philosophy of exploring connections. His example is one I hope I've learned from over the years, so I look forward to seeing what connections he makes here this month, and to connecting myself to what he shares.