News · 05/30/2011
Writer In Residence, June 2011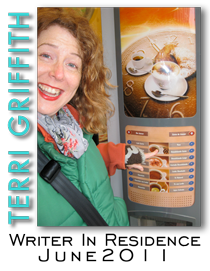 Some of the writers who have been featured as Writer In Residence I've read and admired for years. Others I've "discovered" more recently and have followed story by story as their work appears. Either way I try to invite writers who, to my mind, aren't getting the attention they deserve. I can't think of many writers who better fit that description than June's Writer In Residence, Terri Griffith.
I knew Terri's name from Bad At Sports, but the first of her fiction I read was the novel So Much Better, ordered from the Green Lantern Press website on the strength of this intriguing description:
Liz is an employee at The Unified Telecommunications Credit Union, a job she has not missed a day of for three years. In between her daydreams of moving someplace warm, she peers at the bank account of her former lover, runs background checks on herself, attempts to dodge the young girl she has started an affair with, and hopes to reconnect with her missing sister. At first glance, it may seem as though very little happens over the course of the novel, but before long the minor events which seem so unimportant build upon one another until they collapse completely, as Liz forces herself to explore the depths a person will go to be alone.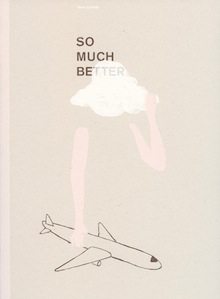 Three of my favorite things in a novel are work, solitude, and very little seeming to happen, and So Much Better did not disappoint; it may be the best book I read last year. I can only agree with Nanni Balestrini, who wrote in her review for Bookslut, "So Much Better is a performance of real life, the kind you might want to shake, say "Yes! That's It!" but sadly. There are details that Griffith gets astonishingly right, especially vis-à-vis the workplace." And after reading So Much Better, I searched for more of Terri's fiction and couldn't find much, at least not online. I read this essay at Requited, and I learned she is "co-authoring a queerly transgressive retelling of the Greek Myths" — how could you not be intrigued by a project like that? And there's a profile by Jonathan Messinger for Time Out Chicago, in which Terri says of her novel's route to publication,
"I sent it out, with I think tremendous success," she says. "I probably sent 50 queries and got the book read 40 times. I've had agents read the book and call me, and I've had lovely letters from editors. It's sad that I have to judge everything by the kindness of the rejection."
In another interview with Green Lantern she said of her work,
So Much Better is a tighter, more closed story than anything else I've ever written. My writing is usually larger and lopier. Funnier, too. Though I really think of So Much Better as a dark comedy, like the show Black Books. Though most of the rejections I got on this book, didn't think it was so funny.
After reading that I knew I needed to read more from Terri — and to convince other people to read it, too — so what could I do but invite her to share some of it here? Trust me: order a copy of So Much Better (which I though was funny, too), then sit back and get ready for what I'm sure will be a great month of reading from Terri Griffith.