News · 01/28/2011
Writer In Residence, February 2011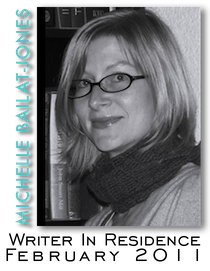 A few weeks ago, I introduced Michelle Bailat-Jones as NF's new reviews editor, but before asking her to assume that role we were already discussing a month for her to be Writer In Residence. It's a great pleasure to announce that she will take on that dual role during February, and that her residency will focus on translation — however she chooses to do so.
Full disclosure, Michelle is a friend, but while that's how I've come to know her work it isn't why I've asked her to share it. As I wrote when introducing her as our reviews editor, she's one of the sharpest readers I know, with an enviable breadth that comes from reading across cultures, continents, and languages. Her reviews have appeared in publications including The Quarterly Conversation and Cerise Press, and her fiction and translations have appeared in Fogged Clarity, Ascent, The Kenyon Review, and elsewhere.
Her Japan-set novel Fog Island Mountains, from which we published an excerpt, reflects that cross-cultural perspective and curiosity, smoothly blending American, European, and Japanese literary traditions into something entirely her own (and, frankly, into one of the most inexplicably unpublished novels I've had the pleasure to read). Just as smooth is her movement between reading and writing, and between fiction, criticism, and translation — each is as erudite, adept, generous, compassionate, and curious as the others. And together those constant qualities always make me eager to read whatever Michelle writes or recommends, so I hope you're as excited to see what she'll bring us this month as I am.