News · 03/29/2011
Writer In Residence, April 2011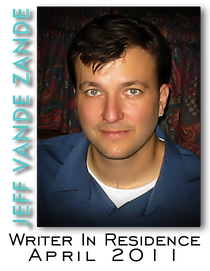 It's a pleasure to announce that our Writer In Residence for April 2011 will be Jeff Vande Zande. My introduction to Jeff's fiction came, I think, when his story "Inside Job" showed up in our submissions queue. But his name was already familiar to me, so maybe I'd read his stories before or maybe it was familiar the way all names seem familiar when you've been online a few years. And "Inside Job" certainly became familiar to lots of other folks online, too, because it went on to be named both a notable story by the Million Writers Award, and one of Wigleaf's Top 50 (and we went on to publish — so far — two more stories by Jeff, "The Major Players" and "Marriage With Time Lapse").
For me, "Inside Job" is the quintessential Vande Zande story in its understated rawness. As Short Story Reader describes it, "This is a story about stripping everything down, making everything new again. A kid returns from rehab, goes to work. We watch. And then, things switch around at the end in a way you don't see coming." Ordinary objects take on a weight that seems beyond them, but his metaphors are never strained, and they never seem forced. Even when I feel like I know where one of his stories is going, I'm always wrong in some way and yet where the story is really going ends up feeling inevitable, natural, and perfect in a way that leaves me wondering how I imagined anything else might have happened. Take his first novel Into The Desperate Country: all along, protagonist Stan drove me crazy with frustration, because I knew what he would do wrong, how he would screw up the few good things coming into his life, and yet — and yet! — somehow, in the end, those ordinary, organic, everyday events, all Stan's decisions both good and bad, added up to an ending that felt effortless in its construction but belied a masterfully light touch. I'm not going to tell you more about that ending, because it's one of my favorite moments in fiction and it's one you'll have to earn by reading the story that brings you to it. After all, as Jeff's stories and novels always remind me, and as his characters are so often reminded themselves, just knowing something doesn't mean you know anything.
Maybe that's why his work feels "familiar" — not because I've read it before, not because it reads like anyone's writing but his own, but because it's so close to life. His fiction is realism in what, to me, is the best sense of that word: an accurate but artful representation of what we're already looking at, the familiar things we take for granted and the unimportant things we too often dismiss, that shows us more than we could see on our own. And I know he's going to give us all that and more in The Slow Moon Climbs, a brand new novella he'll share with us throughout the next month.