Translation Notes · 09/17/2015
The Story of My Teeth
Our Translation Notes series invites literary translators to describe the process of bringing a recent book into English, or to offer perspectives on global literatures from which they translate. In this installment, Christina MacSweeney writes about The Story of My Teeth by Valeria Luiselli (Coffee House Press).
+
What's in a Name? The chronology of Valeria Luiselli's The Story of My Teeth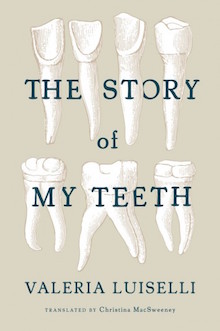 The chronology of 'The Chronologic' began on the terrace of a restaurant on London's South Bank in April 2014. Valeria Luiselli was to give the hand-over speech at the London Book Fair the following day and I was returning to Norwich. We had a few short hours in which to discuss some of the problems involved in the English-language translation of La historia de mis dientes (Sexto Piso, 2013).
One immediate issue that arose had to do with nomination. The novel contains numerous names, almost randomly applied to characters, only some of whom would be known to readers: two of Highway's 'uncles' are clearly identifiable as Carlos Fuentes and Marcel Proust, but what about Uncle Cadmo and his wife Telephassa? How many of the Latin American writers cited would be familiar, especially when they are referred to by nicknames? And just how reliable was Highway as a narrator/auctioneer? Since when was Valeria Luiselli the daughter of a pair of conceptual artists or her husband, Álvaro Enrigue, a bus driver? Although the situation did not seem to demand the footnotes like skyscrapers proposed by Nabokov, some sort of glossary or translator's note would clearly be required. But given the nature of this enigmatic novel, its mixture of humor, wit and erudition, neither of the above felt quite right: they would, inevitably, be relegated to an appendix, a text that had no place in the book proper and that might not even be read. What I wanted was something which would react to, interact with the novel, and invite readers to become actively involved in piecing together the jigsaw of meaning within the work as a whole.
The problem was obviously simmering away on the back burner of my mind as a few weeks later an e-mail to Valeria – dated May 4th –contained the following:
…Have also been thinking over your concerns about how the novel is perceived critically. My best idea so far has been A Chronological Highway, relating the events in Highway's life to what was going on in the worlds of art/literature/music etc at the time …
Valeria liked the idea so I set out on my Chronological Highway.
Strangely enough, the first task was to construct Highway's biography. In early versions of the novel, few events in the narrator's life had specific dates; I knew more or less when Highway died and when his son was born, but little else. So, I counted years, made suppositions and, finally, drew up a map of Highway's life. This was to form the skeleton of the chronology, the framework onto which real and fictional events and, most importantly, names could be hung. The idea was a species of route map, with secondary roads leading off from the Highway to information that might enhance readers' understanding of the text. However, if the 'Chronological Highway' was to fulfill my aims, this information could not be a simple list of dry facts. If naming in the novel is arbitrary, then, to some extent, the facts must follow the same logic.
The conversation which had begun in London continued, this time on the terraces of cafés in New York City – it was May the same year: Valeria's Faces in the Crowd and Sidewalks had just been re-issued by Coffee House Press, and I was basking in a little reflected glory – as we worked through the proofs of The Teeth. Eventually, we broached the topic of the 'Chronological Highway' to Valeria's editor at Coffee House Press, Chris Fischbach, and, to my amazement, he agreed and even suggested they get their graphic designer on board. Highway was, in chronological terms, on the road.
I began seriously searching through notes I had made on some of the characters during the initial translation process, trawling the Internet, dusting off books in which I dimly remembered useful details might be found. Wasn't there something in Daniil Kharms's Today I Wrote Nothing (Ardis, 2009; Tr. Matvei Yankelevich) about being born twice? This would seem to fit with Highway's ability to re-invent himself. Blogs and interviews provided fascinating details; official web sites and biographies were invaluable. It was fascinating to follow the threads or hints contained in Valeria's text: the bonsai tree bought from Alejandro Zambra's nursery was a no-brainer, but relating the bar called Let There Be Lux to Paula Abramo's collection of poetry, Fiat Lux (Tierra Adentro, 2012), took a little longer. Occasionally, something I read would fall beautifully into place: Alan Paul's comparison between fiction and a 'map based on coincidences and divergences' was too perfect to be omitted. But all these names needed a context in which to exist, and this was provided by historical and events, statistics and, of course, anything related to teeth, or auctions or both.
Where to locate the information on the chronology was, at times, a problematic decision. There was no difficulty in relating Highway's birth to the end of World War II in Europe, but Jacobus de Voragine, for example, proved more complex until I found a reference to the first Caxton edition of his Golden Legend, published in 1483: a 500th anniversary that fitted into the timeline! And there were gaps in Highway's life, where the world went on without noticeable intervention on his part, which led to major road works on certain pages.
In parallel to the evolution of the novel – for Valeria, the translation process involves more than a linguistic transformation – the 'Chronological Highway' took new forms. At one point, Highway briefly changed his name, and it became the 'Chronological Turnpike'. Then, when Valeria decided that it should be included in the work as chapbook VII, rather than being added as an appendix, it was renamed 'The Chronologic' to match the other titles. Characters appeared, disappeared and sometimes reappeared after an absence in a different place. If the exercise were to have any meaning, all the names in the novel had to be included: I made a new list at each stage of the editing, ticked off names, added new information, searched earlier versions for previously deleted items. And finally, all this was transformed by brilliant graphic design into the elegant chrono-route-map that now appears in the book.
Writing 'The Chronologic' was an adventure, sometimes a slightly frightening one as sometimes felt like an explorer mapping unknown territory; however, the journey it took me on led to an even deeper appreciation of Valeria's work, and I hope it will have a similar effect for readers.
So, what's in a name? Everything and nothing, it would seem.
+++
The following is an excerpt from the opening pages of Valeria Luiselli's The Story of My Teeth:
I'm the best auctioneer in the world, but no one knows it because I'm a discreet sort of man. My name is Gustavo Sánchez Sánchez, though people call me Highway, I believe with affection. I can imitate Janis Joplin after two rums. I can interpret Chinese fortune cookies. I can stand an egg upright on a table, the way Christopher Columbus did in the famous anecdote. I know how to count to eight in Japanese: ichi, ni, san, shi, go, roku, shichi, hachi. I can float on my back.

This is the story of my teeth, and my treatise on collectibles and the variable value of objects. As any other story, this one begins with the Beginning; and then comes the Middle, and then the End. The rest, as a friend of mine always says, is literature: hyperbolics, parabolics, circulars, allegorics, and elliptics. I don't know what comes after that. Possibly ignominy, death, and, finally, postmortem fame. At that point it will no longer be my place to say anything in the first person. I will be a dead man, a happy, enviable man.
Excerpt is reprinted by permission from The Story of My Teeth (Coffee House Press, 2015). Copyright © 2015 by Valeria Luiselli.
+++
Christina MacSweeney is a literary translator specializing in Latin American fiction. Her translations of Valeria Luiselli's Faces in the Crowd, Sidewalks and The Story of My Teeth were published by Granta and Coffee House Press in 2012 and 2013 and 2015 respectively; Faces in the Crowd was a finalist for the Best Translated Book Award, 2015. Her work has also appeared on a variety of platforms and in the anthology México20 (Pushkin Press, 2015). Her translations of Daniel Saldaña París's Among Strange Victims and Eduardo Rabasa's A Zero Sum Game are forthcoming from Coffee House Press and Deep Vellum respectively in 2016.