Translation Notes · 12/08/2016
On Translation, Migrancy, and the Mother Tongue: Translating Tarık Dursun K.'s "Ömrüm, Ömrüm"
Our Translation Notes series invites literary translators to describe the process of bringing a text into English, or to offer perspectives on global literatures from which they translate. In this installment, Vuslat D. Katsanis writes about translating the story "Oh, My Life" by Tarık Dursun K. — also published here at Necessary Fiction.
+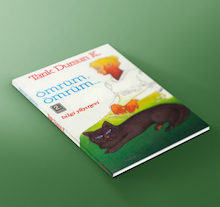 A series of informal conversations with a student inspired me to begin the daring task of literary translation. This student was a Writing Fellow in my university's Writing Center, which I was directing at the time, so a great portion of our conversations revolved around questions of how to approach other people's writing. On our campus, where the majority of students are multilingual, we sought ways to better understand the place of English across diverse traditions of thinking and expression. My student was translating a short novel from Spanish into English for his senior capstone and, along the way, had discovered unanticipated nuances that made him aware of his relationship to the English language — his mother tongue. I listened to his reflections on the experience of working with two linguistic and cultural traditions — constantly moving in and out of various semantic fields, simultaneously decoding and encoding multiple sites of power and resistance, the endless play of meaning, sometimes feeling hopelessly lost in idiomatic confusion, and sometimes finding excitement in the failure of equivalences. My colleague in Latin American Studies was his mentor, but I had the privilege of becoming his English-speaking reader. When he shared an excerpt of his translation, I remember feeling the awe, and soon after, the pressing need to do through Turkish what he had done with Spanish.
My decision to translate "Ömrüm, Ömrüm" by Tarık Dursun K. from Turkish into English came almost instinctively. Tarık Dursun K. was one of the first authors of the Turkish language that I had read as a young child after my family relocated from Turkey to the USA. Tarık Dursun K. was also the one whose stories I kept returning to during my years of growing up between the two countries. I remember sorting through the collection of his books in my mother's home library, which she had packed so neatly in organized boxes to ship to our new home in Lawton, Oklahoma. Even at that young age, I was drawn to Tarık Dursun K.'s writing, and to "Ömrüm, Ömrüm" specifically. After spending hours in my elementary school ESL classes, I would come home and pick up one of his books, read them silently in a corner of the room I shared with my sister, and hear again the language of the culture that I thought I belonged to. It thus felt as a matter of course that I take my first daring step into literary translation with Tarık Dursun K.
Tarık Dursun K. was born in 1931 in Izmir — the same city where I am from. He stopped using his full last name "Kakınç" in preference for the single initial K. — just as I had been using my D. and for the exact same reason. Indeed, a father who would rather abandon his children than face the struggles of life does not exactly merit having his name carried on. He explained this decision as an exercise in freedom, in the feature documentary on his life, Imbatla Dol Kalbim, released in 2013, two years before his death.
K. had a rough life, but it's the way in which he battled that roughness with a persistently kind, loving heart that invigorated his words and earned respect for his name. He never finished school. Having to drop out after elementary education due to his family's frequent migrations, Tarık Dursun K. earned a middle school diploma by taking outside placement tests. He then began working at a young age and took on many odd jobs to support his family: as a paperboy, a shoe-repair person, a fast food deliverer, an office assistant, and finally, as a cinema critic for the Anadolu newspaper in Izmir. It was there, in 1949, that he began writing publicly. Twenty years later, he founded Kurul Press (Kurul Kitabevi), and in 1975, became the co-founder of Koza Publishing. He has won a number of the most prestigious awards in literature, journalism, and poetry, including the Turkish Language Institute prize in fiction (1961, Güzel Avrat Otu), the Sait Faik Literary Prizes (1967, Yabanın Adamları and 1985, Ona Sevdiğimi Söyle); the Orhan Kemal Novel Prize (1984, Kurşun Ata Ata Biter); the Grand Literary Award from the Türkiye İş Bankası (1987, Ömrüm, Ömrüm), the Sedat Simavi Literary Prize (2006, Hepsi Hikâye); and the Golden Orange Lifetime Honorary Award in 2014.1
During his long and prolific career, K. published over 18 short story collections, 19 novels, 28 children's books, 6 anthologies in poetry, and an impressive amount of screenplays, newspaper columns, journal reports, personal essays, and translations. He also spent several years directing cinema in Turkey. In many ways, K.'s career chronicles the developments of the publishing industry in Turkey, the new possibilities enabled by the modernization process, and the laborers directly involved in the industry's development. Again and again one could see his gentle homage to the people whose stories he told, from postmen to corner-store owners, from farmers to factory workers, military conscripts, school children, and mothers.2
The news that Tarık Dursun K. passed away later that year in August, 2015, nearly a month after I had taken on the project, is still incomprehensible to me. In my mind, I was supposed to reach out to him with my finished text. I was supposed to give him back what he gave me. I was supposed to meet the person who inspired me to hold onto the Turkish language, and introduce a new way of thinking for English-readers.
"Ömrüm, Ömrüm" is a short story about a husband's Sunday visit to see his wife in the hospital. The story begins abruptly with barely any set-up of the narrative situation. Readers find themselves seated intimately alongside an awkward couple. At first, we are presented with a series of fragmented details from the narrator's point of view: the pepper tree hovering above the couple; its pointy green leaves; the red of his wife's sweater; the stillness of her hands. Our attention then gets interrupted with an equally fragmented conversation. The woman begins talking about a recurring dream. "I dreamt of the cat again last night," she begins. She dreams of this cat often. She walks in on a large female cat stretched horizontally on the floor with three kittens suckling on her body. The cat's glass-like eyes reminds her of her mother.
The cat and I exchanged glances… It was as if she was suffering, but still resisting, resisting against something.
As the story unfolds, readers come to share the painful knowledge of having to live with an incurable illness and the unspoken anxiety of thus letting down your loved ones for not being able to stay alive, either as the one who is dying or as the loved one who remains helpless. The woman is interned at a hospital; she has been there for quite some time and will most likely die there. She knows it; her husband knows it; no one speaks of it directly. Instead, they try to parse the pain by asserting a general criticism of novels which always picture the good life, but the girl dies anyway.* *Memories of the life they had once shared and snippets of their observations of the mundane details around them, no matter how seemingly incoherent or banal, bring readers to recognize that this is a life which demands to be lived. "Am I going to die too?" the wife asks and the husband has no choice but to generalize an answer:
She asked that question with her eyes fixed on my eyes.

"One day, yes…" I said. "We will all, everyone will, of course, die."
A few exchanges later, the story ends just as abruptly as it begins. The couple get up and go their separate ways when the hospital attendants announce the end of visitation hours.
The male attendant drew near us on our right.

"It's time," he said. "You know, administration…"

"I know, of course…" I said. "I was leaving anyway…"

He held her gently by the arm, helped her take the second step.

"Good day, sir!"
"Ömrüm, Ömrüm" is the story of a life whose passing is not yet to be mourned in despair, but to be commemorated as it is being lived; to be celebrated, loved-deeply, and accepted in every way.
Whereas my decision to translate K.'s "Ömrüm, Ömrüm" came almost naturally to me, the process of translation was more arduous than I could have imagined. To begin with, Turkish is my first language; it is my mother tongue. I feel in the Turkish language. I notice in the Turkish language. I love, smile, and share in the Turkish language too. But I don't write in Turkish, for it has been much too long since I moved to the United States, where English eventually became my primary resource for written expression. I read mostly in the English language. I clarify in the English language. I object in the English language. I teach, study, work, and write in the English language, too.
Translation, however, let's you feel your own proximity to a language, especially in the moments you try to speak or write. The slow linguistic separation from a mother tongue engraves even deeper lines the less it is expressed. Still, there was in me a defiant refusal to be known as a "second language user," and the insistence that this too — no, that these two — are my languages. Nowhere else than in the title's translation did I feel my odd interlingual positioning.
A direct translation of the title, "Ömrüm, Ömrüm" would be "My Life, My Life." But "Ömrüm" is also an expression of endearment; "my life," as in "my dear," or "my darling." Thought in this way, the husband's love for his wife would find an appropriate place in the work's title. Yet again, Ömrüm is also a woman's name in Turkish. One could well assume, since there is no explicit reference, that Ömrüm is the wife's name — a proper name — in which case, the title should not have been translated at all. Or, it could have been translated as "Ömrüm, My Dear," or "Ömrüm, My Darling." Yet again, "Ömrüm, Ömrüm" also resonates as a nostalgia for the passing time, where the reduplication of "my life" negotiates one's own mortality while recalling the memories that compose life. Albeit uncertain with my decision, I settled on "Oh, My Life," to capture the text's commemorative spirit. I did this, with the help of my mother, whom I called in Turkey several times during my translation process. We talked about the story and the relationship between the narrative couple. We talked about what might sound better for English-readers while keeping faithful to the characters' situation.
Along the way, I came to realize that another level of translation was taking shape. Just as the act of translating from Turkish into English brought me closer to my mother tongue, so too it brought me closer to my own mother, and indeed, closer to understanding her stubborn resistance to make me not forget Turkish in that little town of Lawton, Oklahoma.
With this translation, I wish to make Tarık Dursun K. available to English-readers, and perhaps, inspire teachers and students, migrants and multilinguals, everywhere, to hold onto all of their languages. Above all, I wish to commemorate the life of Tarık Dursun K., whose name and contributions extend well beyond the Turkish literary scene.
1. "Tarık Dursun K. Hayatını Kaybetti." Bianet. 12 August 2015. Web.
2. "Son Yolculuğuna Uğurlandı." Hürriyet. 14 August 2015. Web.
+++
Tarık Dursun K. was born on May 26, 1931, in Izmir, Turkey. He began his career with poetry in 1949, and went on to author over 19 novels, 30 short stories, and six anthologies. He is the recipient of a number of Turkey's most prestigious prizes in literature, including the Golden Orange Lifetime Honorary Award, which he won just a year before passing away on August 11, 2015. "Ömrüm, Ömrüm" was originally published in Turkish in 1987.
+
Vuslat D. Katsanis is a visiting professor of rhetoric and composition at Soka University of America and a member of the artists collective, Improvised Alchemy. Her work focuses on contemporary Turkish film, literature, and visual culture, and how they relate to notions of identity, estrangement, and dissent.

Translator's Note: Special thanks to Jacob Edelstein, for sharing his capstone, which inspired me to take this first step into literary translation; to my mother, Hayriye Öznur Kutkan and sister, Ilknur Demirkoparan, for reading my translation and offering vital feedback through the various stages of this project; and to Michelle Bailat-Jones for inviting me to write this translator's note.