Bookshelf · 10/18/2016
The Red Car & Dodge and Burn
Our bookshelf is a space where the editors (and, perhaps, guests) can share what we're reading and thinking about without the formality of a longer review or the focus on recent books, or even sticking to fiction as we usually do.
+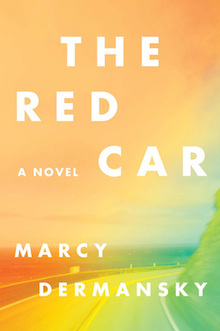 Marcy Dermansky's Bad Marie is one of my favorite US novels of recent years, because of its darkly comic voice and the way it delivers the momentum of a high-stakes "adventure" (or misadventure, in the case of Bad Marie's kidnapping by an au pair of her charge) without the contrivance of a too-artificial plot. And while her new novel The Red Car (Liveright, 2016) is a very different novel in many ways, it shares that narrative energy I enjoyed so much.
The Red Car is a classic American road story—what more American story is there than "things weren't working out so well in the east and so I went west?"—but it's also a brilliant subversion of that genre. It's the story of a narrator "finding herself" on the road, complete with sly winks at the macho clichés of finding oneself in On The Road and Big Sur, and at the kind of men (myself included) who both appear in those books and see themselves — perhaps longingly — in their pages. Dermansky's protagonist makes risky decisions personally, sexually, financially, and driverly, as characters always do in a road story, and we race along with her as she heads west to deal with the unexpected inheritance of the titular car from an old friend and mentor. En route we're reminded and forced to consider how our expectations and assumptions about such a story of western escape are different because it's told by and about a woman. And the other thing that really stuck with me was the mentor/mentored friendship between women at the novel's heart, because it felt like a kind of relationship not seen very often (at least not by me) in fiction.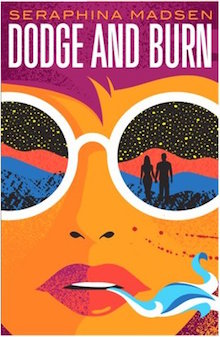 I thought about The Red Car quite a bit while reading another recent novel, too: Dodge and Burn (Dodo Ink, 2016) by Seraphina Madsen. Hers is an epistolary account of heiress Eugenie Lund's escape from her kidnapper, out into the world on a Carlos Castaneda-ish metaphysical quest. Eugenie is a character too good to be true: fabulously wealthy, exceedingly brilliant, and well read in every text, culture, history, and subject, not to mention trained with every survival skill a person might need. But as in The Red Car it's an exaggeration befitting its genre, no more overblown than any male character ever was in such a tale, and a great deal of fun for it. So if you like reading one of these books you might want to check out the other.
+++
Steve Himmer is the editor of Necessary Fiction.