Research Notes · 04/19/2013
Woke Up Lonely
Our Research Notes series invites authors to describe their research for a recent book, with "research" defined as broadly as they like. This week, Fiona Maazel writes about Woke Up Lonely (Graywolf Press).
+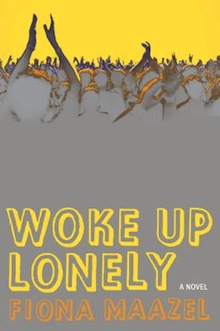 When I begin researching a new project, it often seems like what I'm actually doing is researching myself to find out what will interest me next. For Woke Up Lonely, I thought I was going to write about a hypochondriacal fat man who is also a cult leader. So I read Fat Land: How Americans Became the Fattest People in the World. Also: Scoot Over, Skinny, an anthology about being overweight that is often hilarious, often tragic — both of which books helped me realize that I wasn't interested in obesity except in obesity as absurdism, which seemed not only small-minded but also boring. Next, I moved on to the idea of a hypochondriacal cult leader who is so appalled by the 2004 election, he wants all the liberals in the country to secede. So I read Confederates in the Attic, which was hugely engaging and funny, but which took some of the stuffing out of my plans for being so good. But I still had notions of writing about hypochondria. I read The Hypochondriacs: Nine Tormented Lives, which considers how the condition affected some very accomplished and esoteric people, among them Glenn Gould, James Boswell, and Charles Darwin. Next was the very funny The Hypochondriac's Guide to Life. And Death. Also engaging, but revelatory, insofar as it turned out that I wasn't interested in hypochondria, either. At least not as a foundational topic for a novel. So that was out, which left with a cult leader. But what did I know from cult leaders? Or just cults, beyond what you hear in the news? Enter:
Cults in our Midst: The Hidden Menace in Our Everyday Lives — Margaret Thaler Singer
On the Edge: Political Cults Right and Left — Dennis Tourish and Tim Wohlforth
What's Left? Radical Politics and the Radical Psyche — Michael Neumann
The more I read, the more interested I got. Not so much in the orthodoxy of group thought but in the leader, himself. How did he get there? Where did he come from? I decided my cult leader would be apolitical and agnostic. Slender. Not especially neurotic, though somewhat paranoid given his stature. He'd have a candy fetish.
The Ultimate Candy Book — Bruce Weinstein
He'd be fixated on the problem of intimacy and decide that it is best wrought between people who disclose to each other at a high level.
Troubling Confessions: Speaking Guilt in Law and Literature — Peter Brooks
Why We Need Confession — Russell Shaw
Abstraction and Empathy — Wilhelm Worringer
He'd lord over a therapeutic community whose mandate is to accost loneliness in 21st Century America.
Solitude: A Return to the Self — Anthony Storr
Loneliness: The Experience of Emotional and Social Isolation — Robert S. Weiss
Bowling Alone: The Collapse and Revival of American Community — Robert Putnam
Eleven Kinds of Loneliness — Richard Yates
Around that same time, in 2007, I was getting increasingly interested in North Korea. One of the loneliest countries on earth. I saw a spot on 60 Minutes about Joe Dresnok, an American soldier who crossed the DMZ in 1962 and had not been heard from again in 45 years. In North Korea, he met three other defected soldiers, all of whom would end up starring in propaganda films aimed at demonizing the United States. Two of the soldiers died in North Korea, one — Charles Jenkins — managed to get out, but Dresnok stayed.
Jim Frederick's book with Charles Jenkins — The Reluctant Communist: My Desertion, Court-Martial, and Forty-Year Imprisonment in North Korea — offers up a harrowing account of Jenkins's time there. Dresnok's account in the documentary about him — Crossing the Line — is considerably more sanguine, though it's impossible to know how much of his enthusiasm derives from wanting the North Korean government to keep protecting him and how much of it is real. In any case, it was obvious that I had to find a way to get something of their stories into the novel.
On the Art of Cinema — Kim Jong-il
The Aquariums of Pyongyang: Ten Years in the North Korean Gulag — Kang Chol-hwan
A Corpse in the Koryo, An Inspector O novel — James Church
It occurred to me that I needed a bridge — a woman — between the cult leader and North Korea. A sleuthing mercenary. An ex-wife. Someone who might expose the cult leader as a hypocrite. A professional eavesdropper.
Radio Exploration of the Planetary System — Alex G. Smith and Thomas D. Carr
Chatter: Dispatches from the Secret World of Global Eavesdropping — Patrick Radden Keefe
Someone who got her training in the CIA.
Fair Game: My Life as a Spy, My Betrayal by the Whitehouse — Valerie Plame Wilson
Inside the CIA — Ronald Kellser
Legacy of Ashes: The History of the CIA — Tim Weiner
Also, there would have to be some drama with the cult leader. A showdown. Something Waco-like. Hostages!
Cold Zero: Inside the FBI Hostage Rescue Team — Christopher Whitcomb
And each hostage would have his/her own story to tell by way of juicing up the novel with case studies in loneliness.
Breakthrough International Negotiation: How Great Negotiators Transformed the World's Toughest Post-Cold War Conflicts — Michael Watkins and Susan Rosegrant
The Evolution of Cooperation — Robert Axelrod
The Control of Nature — John McPhee
Changing the Atmosphere: Expert Knowledge and Environmental Governance — Clark Miller, Paul Edwards, eds
As for putting myself in the right frame of mind to write the novel, I'd have to read something whose sweeps of grand feeling would remind me that I was, in some regard, trying to write a love story.
Tess of the D'Urbervilles — Thomas Hardy.
And so Woke Up Lonely got written. Of course the foregoing is not an exhaustive bibliography, just highlights. If I really wanted to detail my researching habits, I'd include mention of photos and articles and documentaries and interviews — of which maybe 25% proved of use. But such is the fun and tedium of research: you always do so much more than you need.
+++
Fiona Maazel, author of Last Last Chance and Woke Up Lonely, is the winner of the Bard Prize for Fiction and a National Book Foundation "5 Under 35" honoree. She teaches at Brooklyn College, New York University, Princeton, and Columbia, and lives in Brooklyn.