Research Notes · 01/09/2015
What The Dinosaurs Did Last Night
Our Research Notes series invites authors to describe their research for a recent book, with "research" defined as broadly as they like. This week, Refe Tuma writes about What The Dinosaurs Did Last Night, written with Susan Tuma and published by Little, Brown.
+
Inspirational Mess-Making Throughout Recent History
August 8, 1949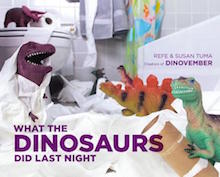 The paintings of Jackson Pollock, marked by their unmistakable splatters, drizzles, and streaks, are featured in a four-page spread in Life magazine that asks, "Is Jackson Pollock the greatest living painter in the United States?"
"The painting has a life of its own," Pollock would later say. "I try to let it come through. It is only when I lose contact with the painting that the result is a mess."
+
April 30, 1970 — November 19, 1970
Willy Wonka and the Chocolate Factory films on location in Munich, Germany. According to Wikipedia, "The 2-foot-deep (0.6 m) chocolate river and waterfall were created by adding chocolate cream mix to 150,000 US gallons (570,000 L) of water, which eventually turned rancid and created a foul odor that permeated the entire soundstage." The children, excited at first at the sight of the flowing chocolate, soon begin to complain about the conditions on the sound stage.
+
January 27, 1989
A chewing gum factory explodes when flames from an acetylene torch ignite a cloud of sugar dust. The blast blows out a wall of the building. One might imagine a giant pink bubble expanding and breaking through brick and stud like the Kool-Aid man, but of course the explosion is nothing like that. No employees are hurt.
+
December 24, 2011
A semitrailer in Fort Wayne, IN tips while attempting to enter Interstate 69 via an on-ramp, spilling 40,000 pounds of ice cream. Flavors include various types of vanilla, and caramel praline crunch.
+
January 9, 1993
My seventh birthday is held at Leaps 'N Bounds, a now-defunct indoor playscape featuring a network of plastic tunnels and slides. In keeping with Leaps 'N Bounds' policies, I am allowed to personally apply sprinkles from a large glass shaker onto my complimentary birthday cake under the supervision of an employee. I shake vigorously at the encouragement of my peers until the shaker's cap pops off, spilling the remaining sprinkles onto the cake in heap. "I don't like sprinkles," my friend Tyler says.
+
July 18, 2008
A big-rig overturns near the intersection of Highway 6 and Highway 59 in Sugar Land, TX, dumping more than 5,000 gallons of molasses onto the asphalt. Dirt and gravel adhere to the surface of the molasses, and workers are forced to fend off flies by the cloud. Traffic is diverted for nearly eight hours while cleanup crews attempt to clear the sticky mess. Witnesses describe the scene as tar-like and vaguely prehistoric.
+
September 6, 2010
A 7.1 magnitude earthquake rips through Christchurch, NZ causing over $1.5 billion in damages. In a local glass factory, hundreds of panes of glass shatter, covering the floor in waves of piled shards. Dozens of mirrors are included in the destruction. By some calculations, the earthquake could result in as many as 588 years of bad luck—if you happen to believe in that sort of thing.
+
May 23, 2011
Susan and I hear chairs scraping across the kitchen floor below us. We peak down the stairs to find our daughters, ages two and three, spreading vanilla ice cream onto slices of whole wheat bread. "Hi Mom and Dad," the three-year-old says. "Would you like an ice cream sandwich?"
+
October 17, 1814
A vat containing 162,120 gallons of beer ruptures inside the Meux and Co. Brewery, knocking over other vats and sending 387,900 gallons of beer rushing into the streets of London parish St. Giles. If the Meux and Co. disaster was found in a scene from a movie, the influx of freshly brewed beer might result in city residents dancing and drinking in the streets. An epic block party. Instead, the beer tsunami knocks over two homes and collapses a tavern, leaving 9 people dead.
+
October 1, 2013
My son scales the linen closet shelves to reach a stick of my deodorant and walks throughout the house, "polishing" the furniture.
+
March 27, 2013
Thick clouds of neon powder hang over the streets of Uttar Pradesh. Holi revelers hurl gulal and brightly-colored water into the air, dying one another a spectrum of pink, orange, green, and purple. It is said the vibrant colors represent energy, joy, and the coming spring. Evidence of the festivities can often be found months later, between the stones of buildings and beneath potted plants.
The Holi tradition has also been appropriated by dozens of 5k's throughout the United States. After such events, runners can be seen purchasing coffee at Starbucks, other patrons looking up from their Caramel Macchiatos, raising their eyebrows, and pulling in their legs to ensure nothing too colorful brushes against their pants.
+
January 14, 2014
My son discovers the location of his sister's piggy bank. Coins rattle when the pig is shaken, but his fingers cannot fit into the slot on its back. My son leaves his sisters' bedroom with its thick, soft carpet, and enters a nearby bathroom. After hearing a crash, I find him picking through the ceramic shards on the tiled floor, collecting pennies and dimes in the pockets of his jeans.
+++
Refe and Susan Tuma live in Kansas City with their four children and a herd of plastic dinosaurs. The Tumas began cataloguing their dinosaurs' antics in 2012, igniting the imaginations of hundreds of thousands of children—young and old—across the world.