Research Notes · 04/11/2014
Vernon Downs
Our Research Notes series invites authors to describe their research for a recent book, with "research" defined as broadly as they like. This week, Jaime Clarke writes about Vernon Downs from Roundabout Press.
+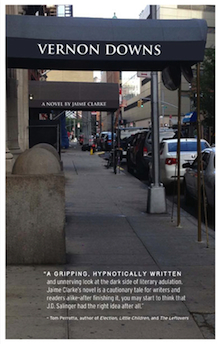 As Vernon Downs is a roman a clef, you might assume that a ton of research went into writing the novel. Yes and no. By the time I sat down in 2013 to rewrite the draft I'd written in 2005, which was predicated mostly on my becoming a Bret Easton Ellis fan after seeing the film version of Less Than Zero as a teenager in Phoenix in 1987, and then reading his books, and then enrolling in the MFA program at Bennington College, Ellis's alma mater, etc., the research from my initial fascination with Ellis was so familiar it sometimes surprises me when people don't know what I know about what's been written about Ellis and his work.
Superfandom is much easier today what with Google and Facebook and Twitter and, well, the internet. Back in the late 1980s, if you were a teenager in the desert wasteland, you needed a library card and a measure of extreme patience to receive the kind of gratification you can now receive for the trouble of a few keystrokes and clicks.
Below is a list of the articles I had to dig up on microfiche at the Phoenix Public Library when I first became interested in Ellis and his work:
1987
New York Magazine article entitled "Less Than Zero" by Elizabeth Wurtzel;
Vanity Fair profile of Judd Nelson by BEE
1990
Publishers Weekly editorial titled "Publisher Responsibility and Bret Easton Ellis";
Newsweek article titled "The Killing of a Gory Novel," dated November 26, 1990;
Time Magazine article titled "A Revolting Development," dated October 29, 1990;
Article by Carol Iannone titled "PC & the Ellis Affair";
Time Magazine short titled, "Sherman McCoy, Where Are You?" dated July 30, 1990;
New York Magazine article titled "Psycho Drama," dated December 17, 1990;
BEE bio from Contemporary Authors;
Rolling Stone article dated October 4, 1990 by BEE re returning to Bennington
1991
Rolling Stone article about American Psycho dated April 4, 1991;
Newsweek article titled "Confessions of a Serial Killer," dated March 4, 1991;
Vanity Fair article titled "Children of the Pied Piper," by Norman Mailer, dated March 1991;
Publishers Weekly article re Vintage edition of American Psycho;
New York Times Book Review review of American Psycho by Roger Rosenblatt titled "Snuff This Book! Will Bret Easton Ellis Get Away With Murder?"
1994
Vanity Fair, August 1994 featuring article "Who's Afraid of Bret Easton Ellis?" by Matthew Tyrnauer.
Esquire Magazine, October 1994 featuring the article "The Case for Bret Easton Ellis," by Will Blythe.
"Interview with Bret Easton Ellis," by Mark Amerika and Alexander Laurence;
September 18, 1994 New York Times Book Review review of The Informers by Bret Easton Ellis written by George Stade;
November/December 1994 U Magazine interview with BEE titled "Days of Whining Poseurs," by Joshua Mann.
1995
June 1995 Details Magazine profile of Val Kilmer by BEE;
May 1995 copy of Manhattan File featuring fiction by BEE;
"In the Islands," by BEE from the Bennington Review;
Hotwired interview with BEE
For the longest time, I kept the Xeroxes of these articles in a box. They represented a lot of legwork and I was sure that it was the only collection of such material on Ellis. It's a wonder to me now that Ellis has a Twitter feed, and an email address, etc. For a short period of time in the 1990s, he was as mysterious a figure as J.D. Salinger. And now, if you're one of his 400,000+ Twitter followers, you have an up-to-date accounting of his favorite movies, music and books. Amazing.
+++
Jaime Clarke
is a graduate of the University of Arizona and holds an
MFA
from Bennington College. He is the author of the novels
We're So Famous
and
Vernon Downs
; editor of the anthologies
Don't You Forget About Me: Contemporary Writers on the Films of John Hughes
,
Conversations with Jonathan Lethem
, and
Talk Show: On the Couch with Contemporary Writers
; and co-editor of the anthologies
No Near Exit: Writers Select Their Favorite Work from Post Road Magazine
(with Mary Cotton), and
Boston Noir 2: The Classics
(with Dennis Lehane and Mary Cotton). He is a founding editor of the literary magazine
Post Road
, now published at Boston College, and co-owner, with his wife, of Newtonville Books, an independent bookstore in Boston.