Research Notes · 11/02/2018
True Love and Other Dreams of Miraculous Escape
Our Research Notes series invites authors to describe their process for a recent book, with "research" defined as broadly as they like. This week, Micah Perks writes about True Love and Other Dreams of Miraculous Escape from Outpost 19.
+
Ten Things I Learned While Writing My Linked Short Story Collection, True Love and Other Dreams of Miraculous Escape
1.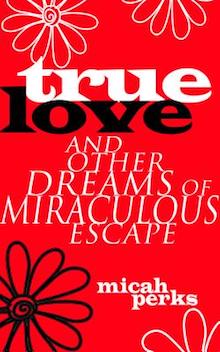 In 1926, when he was dying in the hospital of a ruptured appendix, Harry Houdini said he had a yen for Farmer's Chop Suey. They ordered out from a Jewish deli. It was his last meal. Farmer's Chop Suey is Eastern European Jewish immigrant in origin, named after the American Chinese food American Jews loved to eat.
Houdini was the son of a rabbi, and he loved his mother inordinately. Once he bought one of Queen Victoria's gowns at auction and gave it to his mom, who was from Appleton, Wisconsin by way of a Hungarian shtetl. Houdini made a party, and his mother attended in Queen Victoria's dress. Houdini said it was the best day of his life. Houdini's mother was buried in Queen Victoria's dress.
To make Farmer's Chop Suey toss radishes, cucumbers and peppers in sour cream and cottage cheese.
+
2.
You can buy a dildo shaped like a pink beaver. The beaver's tongue vibrates.
+
3.
In a town called San Jose, just a few hours distance from San Francisco, lived the old widow of the Winchester fortune. From 1888 to 1922 she continually built a house of crazy proportions, supposedly directed by ghosts.
Even from the outside you could tell something was strange. There were thirteen stained glass windows that had thirteen panels fashioned in the shape of spider webs. But no one except the servants could get into that house. They say the front door had never been unlocked. When Teddy Roosevelt came to call, no one answered the door, and he left in a huff. This house was labyrinthine. Outrageous. Offensive. Stairs ending at the ceiling. A stairwell leading to a door that opened onto a wall. An entire wing seemed to be blocked off. There were one hundred and sixty rooms, all with the finest decorations, all eerily empty of inhabitants.
+
4.
Kitsune are Japanese spirit foxes. Rebecca Solnit wrote about them in her essay, "Arrival Gates," and Karen Tei Yamashita wrote about them in her essay, "Departures." Kitsune can generate fire with their tails. They are tricksters, shapeshifters. They can even transform into humans. You will know them by their golden eyes. And their bite.
+
5.
A strain of marijuana called 24 Karat Gold is purported to smell and taste like tangerines.
+
6.
An Australian photographer named Spencer Tunick travelled all around the world. In each location he would put a notice in the paper: Come at 8AM to have a group portrait of your country taken, naked. Four thousand people turned out in Santiago, Chile. It was a cold day, winter, drizzling, and people were rubbing their hands together, making jokes. Four hundred evangelists protested nearby. People were waving the Chilean flag, singing the national anthem. Right at 8AM they all undressed, jeans and suits and dresses lying at their feet, four thousand of them, all together for the world to see. Laughing and freezing, desnudos. Spencer Tunick wrote that he lay on the ground, looked up at the sky and felt like he was dreaming.
+
7.
Definition of the word monster: 1) an organism formed of various animals in combination, like a centaur or griffin. 2) anyone grotesquely deviating from the normal shape or character. 3) anything with abnormal form or structure.
+
8.
The noise coming from the Rosetta comet sounds like a squirrel chattering.
+
9.
Anne Hutchinson, called the American Jezebel, was banished from Boston in 1638 for interpreting the bible. Anne Hutchinson believed in friendship with all people, and when her husband died, she moved to the New Netherlands outback with her seven youngest children (she had fifteen in all). They made a home between the Dutch and the Siwanoy. Then, the Dutch massacred eighty Siwanoy women and children. The Siwanoy sent a message to Anne and told her there would be retaliation — they warned Anne to leave the area to avoid harm. But Anne trusted in God and good neighbors. The Siwanoy massacred Anne Hutchinson and her children, all but her small daughter Susan, who they discovered hidden in the cleft of a rock. The chief of the Siwanoy, Wampage, changed his name to Anne to honor Anne Hutchinson and adopted Susan as his daughter. Susan lived for eight years with the Siwanoy before she was ransomed, some say against her will. I wonder how often Susan Hutchinson thought of her parents, Anne and Anne, and how she missed them.
+
10.
The Spanish word Ojala has a breathy, warm, open sound. It has Arabic roots, from pre-1492 Spain where once upon a time Jews and Arabs and Latinos all lived together, surrounded by arches and mosaic tiles, by the smell of rose, hyacinth, musk and amber. Oh, Allah, it comes from, Oh Allah, I entreat you. It means hope.
+++
Micah Perks
is the author of the novel
What Becomes Us
, winner of an Independent Publisher's Book Award and named one of the Top Ten Books about the Apocalypse by
The Guardian
. Her memoir,
Pagan Time
, tells the story of her childhood in a log cabin on a commune in the Adirondack wilderness. She is also the author of
We Are Gathered Here
, a novel, and
Alone in the Woods
, a long personal essay. Her short stories and essays have appeared in
Epoch, Zyzzyva, Tin House, The Toast,

OZY
and
The Rumpus
, amongst many journals and anthologies. She has won an
NEA
, five Pushcart Prize nominations, and the New Guard Machigonne 2014 Fiction Prize. She received her BA and
MFA
from Cornell University and now lives with her family in Santa Cruz where she co-directs the creative writing program at
UCSC
. More info and work at
micahperks.com
.