Research Notes · 04/25/2014
Thunderstruck & Other Stories
Our Research Notes series invites authors to describe their research for a recent book, with "research" defined as broadly as they like. This week, Elizabeth McCracken writes about Thunderstruck & Other Stories from The Dial Press.
+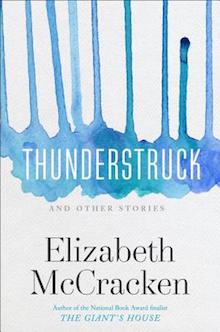 Of all my achievements, I am most proud of my library science degree. It's like a astrological sign, but certified: I am a Librarian. These days, I say lapsed librarian or non-practicing librarian but in stacks of my soul, there is nothing lapsed or non-practicing about it. I will always be a librarian. 
 
I got my Master's in Library and Information Science in 1992, just about as everything began to change. (Maybe everything is always about to change.) As a graduate assistant in the school resource center, I wrote Internet user documentation, back in the days when that seemed like something people might need. Seriously: I wrote a manual for the Internet. It was many pages long and was kept beside the computer terminals for the five minutes before it was out of date. The semester before, I'd taken an entire academic class in how to search in online databases: this was, in the early 1990s, a professional skill. Mostly I was a terrible library science student, careless and messy and forgetful, but I was good at shaking information out of electronic sources, though my heart belonged to paper resources. What I loved most were giant volumes of periodical indexes — The Reader's Guide to Periodical Literature, The New York Times Index — the way they tipped off of shelves into my waiting hands. Sometimes when I should have been doing my cataloguing homework, I instead did idle research for a future novel.  In those days I thought that if I only followed trails of citations, I might find a part of history that nobody but me had thought about since it had been written about and then indexed in the reader's guide. Research would make me original.
 
My first two novels were historical. My method, ordinarily, is to research first, as much as possible: when I research until I know enough that I can monkey with the facts. Then I can start writing. My second novel was about vaudeville, and initially the research terrified me. The history of vaudeville is recorded mostly in ephemera, bills, tickets, posters, backstage materials.  How would it be possible to put my arms and brain around all of that uncertainty  Then one day while sitting in the microfilm room at the Boston Public Library, reading back issues of Variety, I read the obituary of a contortionist who committed suicide by drowning in three inches of water and loved the fact and knew it would never fit in my book: I could quit researching. 
 
In the aughts and the teens, I wrote — and finished! — two novels that sunk. By "sunk" I mean I did a lot of research and then I wrote drafts and drafts and yet in the end neither book was seaworthy. The loss of those books made me want to leap right into writing something new. No research, just sentences. The result is this collection of stories I'm publishing, probably the least researched work of my life. Leastways, they're not book researched. It was curious to me, for instance, to write "Hungry," which concerns a 10 year old girl in 1976 (I was a 10-year-old girl in 1976) who dresses up as Patrick Henry at a Des Moines, Iowa, Bicentennial block party (I dressed up as Patrick Henry at a Des Moines, Iowa, block party). I had to spend a certain amount of time in Bicentennial reverie.
 
Research failed me: I'd remembered a kind of lo-cal soda pop that I drank with my grandmother — I'm certain that "black cherry" was one of the flavors — with floating tape measures, and yet the name I gave to it ("Waist Watchers") was, according to my copy editor, anachronistic: that's an actual east coast soda pop invented in the 1990s. No matter what research I did, what doglegs of the internet I went down, I couldn't find the soda pop I remembered so clearly. So it has a fictional name now, but that drives me crazy. I love making things up. If I'd meant to make up a diet black cherry soda pop from the 1970s, I would have. But I can see that can. I can taste the artificial cherry. I can even see and taste (god help me) the apples my grandmother poached in it. What was it? That I can't remember and can't find it through research feels a minor, invisible-to-everyone-but-me failure in the story. 
 
My next book involves quite a bit of historical research, but this time I'm writing and researching at the same time . I'm not sure how that feels yet, but I do know that reading dictionaries of 17th century slang (NB the book does not take place in the 17th century) is such pure fun, so deeply pleasurable.  I research because I want to get things right. I research because it makes me imagine things.
+++
Elizabeth McCracken is the author of five books: Here's Your Hat What's Your Hurry (stories), the novels The Giant's House and Niagara Falls All Over Again, the memoir An Exact Replica of a Figment of My Imagination, and the forthcoming Thunderstruck & Other Stories. She's received grants and fellowships from the Guggenheim Foundation, the National Endowment for the Arts, the Liguria Study Center, the American Academy in Berlin, the Fine Arts Work Center in Provincetown, and the Radcliffe Institute for Advanced Study. She has taught creative writing at Western Michigan University, the University of Oregon, the University of Houston, and the University of Iowa Writers' Workshop. She holds the James A. Michener Chair in Fiction at the University of Texas, Austin, and boy are her arms tired.