Research Notes · 03/29/2013
This Close
Our Research Notes series invites authors to describe their research for a recent book, with "research" defined as broadly as they like. This week, Jessica Francis Kane writes about This Close, out now from Graywolf Press.
+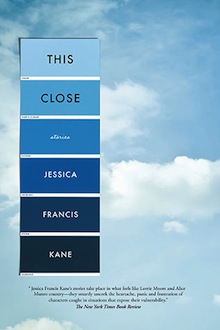 The stories in my second collection, This Close, represent about nine years of story-writing time. The oldest, "Next in Line," was the first story I completed after my daughter was born in 2003, and the newest, "Local Birds," was finished last year when I was putting the collection together. This means that almost all the stories were written during the years I was working on my first novel, The Report. The setting of that book was so foreign to me — wartime London, the East End — that I found when I left it to work on a story, I wanted something familiar. The stories in This Close are all contemporary and set in places I know well.
At first glance, then, the two books wouldn't appear to have much in common. But in thinking about this essay and my mode of research, I realized there is a common theme: Endurance. I seem to be very interested in how characters endure their circumstances, whether it is a tragedy during war, or having the same neighbors for thirty years.
When I happened upon the story of the crush in the Bethnal Green tube station, I knew almost right away that I wanted to write a story about it. The research was straightforward: I went to the library and read newspapers from the period, books about the period. I studied photographs of the area and sketches of people sleeping in the tube stations during the war. E. L. Doctorow said that writing a novel is like driving in a fog. You can only see ten feet in front of you, but you can make the whole journey that way. That is exactly how it felt to me.
But the short stories are different. I've been trying to decide how I would describe writing them, and I think it might be something like this: Writing a short story is like driving round and round a cul-de-sac. You can see all the houses, but you have no idea which one you're going to.
Like most writers, I keep notebooks. These are full of ideas, scraps of dialogue, character names, news items of interest, anything, a messy mix of scribbled bits that make sense to no one but me. Over the years I have realized that my stories come out of these notebooks, but not in a process I know how to contain or control.
What happens is something like this: One day I'm in a café and I see a notice on the bulletin board: "Wanted: a plot of land in exchange for vegetables" with a phone number in a row of tabs along the bottom. I stand there a moment, staring. What kind of person would want to garden so badly they would need to borrow land? Intrigued, I pull out my notebook and it's as if an electrical current suddenly runs through the thing, connecting a dozen or so details previously recorded or observed. What happens next is the dizzying part, the driving round and round the cul-de-sac. I have a strong sense that these elements fit together to make a story, but for a long time I'm not sure how. Eventually, if I'm lucky, I figure it out. In the example above, the story became "American Lawn" in This Close.
I can't give away all of the sparks, but here are a few.
I see a mother and child (I think it was a girl but in my story it's a boy) setting up a small sale on the front steps of an apartment building. ("First Sale")
I see a woman feeding a squirrel in a park. ("Evidence of Old Repairs")
A friend from college drowns. ("Double Take")
One day I have to duck to avoid being hit in the head by a pigeon, and I suddenly think, "I no longer believe in the navigation of pigeons." ("Local Birds")
My story writing has slowed in the last couple of years and I'm not sure what to attribute this to. It could be that I'm interested in writing novels now, or that I'm busy with two children. But it could also be that I too often use Twitter and Facebook to record things I once put down in my notebook. While there is much I enjoy about social media, the current that traces the stories for me doesn't run there. I hope to figure out a better balance between my on- and off-line worlds and write more stories.
+++
Jessica Francis Kane's first novel, The Report, was a Barnes & Noble Discover selection and a finalist for both the Center for Fiction's 2010 Flaherty-Dunnan First Novel Prize and the Indie Booksellers' Choice Award. She is a contributor to The Morning News and lives in New York City.