Research Notes · 01/15/2016
The Misadventures of Sulliver Pong
Our Research Notes series invites authors to describe their process for a recent book, with "research" defined as broadly as they like. This week, Leland Cheuk writes about The Misadventures of Sulliver Pong from CCCLaP Publishing.
+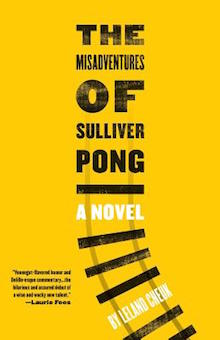 When I think about what inspired my dark comedy about a dysfunctional family beyond my own autobiography, I keep going back to two Danish films in the late 90s and early oughts: Festen (or Celebration), directed by Thomas Vinterberg and Årven (or Inheritance) by Per Fly. Both starred the brooding Ulrich Thomsen, who's been in a number of American films. Vinterberg started the Dogme 95 movement with Lars Von Trier. I studied abroad in Copenhagen in 1997, and to this day, I'm interested in Danish literature and film. To be honest, I'm not a huge fan of any of Von Trier's work, but Celebration and Inheritance are in my pantheon of great movies about dysfunctional, well-off families. In the case of Celebration, the prodigal son returns to a huge gathering at the family mansion for his father's sixtieth birthday and during his toast, reveals that he and his twin sister (who has recently committed suicide) were raped by their father as children. Chaos ensues, and if you have a sick sense of humor like I do, the movie is very funny. From the brutish older brother who kicks his wife out of the car and forces her to walk miles so he can chauffer his brother to the mother who can't remember the names of all of her daughter's black boyfriends, Celebration showed me that one could make an audience laugh at the ugliness of people while dramatizing them with a serious lens. Inheritance is a more earnest. There is also a prodigal son, who is married and living in Stockholm. After his father's suicide, he is ordered by his mother to return home to Denmark to run the family's struggling steel corporation. Thomsen's character is at first out of his depth to the chagrin of his passed-over older brother, who has dutifully stayed in the family business in the hopes of eventually taking over only to have their mother choose favorites. Slowly, Thomsen is poisoned by the wealth, the family, and the business. The more competent he becomes as a CEO, the worse his relationships with his family and his moral compass become. The plot of The Misadventures of Sulliver Pong is very much inspired by that film. If Thomsen was Chinese, he could have played Sully Pong.
While the majority of my novel is set in contemporary times, it is interspersed with chapters that tell the abbreviated life stories of the Pong family patriarchs. These chapters date back to the 1850s and start in Guangzhou. There are a lot of historical texts in English that detail what it was like in South China in the nineteenth century because the British were involved in the Opium Wars. Thank goodness for the rapacious and colonial British Empire! I mostly searched for mundane details: what people wore, illustrations of Guangzhou back then to get the geography, and what family units were like (spoiler: concubines and polygamy). I did the same type of light research for each era: the 1890s on the American frontier, the 1940s just before Franklin Roosevelt decided to intern Japanese-Americans, the 1960s where Sulliver's grandfather wears a hat everywhere and endures an unhappy marriage like Don Draper, and finally the mid-1970s, during the rise of Atari, when Sulliver's father was a video game programmer who claimed to have invented the game PONG. I tried to keep in mind the important craft tip I'd often read about from interviews with writers of historical fiction: don't over-research and make sure that contemporary readers can relate to the characters even if they may not know what a "palanquin" is, for instance. The main way I try to relate to readers in my fiction is through humor. So it was important for me to infuse all of the historical characters with flaws that would resonate in any era. For Millmore and Francisco Pong, their flaw is naiveté. For Sulliver's father, it's selfishness and depravity. Sulliver ends up having all of the flaws of his antecedents in some measure.
Sulliver's showy, first-person narration is a major reason I enjoyed writing and reading the book. My literary idols are Saul Bellow and Martin Amis, who both happen to masters of voice-driven first-person narration. I tried to reach the heights of linguistic virtuosity on display in The Adventures of Augie March and Money. I don't think that I even came close, but I would hope that if Amis or Bellow read my book, they'd at least shrug and say: "not bad." I had the first line of Augie March in my head when I started: "I am American, Chicago-born — Chicago, that somber city — and go at things as I have taught myself, free-style, and will make the record in my own way: first to knock, first admitted, sometimes an innocent knock, sometimes a not so innocent." I definitely intended to lard many of Sulliver's sentences with clauses, hyphens, m- and n-dashes, and offbeat syntax, especially when he reveals his awareness of his not-so-appealing character traits. I also wanted Sully to assert his American-ness by referencing American history, so that the novel would eliminate the identity question right from the start. I intended to get at the question of "am I innocent?" not in a legal sense, but on moral terms. Sully might be innocent compared to his father, but he certainly isn't an innocent.
+++
Leland Cheuk
is the author of the novel
The Misadventures of Sulliver Pong
(CCLaP Publishing, 2015). He is a MacDowell Colony fellow, and his work has appeared in publications such as
The Rumpus
,
Kenyon Review
,
[PANK] Magazine
, and others. He has an
MFA
in Creative Writing from Lesley University and lives in Brooklyn.