Research Notes · 09/11/2015
The Hundred-Year Flood
Our Research Notes series invites authors to describe their process for a recent book, with "research" defined as broadly as they like. This week, Matthew Salesses writes about The Hundred-Year Flood from Little A.
+
Asking Prague for Its Myths: Conversational Research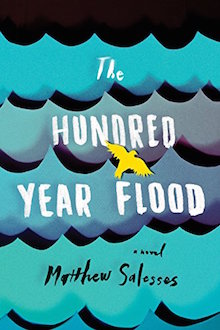 I was waking up late every day and taking the metro out to distant districts of Prague to have conversations in English with Czech executives at T-Mobile and DHL. My job as a TEFL teacher was basically to get someone speaking long enough to identify general patterns.
Since I got to choose the topics, we talked about myths and legends. I was obsessed with myths. Prague was the oldest city I had ever lived in, by centuries. I would wake up and walk down my street past apartment buildings in the Romantic, Baroque, Art Nouveau styles, all nudged up against each other. Then I would walk downtown and into a church built in the 18th Century.
I was obsessed with myths because, as an adoptee, myth seemed to rule my life. What I knew about where I "came from," the question most asked of me, was all myth. I lived with constant reminders of the past — every time I looked in the mirror or spoke or gestured — and yet unlike most people, I didn't know what past they were supposed to remind me of.
But I am confusing myth and history here. I was interested in the history, of course, but I was more interested in the myths. Not how the Basilica of Saint Peter and Saint Paul was built, but how a devil lost a bet there and dropped a pillar just outside, which you can still see. Not the real story of who built the Orloj astronomical clock that graces many images of Prague, but the legend of Hanuš, who was blinded after making it and either took revenge breaking it or was called in to fix it, blind.
Soon I learned that many of the legends had this kind of duplicity — I mean both the deceitfulness and the doubling. I started to seek out stories that were really two stories, like the story of my life. There is a park near the airport named after a woman warrior who, I was told, in a war of the sexes, fell in love with a man she was supposed to betray and either killed him or saved him and betrayed her army. In either case she ended up killing herself.
Myths are not old news in Prague. They are living things. One of the most confusing and amazing events while I lived in Prague was the election of a man who never existed in a poll to determine the most important figure in Czech history. This man was Jára Cimrman, who invented the airplane cabin but had to wait for someone to invent an airplane, who was second to invent the lightbulb. He was always forgotten in the race of history. He was an invention, a literary figure turned myth — you can watch plays about him at a theater devoted to him. The company taking this vote disqualified Cimrman, however, and took the second leading vote-getter as the most important figure. Kind of a perfect ending.
I felt the split between selves, between real and made-up versions of self, acutely in Prague, where I was one of very few residents of color. I wonder if myth was more important to me then because of how I felt disconnected from the things people assumed about me.
Either way, myth and superstition made it into the novel, and survived draft after draft of cutting nearly everything else. My novel, The Hundred-Year Flood, started without a flood. As it ended up, the first page is a list of myths and superstitions the protagonist learns in Prague before returning to America.
+
An excerpt:
If someone sneezes while you're talking, what you're saying is true.
If your nose is soft, you're lying.
If you cut an apple in half and see a star, it's good luck. If not, it's bad.
If you step in shit, it's good luck.
If you pour molten lead into water, you can tell the future from the form it makes.
If your hand itches, you'll get into a fight.
If your nose itches, you'll get beaten up.
If you pour something and it overflows, someone you know will get pregnant.
If you lift your feet for someone to sweep under them, you'll never marry.
"To cry at the wrong grave" means "to bark up the wrong tree."
Often the legends of Prague have to do with selling one's soul to the devil.
Half of Prague will be destroyed by fire, half by water.
When the Czech Republic is in its most desperate hour of need, a sleeping army under the hill Blaník will awaken and defeat its enemies.
Excerpted from The Hundred-Year Flood by Matthew Salesses. © 2015 by Matthew Salesses. To be published by Little A September 2015. All Rights Reserved.
+++
Matthew Salesses
was adopted from Korea. He is the author of
The Hundred-Year Flood
(Little A/Amazon, Sep 2015). Other books include
Different Racisms
(essays) and
I'm Not Saying, I'm Just Saying
(a novel). He has written for
NPR

Code Switch, The New York Times Motherlode, Salon, The Good Men Project, The Toast, The Millions, Glimmer Train,

PEN

/Guernica,
and many others, and has received awards from the Bread Loaf Writers' Conference,
Glimmer Train, Mid-American Review,

PANK

,

HTMLGIANT

,
Emerson College, Inprint, and the University of Houston.