Research Notes · 12/25/2015
The Farmacist
Our Research Notes series invites authors to describe their process for a recent book, with "research" defined as broadly as they like. This week, Ashley Farmer writes about The Farmacist from Jellyfish Highway.
+
Research Index for The Farmacist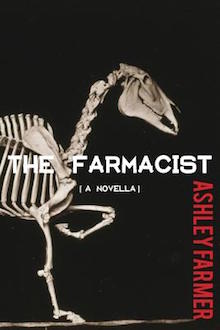 Adjunct, agrarian, ambition, ambivalence, American dream, animal, anxiety, apple trees, avatar
Banish, barn, beach, beta, bridge, buffering
California, car accident, cherry tree, chicken, coin, crop
Digital, disconnection, distance, doomsday
Escape, estrangement
Fable, Facebook, fake, farm, Farmer family, fascination, fear, fence, field, fishing, forget-me-not, fragment, freeway, frenetic
Game, gentrification, gridlock, gunshot, gut
Harvest, hay bale, hedge, home-sweet-home, hope
I, insomnia, instability, Instagram, Internet, iTunes
Joblessness, joy
Kinship, Kentucky
Laptop, lemon tree, livestock, loitering, Long Beach, longing, lottery
Machine, mansion, marigold, marriage, meritocracy
Naiveté, narrative, neighbor, newlywed, nostalgia
Ocean, opportunity, optimism
Pessimism, pixel, plow, pond, poppy, post, postage
Quiet
Root, Romantic
Sand, scythe, sea, seed, shack, shed, silo, Southern California, stranger, sunset
Tension, thorn, traffic, tulip
Uncertainty, uniform, upward mobility
Verdant, violet, violence, volition
Wheat, wheelbarrow, Whitman, windmill
Xo,
Youth
Zen, zinnia
+++
Ashley Farmer is the author of The Farmacist (Jellyfish Highway Press, 2015), as well as Beside Myself (Tiny Hardcore Press, 2012) and The Women (forthcoming 2016 from Civil Coping Mechanisms). Her work can be found in places like The Progressive, Flaunt Magazine, Santa Monica Review, and Gigantic. An editor for Juked, she lives and works in Louisville, KY.