Research Notes · 12/30/2016
The Bitter Life of Božena Němcová
Our Research Notes series invites authors to describe their process for a recent book, with "research" defined as broadly as they like. This week, Kelcey Parker Ervick writes about The Bitter Life of Božena Němcová from Rose Metal Press.
+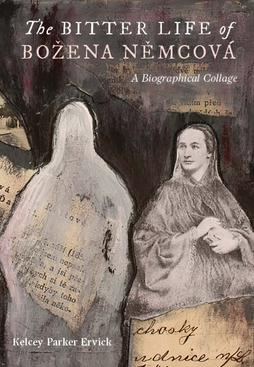 It's March 2003, flights to Berlin are less than $400. Why not fly to Berlin to visit a high school friend?
From Berlin, take a weekend trip to Prague. Buy a book of fairy tales written by a woman named Božena Němcová to give to your six-year-old daughter. Take a Jewish Walking Tour.
Return home and write a story for your graduate fiction workshop about a girl who takes a Jewish Walking Tour in Prague.
Realize the story is not a story but the beginning of a novel. Start obsessively reading Prague authors: Milan Kundera, Franz Kafka, Bohumil Hrabal.
Draft the first hundred pages. Return to Prague two years later for a writing workshop and Czech literature class. Attend a lecture with Ivan Kl'ma. Read Karel Čapek and learn that he coined the term 'robot.' Learn that Božena Němcová, whose face is on the 500 crown note, is a famous Czech writer (a woman?). Recall that she wrote those fairy tales you like to read with your daughter. Learn that one example of her fame is that her image was used for inspiration by the artist who painted Mary in the Church of our Lady of Týn in Old Town Square.
Come home to Cincinnati, take PhD exams, apply for 50 university professor jobs, receive two offers, and hastily finish the draft of the novel for your dissertation so you can move your husband and daughter (who don't want to move) and start your new job in Northern Indiana. Refuse to accept "Michiana" as a viable name for the area.
2006, 2007, 2008. Settle into life as a professor. Keep working on that novel. Ask yourself if you are happy, but for god's sake don't answer.
2009, 2010, 2011. Stall out on that Prague novel. Publish a book of short stories. Write another book. Return to Prague to set up new study abroad program. Ask your husband to come. When he refuses, take your daughter instead.
Discover a book with many of Božena Němcová's letters translated. Feel like that voice is nothing like what you have read about her thus far, these letters to her friends and lovers. Fall a little in love. Find out that Kafka too was smitten with her, especially her letters.
Go back to Prague, ask your husband to come (just for the hell of it), go alone, buy stacks of vintage books by Božena Němcová.
Come home, take what that you have found about her, and cut and paste and arrange it into a multi-voiced narrative of her life.
Return to Prague to study the Czech language in hopes of translating her letters on your own. Try not to be too discouraged when this is not how it goes.
So now it's 2012 and you've just returned from Prague. It's time to face what you've been avoiding: your marriage. The answer to that are-you-happy question.
(I know you don't know what to do about these things, but you have to do something.)
Good idea: start writing. Start writing postcards to Božena Němcová. Maybe she'll know what to do.
Also good: paint, draw, collage, breathe.
Have hard conversations with your husband. But also with yourself. Then tell yourself how strong you are, that you can do this, whatever 'this' is.
Visit his family over the holidays. Smile and pretend that everything is okay. Make sure he knows it isn't.
Ring in the New Year, 2013. Decide with your husband to end the marriage.
Tell your sixteen-year-old daughter. Cry, all three of you, at the dinner table.
Keep writing, keep writing, keep writing.
Soon enough, I promise, it will be 2016, and you will be through the hardest parts, the parts you thought you could never face (the dinner table and the lawyers and his packing and moving away), and your daughter will be in college, and you will have found love again, and your book will come out, The Bitter Life of Božena Němcová, and the whole story will be in the book, your life and hers, together, and you will—believe it—be happy.
+++
Kelcey Parker Ervick
(
kelceyervick.com/
) is the award-winning author of three books. Her most recent book,
The Bitter Life of Božena Němcová
(Rose Metal Press), is a hybrid work of biography, memoir, and visual art. Her previous works of fiction include
Liliane's Balcony: A Novella of Fallingwater _(Rose Metal Press) and _For Sale By Owner
(Kore Press). Her stories, essays, and mixed-media narratives have appeared or are forthcoming in
Colorado Review, Passages North, Notre Dame Review, Third Coast, Image
, and other journals. A recipient of grants from the Indiana Arts Commission and the Sustainable Arts Foundation, she teaches at Indiana University South Bend.