Research Notes · 03/14/2014
Songs for the Deaf
Our Research Notes series invites authors to describe their research for a recent book, with "research" defined as broadly as they like. This week, John Henry Fleming writes about Songs for the Deaf from Burrow Press.
+
Idleness as Research, or The Varieties of Unproductive Experience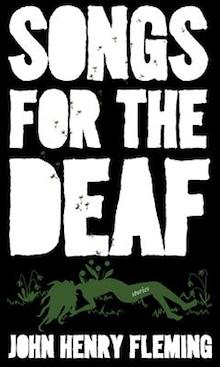 If research is a path to understanding, I take the scenic route.  Most of my best "research" occurs in moments of idleness when I'm avoiding productive labor. Here are some of my favorite methods of idleness that contributed to the stories of Songs for the Deaf.
+
Long-distance driving
Driving itself is a story with a beginning, middle, and end. Along the way, there are mysteries. Exit road to nowhere? Solitary dilapidated farmhouse? Unfinished 1960s housing development? Has anyone ever climbed that hill? The storytelling brain connects the dots and supplies the backstory. At seventy miles per hour, in a state of hypnotic receptiveness, I'm taking whatever the world has to offer. "Weighing of the Heart" emerged from one of my cross-country drives through what the story's narrator calls "the eternal flatness," the long purgatory roads such as US 50 in Nevada, known as The Loneliest Road in America. It's a place where anything can happen. What happened for me is that I put a character on that road trying to drive away his pain and guilt and then floated a weightless girl into his path. The world is full of stories; sometimes all a writer needs is to drive around with a butterfly net.
+
Watching TV
I don't watch much TV, and when I do it's mostly streamed movies and sporting events. So if I sit down in the middle of the day to watch TV, at a time when I have a hundred other things to do, the decadence is exhilarating. Once, with a vague idea for an adventure story, I streamed the Discovery Channel show Everest: Beyond the Limit, which follows climbers and their guides as they try to summit the tallest mountain. Everest was the ultimate reality show. Contestants risked death by falling, freezing, or brain-swelling, and they paid for that privilege. Meanwhile, I sat on my couch eating a sandwich, watching deoxygenated amateurs nearly slip into a deep crevasse. In recent years, pro climbers have complained about the inexperience of these amateurs who want to buy their way up the mountain. Why not take this idea to the extreme? A story takes shape between bites of Doritos: family vacation to Everest. I stream several seasons of the show over a week or two. I gather facts almost against my will. I put my fictional family through the perils I watch on TV. That's how I wrote "Chomolungma."
+
Idle jobs
The best kind of job for a writer is one with little work and plenty of idle time. (See Hawthorne's "The Custom House.") One summer in grad school I worked for the Indian River County Solid Waste Disposal District, where my duties consisted of a) sitting in an office, waiting for thirty second bursts of work from a supervisor; b) slipping into the foam garbage can costume of Garby the Recycling Mascot and passing out recycling literature at the local grocery stores (unintended consequence: scaring young children); and c) driving every street in Indian River County with a waste company rep, counting houses. The purpose of this last assignment was to split the county evenly between two rival garbage collection companies — Waste Management, the international corporation, and Treasure Coast, a local company. When I drove around with the rep from Treasure Coast, we stopped often for beers and barbecue. In between, we cruised streets I never knew existed, saw houses in places I never would have believed, heard stories about tigers in the orange groves, spotted roseate spoonbills strutting through the mangroves and squads of land crabs hailing cars on A1A, all the while clicking a handheld counter as we passed the houses of future customers. I also learned about the life of a garbage collector. My reward was "Wind and Rain," a monologue about garbage collection, golf, and decoding the wind.
+
Surfing the internet
Some writers use Freedom and other software to turn off their internet while they work. Maybe they're smart. Maybe they get more done. On the other hand, I've collected many fascinating and seemingly useless facts by sifting through web pages when I should be writing. I call this Procrastination Research. Did you know there's a golf course in India near the Taj Mahal? I would never have written a story about the Taj Mahal until I discovered the golf course beside it. Then I wrote "In the Shadow of the World's Greatest Monument to Love." The takeaway: procrastination pays.
+
Playing disc golf by myself
Several years ago, I took up disc golf, known to nonplayers as "Frisbee golf" or "frolf." Disc golf plays as it sounds: golf with discs. Instead of tossing the discs into a hole, you throw them at chained baskets that catch them with a splash of metal. Disc golf has some advantages over golf. It's free to play, the equipment is cheap, and a round takes much less time: 45 minutes on my own, including warm-up. On weekday mornings, I have the course to myself. Playing a round is a form of meditation. While I walk and throw, I encounter red-shouldered hawks and turkey vultures, spoonbills and swallowtail kites. I startle the wild turkeys and boar and make sure to announce my presence before I dig into a snake-infested saw palmetto for my disc. When my drive spills into the river, I keep an eye on gator snouts as I wade in to retrieve it. The abundance of life and solitude makes me want to write, and I come back to it refreshed. This, too, is research.
When I first started writing, I imagined the life of a serious writer as long hours at my desk, typing with a grim expression, occasionally putting fist to forehead to think through a knotty issue of character psychology. But over the years I've learned what works best for me, the ideal mix of serious writing, play, and idle research in its various forms. Twenty years is a long time to wait to publish your first story collection. But at least it's done. And now you should see my disc golf game: 88 aces and counting.
+++
John Henry Fleming's story collection,
Songs for the Deaf
, is due out from Burrow Press in March 2014. He's also the author of
The Legend of the Barefoot Mailman
, a novel,
Fearsome Creatures of Florida
, a literary bestiary, and
The Book I Will Write
, a serial novel-in-emails originally published on the Atticus Books website and now available as an ebook. His stories have appeared in
McSweeney's, The North American Review, Mississippi Review, Fourteen Hills, Atticus Review, Kugelmass,
and
Carve
, among others. He teaches in the
MFA
program at the University of South Florida and is the founder and advisory editor of
Saw Palm: Florida Literature and Art.