Research Notes · 02/13/2015
Skein of Days
Our Research Notes series invites authors to describe their research for a recent book, with "research" defined as broadly as they like. This week, Sonja Greckol writes about Skein of Days from Pedlar Press.
+
Experimental poetics: writing as research in Skein of Days or Looking for Amygdala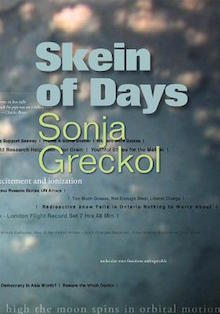 Christian Boltanski's video installation and postcard collection (6 Septembres Marian Goodman Gallery NYC 2006; 6 Septembres: Ultime notizie, 2005) in which he spliced Paris newsreel footage and photos from his birth date on Sept 6, 1944 through Sept. 6, 2000 provoked Skein of Days. Of Boltanski's birthday project, Jean-Hubert Matrin writes "The social, political and cultural life depicted is wholly external to our lives. It may determine and condition them but is merely the mould within which the personalities of Christian Boltanski and his contemporaries struggle and flounder." I had been familiar with his installation work; now these moving images on three huge screens unrolled the Holocaust, negotiations in the Indo-China war, a swimsuit competition, the funeral of Princess Diana, among mundanities of news coverage in a detailed present, no closure here.
Skein of Days puzzles the public construction of private "mind." In place of newsreel footage, it twines a skein of newspaper headlines and subheads, along with magazine tables of contents, published between 1945 and 2000 in publications that I (or my family) read on or near February 1. Flashes of top ten song titles, particles of physics lexicon, and bolts from a poetic record drawn from each year's Governor-General' Award winning book of poetry interweave with the headline text. The language, the public material, the 'wholly external' flotsam indexing and constructing everyday public life in various parts of Canada in the latter half of the twentieth century piqued me; my quest was not thematic; it was the minutiae of flotsam, those snippets arrested me.
That moment, lying on the floor in the Goodman Gallery with an image bank from Boltanski's life unfurling, my decades-long puzzlement with the weave of word and mind coalesced. Some nodes in my fabric: studying language development and the phenomenon of 'inner speech', writing a dissertation on order and disorder in the social structure of humour, teaching the buried history of knowledge production in early Women' Studies development, quantifying bias and exclusionary coding in the practices of complex equity and diversity negotiations and now working in poetry. The joke, the data analysis, the poem: it's all data reduction and that moment, the one which one cannot undo or unknow, arrived in the face of my restlessness with form, boredom with the poetic self and increasing shyness of the lyric moment. The detail of (public) language|expression comprised the mould.
I sat amidst photocopies, pdfs, and microfilmed front pages of newspapers and magazine tables of contents, scrabbled from libraries and archives before many of these bits came available on-line. This, in itself, trails a historical record of when what moved on-line. Legislative libraries turned out to be the best repositories of very local material and their librarians were delighted to have occasion to unearth and copy the Country Guide (Manitoba Legislature) and the Eagle Review (Alberta Legislature). These small publications anchor the record in a specific time in a specific place; it is a very particular, though not singular, arc originating in mid-century north central Alberta. World Affairs, the periodical which Canadian students studied for international current events, was published in Toronto, but the only copies I located were in the Calgary Public Library Archives. The Toronto Public Library provided excellent and free on-line access to most of the newspapers that were on-line and pay walled at the time. At the time (2002-2007), it was not possible to search on-line for 'headlines', searches generally relied on specifying content or date and buried the hierarchy of the news-of-the-day. (It seems that the New York Times now has an archive that is searchable by front page headlines.)
The material constraints of the headline however produced an interesting project that exhausted itself very quickly. During my early drafts, my experimentation with the harvesting or cut-ups of headline language, it was not the lack of immediacy that I noticed myself and witnessed in other readers; it was the sociological rather than aesthetic engagement — the declarative staccato of headlines was nothing more. The emotive power of the visual, of Boltanski's moving images was gone and all I had was staccato. I had cortex but no amygdala.
Marjorie Perloff points out that conceptual or uncreative writing projects are born of interesting ideas but are largely not for reading; in my mind, I nailed interesting but not compelling. Layering tables of contents and song titles and then physics text and finally award-winning poetry both broadened and deepened the public lexicon and slowed a compensatory drift to narrative in what a friend called "Little Sonja" pieces and instead set in motion a series of accretions including the text containing red, referencing the monarchy, women, racial designations, aircraft crashes, etc. These gleanings shimmer or flame with specific frames of lived time. My goal was not remotely a grand narrative; it was to examine the fabric of the language surround.
Using snippets of physics arose directly from the recognizing my own coming into the world in the shadow of WWII and the bombing of Nagasaki and Hiroshima. While this awareness was central to my adolescent and adult thinking about self in world, the record that I'd assembled, even these cursory one-day-a-entries, revealed how deeply stitched those early years were with nuclear language and imagery. I understood my own fears during my daughter's infancy and my own profound end of the world fears, which I wrote without fully grasping, in my earlier book, Gravity Matters (Innana Press, 2009). I had been outpaced by my own project.
Immersed in the materiality of words and language; i.e. in the assembly of the data, the recursions shredded the smooth surface and opened new incisions into which I stitched book titles and fictional characters and actual events. Annie Oakley and Selena Cross and the psychological literature from which a young psychology intern learned about aboriginal communities, filled moments|pages in between. I started out meaning to probe language and memory but was drawn into time and nonlinearity. Some part of me remains convinced that Skein should be snipped into a stack of postcards held by february first strings.
But it is time, I am sure, that determines this project. Time is revealed and scrambled in the recursions. The slippery signifiers scuttled linearity in mimesis of the instability of memory: my world presented and my world known slithered in the flotsam leaving my language both more and less known to myself. And if there is a centre that holds a reader in this text, it is the rhythmic passage of time in the materiality of the wordsound, in the repetitions of vowels and consonants and diphthongs that carry a reader across the disjunctions through 'merely the mould.'
+++
Sonja Greckol
began to write poetry when Mike Harris was re-elected in Ontario. Since, her work has appeared in
Literary Review of Canada, Canadian Literature, Dalhousie Review, CV2, Canadian Women's Studies, Fiddlehead
and
Matrix
. She coordinates poetry for
Women and Environments International Magazine
and has served as the Associate Rep representative on the National Council of the League of Canadian Poets (2006-08). She has taught college and university, studied order and disorder in jokes, done human rights and gender-based research and consulting, and does local activism while she writes. Her long poem, 'Emilie Explains Newton to Voltaire,' was short-listed for the
CBC
Poetry Prize in 2008.