Research Notes · 11/23/2018
Shelf Life of Happiness
Our Research Notes series invites authors to describe their process for a recent book, with "research" defined as broadly as they like. This week, Virginia Pye writes about Shelf Life of Happiness from Press 53.
+
Stealing Stories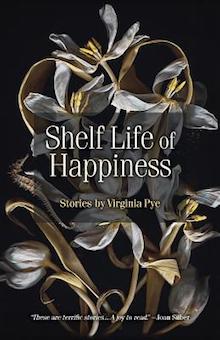 Where do our stories come from? As my collection, Shelf Life of Happiness, finds its way into readers' hands, this is the question I'm asked more than any other. People seem mystified about the range of voices and experiences possible in short fiction. A novel makes more sense, where the imagination of the writer has landed in one world and tends to stay put there. With stories, the writer can indulge a daring urge to explore many lives.
The stories in my collection are told through the eyes of a grizzled male artist, a cocky teenage boy, a slightly unhinged wife and mother, a cranky pre-teen girl, to name a few. By what process do these disparate characters come out of one, singular life — the author's?
Here's how it happens for me. Years ago on a sunny Easter morning, my family and neighbors gathered for a brunch and egg hunt in our backyard. The day was sunny and hopeful; the children, excited as they searched for chocolate eggs along the garden paths. As the women huddled near the food we had brought, whispers of one neighbor's near fatal car crash circulated among us. The men seemed oblivious to the shadowy undercurrent of near disaster that had almost taken one of these families.
A short while later, it came out that my son had dug up a dead bird he and his father had buried in the backyard a few days before. The family of the car accident was here with us, as was this resurrected bird. The sun cut through the light green leaves and all seemed surprisingly well. The dance of life and death — the tenuous nature of our joy — swirled around us.
Easter Morning came about that day. And many months later, after innumerable rewrites, I had a story worth sharing. But the essence of the story was handed to me by the miracles of everyday life.
Something similar happened in Italy on a scorching hot day in the Roman Forum. My husband and I were going through a rough patch and the tension of traveling with children didn't help. Across the dusty ruins, I saw a young Italian couple embracing. The man's hand dipped down the woman's dress toward the opening between her legs. All the passion that was missing from my marriage at that time made me restless. I longed to escape, to explore, to be bad, to be not me.
Crying In Italian may seem close to my life because it's about a wife and mother, but in reality, the main character isn't me at all. I never left my husband to join a dark-eyed, handsome man in a foreign land. I never abandoned my children. But my protagonist could do all that and more.
What about characters who have little in common with me, such as the old, Southern painter who drinks too much and veers between memories of lost youth and lost old age. He is cantankerous and defiantly principled, and in a way, he's my hero. He believes that what matters most in life is, "the lover's quarrel with the work."
White Dog gives him a chance to prove that philosophy. Though he knows that success in conventional terms is foolish, he is almost tempted by the young gallery owner's promise to revive his career. But the old artist knows better. He knows who he is and he knows what he knows. I would like to be like him in that way, too.
Over the years, I've rubbed elbows with a good number people in the art world through my husband's work as a contemporary art curator and museum director. I've sat at dinners beside some of America's best-known male artists and witnessed their artistic egos. The old painter in White Dog displays the hubris of some of those men, but also their passion for art, dedication to the work, and the profound single-mindedness that it takes to succeed, all of which I admire.
In other words, to write my stories, I steal from the routine, rich and nuanced moments when layers of meaning are offered up for the taking. I steal intricacies of character, the many admirable traits alongside the flawed within each of us. Life offers so many profound and quirky gifts. It only seems right to explore them through stories.
+++
Virginia Pye is the author of two award-winning novels, Dreams of the Red Phoenix and River of Dust. Her stories, essays, and interviews have appeared in The North American Review, The Baltimore Review, Literary Hub, The New York Times, The Rumpus, Huffington Post and elsewhere. She lived in Richmond, Virginia, for many years and now lives in Cambridge, Massachusetts.