Research Notes · 11/18/2016
Pretend I'm Your Friend
Our Research Notes series invites authors to describe their process for a recent book, with "research" defined as broadly as they like. This week, MB Caschetta writes about Pretend I'm Your Friend from Engine Books.
+
The forgiving nature of the short story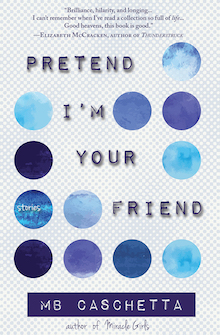 I wrote the stories in the linked collection Pretend I'm Your Friend — recently out from Engine Books — during the late 1990s and early 2000s. Apparently, though, I was ready to publish the stories as a collection much sooner than everyone else was. It took about a decade for all the stories to find independent publishing homes in literary journals; a few even won some fiction prizes. But it wasn't until last year when Victoria Barrett at Engine Books, the publisher of my novel Miracle Girls (2014), expressed interest in publishing Pretend I'm Your Friend that I went back and revisited the stories as a collection.
I was surprised to find that the stories had so much sex in them! (Is it weird that this was surprising? How could I forget such a thing?) I guess I used to think about sex a lot more when I was in my 30s. I was also surprised to find that I had used so much of what I observed at the time, and what friends told me about themselves and other people, in each of the stories. This, it seems to me, is one of the major differences between writing short stories and writing a novel.
It's a very enjoyable experience to build and power a short story. You can look around and use just about everything you see, hear, and observe. With a novel, though, the author is rarely in charge; you have to play by the novel's rules. You have to live in the novel's world. You have to include details that the novel demands. Whatever is actually happening in real life is incidental to the novel, not to mention basically unusable. At least that's how it feels to me.
Stories are very practical and welcoming. They let you put your life into them as much as you want without a whole lot of complaining.
Here are some examples from Pretend I'm Your Friend:
I traveled to many of the places I wrote about in the stories: Florence, Barcelona, Fire Island, to name a few.
In Florence, a group of indigenous people (and children) knocked me over with kisses and pinches outside a basilica, which is what happened to Alice-James in "Hands of God."
In Barcelona, my hairdryer blew out all the electricity in a charming little inn the morning our bus tour was going to a bullfight. (See: Violet, "Wonderful You.")
In Cherry Grove, I once had a summer share with about a dozen people in a house shaped like a boat called "Boat Deck House." (I used it as Miss Dale's place in "Imogene's Island of Fire.")
All the characters in one of the story cycles — "Hands of God," "Alice-James's Cuban Garlic," and "Marry Me Quickly" — started showing up with the names of my siblings. It took me a long time to figure out why. I guess I needed to write about being an outsider from the point of view of my family's insiders — my three brothers (See the characters: Rusty Wojak, A.J. Wojak and Andy Wojak-Livingston).
Alice-James's charcoal drawing was a piece of artwork that hung on my kitchen wall for years. An ex of mine, who was Cuban, demanded custody of it during a breakup. Though I no longer possess the drawing literally, I will always have it literarily.
I knew someone who thought her mother was trying to poison her when she was a little kid. She used to rip up her sandwiches and hide the pieces under rocks on her way to school — just as Ricardo did in "Wonderful You."
There are several stories with repeating characters from _Pretend I'm Your Friend _that didn't make it into the collection.
My own mother once went to a dinner party at a restaurant and sat next to a local Mafia kingpin, who was later slain at the same restaurant. (Something similar happened with Marie's mother in the title story.) My mom went so far as to say that the Mafia guy was one of the most charming people she'd ever met. Go figure.
While writing this collection, I lived in three states, four cities, six apartments, and one house.
I'm happy Pretend I'm Your Friend is finally getting to have its day in the sun!
+++
MB Caschetta
is an award-winning novelist and short story writer. Her novel
Miracle Girls
(Engine Books, 2014) won The 2015
USA
Best Book Award for Literary Fiction, a Gold Medal in Spiritual Books from the Independent Publisher Awards (
IPPY
s), and an IndieFAB 2015 Book of the Year in the
LGBT
category.
Miracle Girls
was also a Lambda Literary Award Finalist and a
People
magazine Pick-of-the-Week. Stories from this collection were awarded
The Seattle Review
Fiction Prize (winner),
The Mississippi Review
Fiction Prize (runner-up), and
The Iowa Review
Fiction Prize (finalist).