Research Notes · 10/09/2020
Mayflower Chronicles
Our Research Notes series invites authors to describe their process for a recent book, with "research" defined as broadly as they like. This week, Kathryn Brewster Haueisen writes about Mayflower Chronicles: The Tale of Two Cultures from Green Writers Press.
+
Research and a Remarkable Reunion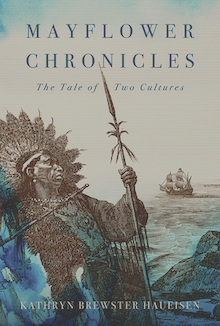 My mother's first major retirement project took her to a genealogy library to prove our family was indeed descended from William Brewster. Elder William Brewster sailed with his wife Mary and two of their five children on the Mayflower in 1620. I inherited her research notes and did virtually nothing with them for years except to carefully preserve them.
After one of my daughters married into a Latino/Native American family I began to wonder what the Mayflower event must have been like for the Natives. I decided to try my hand at writing a historical account of the Mayflower story in a way that included dialogue among the people involved – and the perspective of the Natives.
Research consumed my life. My collection of relevant information expanded from my mother's research notebook to two full shelves of books on the subject.
I travelled. To Scrooby, England where the English religious rebels got themselves in trouble with the religious and political authorities of the day. To Germany for the 500th Anniversary of the start of the Protestant Reformation. That event laid the groundwork for religious events in England a few decades later. And to Leiden, where the Pilgrims emigrated in 1608 to escape harassment, arrest, and quite probably, execution for their defiance of King James' Established Church.
On this side of the Atlantic, I visited the National Museum of the American Indian in Washington DC and read every bit of information I could find to learn more about Native heritage. I visited what at the time was called Plimoth Plantation. It has since been renamed Plimoth * Patuxet. I meandered around Plymouth, MA, and spent hours absorbing the rich resources of Pilgrim Hall.
I hired a young woman to be my research assistant. She tracked down historians and history professors willing to let me interview them. Along the way I met, via internet and email, three people I consider the holy trinity of Pilgrim history. Caleb Johnson maintains the website mayflowerhistory.com with such resources as the Mayflower passenger list, Pilgrim history, and Mayflower genealogy. English author Sue Allan has published a series of genealogical gems about William Brewster, William Bradford, and most recently, Mary Brewster. I relied heavily on her research for my research. Dr. Jerome Bangs grew up in the States, but went to Leiden to study and stayed to produce volumes of work about the Pilgrims in the Netherlands. I've never met these three in person, but I've read so much of what they've written that I feel like I know them personally.
Being about equal parts English and German heritage, I had more than a few qualms about writing about the Native perspective. I knew I needed to interview Natives to have any credibility. However, finding Native people willing to be interviewed proved much more difficult than I'd anticipated. Several people, including my son-in-law whose own heritage is nearly half Native American, advised me no one from the Native community would trust me.
Not to be deterred, I put my research assistant to work. She tried, and did come up with names, but they all led to dead ends. I did manage to interview someone on the staff at Plimoth Plantation who was infinitely helpful. An woman I met through an on-line writer's group tracked down a Native editor for me. He works with Akomawt, an organization dedicated to preserving and teaching Native culture.
As we approached home base in the publication process, I requested that one more pair of Native eyes review the manuscript. I phoned museums and history departments. I emailed Native authors of books I'd used for my research. I asked anyone and everyone I could think to ask for leads. Each person I contacted suggested I contact another person. Finally, in desperation, I asked a writing colleague in Rhode Island if she had any good ideas where to try. I wanted to connect with a Native someone in the New England area.
In what I consider an act divine intervention, my friend Beth Splaine put out a request on her Nextdoor Neighbor App. One of Beth's neighbors suggested a mutual neighbor that might be appropriate. Beth contacted Tracey and then asked if I'd like to be put in touch with her.
A few emails and a phone call later, I was interviewing not only Tracey, but also her father and her son. The three of them are direct descendants of Massasoit Ousa Mequin — the grand leader of the Native tribes in the region at the time the Mayflower arrived in 1620. This great leader approached the floundering English settlers in the spring of 1621 to negotiate a treaty. I'd included many details about that day in my book. I was thrilled to talk with the descendants of this man – who sat with my great x 12 grandfather and several others 400 years ago.
Tracey and her family read the manuscript, corrected a few facts I'd gotten wrong, and agreed to write the forward to the book. They also invited me to meet their Tribal Council and attend one of their special events. I had hoped to do that over the summer of 2020 – but COVID cancelled those plans. I still hope to meet these people in person. I get goosebumps thinking about the twisted path that brought descendants of Massasoit Ousa Mequin and William Brewster together a dozen generations later.
+++
Kathryn Haueisen
combines her degree in journalism and her career as a pastor to write about good people doing great things for our global village. A descendant of two of the Mayflower passengers and grandmother to three young people with Native American heritage, she spent several years researching the background of what happened when the English met the Pokanoket people. The result is her debut historical fiction account of events on both sides of the Atlantic that led to founding Plimoth Plantation in 1620. In addition to working with congregations around the country, she's published five previous books and dozens of articles in such publications as
Writer's Digest, Marriage & Family Living, House Beautiful, Highlights for Children, Camping Journal,
and a variety of faith-based and regional publications. Her weekly blogs at
www.howwisethen.com
highlight historical and modern people who contribute to the common good.