Research Notes · 10/19/2018
Love Songs for a Lost Continent
Our Research Notes series invites authors to describe their process for a recent book, with "research" defined as broadly as they like. This week, Anita Felicelli writes about Love Songs for a Lost Continent from Stillhouse Press.
+
Identity and Place in Love Songs for a Lost Continent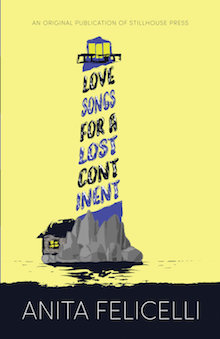 You could say that the research for my short story collection Love Songs for a Lost Continent begins with the unanswerable question I have about my first memory. Snow, the shimmering white brilliance of it, and just ahead of my field of vision, darkened around the edges, the sleeves of my big puffy red coat, my mittened hands. It's a vision that seems so clear, so true. Lately, though, I've wondered if this is at least partially a manufactured memory, a memory of being two-years-old I've strengthened by repeatedly looking at a Polaroid of me at that age and imagining.
I'm inclined to believe that it's a real memory of my first winter in Pittsburgh, Pennsylvania. There's a sharp contrast between Pittsburgh and Madras (now Chennai), from where we'd immigrated. Traveling from thick heat to snow, from a place with the intimacy of relatives to a place of loneliness and isolation and fear and antagonism is, I think, unforgettable, even if you are a toddler. And yet, this might just be a rationalization. This disjunction between place and identity is a thread through everything I write.
I've noticed these deep contrasts moving or traveling from place to place, setting to setting, with precision all my life, but I rarely see the huge contrasts of reality in short stories. Not just contrasting physical details, but different cultures, worldviews, the atmosphere walking the streets, and the feeling of xenophobia or racism in a particular place with my brown body as a barometer. While my personal experience planted a seed of curiosity that led to each of the stories in my collection, it's research about place and identity that allowed me to imagine beyond my own experience.
My research for Love Songs involved a deep dive into identity and power dynamics in different places, poring through the stacks of university libraries and traveling down online rabbit holes for the years I shaped this collection. For example, when writing stories set in South India or about South Indians, I came to realize through about twenty years of research, you cannot really write a realistic story about Tamils and Tamil Americans (or Indians and Indian Americans) without including the way caste dynamics shape a character's worldview and his or her relationship to immigration as well.
My short story Once Upon the Great Red Island is set in Madagascar, and required the most research of any of the stories in the collection— the journey to this story was arduous and circuitous. In the aughts, I read Tim Ecott's Vanilla: Travels in Search of an Ice Cream Orchid and Lonely Planet Madagascar. I was fascinated by the country because I'd had no exposure to it, and yet I was so absorbed in what I read, I felt certain that I should have encountered it earlier. What I learned turned into the idea for a suspense novel about a rich man on the lam in Madagascar whose girlfriend comes to realize he's a murderer.
As a writer who cares about capturing the atmosphere of a place, I traveled to Madagascar in 2008 to research and flesh out my novel. My sibling and I landed in Tana and were driven about three hours to Andasibe National Park on the eastern side of the island. We stayed in a bungalow at Vakona Lodge. The lodge arranged a number of excursions into the rainforest to look at wildlife that can't be seen elsewhere in the world, such as the indri. We also visited a vanilla production plant and roamed Tana briefly on our way back to the airport. Madagascar is one of the world's poorest countries. Although I have family members with working poor backgrounds, this was the first place where I keenly experienced myself as an American person of tremendous economic privilege simply by virtue of being American.
I took copious notes, but must have left them somewhere as they didn't make it back to the States with me. I didn't take as many photographs as I wish I had because part of my research process is to capture what places feel like, and taking photographs pulls me out of the moment and deeper into my own ego, considering what things should feel like rather than what they do feel like.
Sadly, the suspense novel I'd spent so long sketching and researching proved to be garbage (some sort of cut-rate Hitchcock film crossed with the fascinating incomprehensibility of Alain Resnais's Last Year at Marienbad). The next novel I wrote, a philosophical novel in which a down-and-out lawyer takes on a talking indri as a client, eventually returning him to the Andasibe Preserve, wasn't garbage but wasn't saleable either.
From the years-long wreckage of those failed novels, around 1000 pages of unused, unsold material, I rescued a 34-page magic realist short story about a young woman, Tarini, who runs away to a vanilla farm with her hedge fund boyfriend, trying to escape the consequences of tech bros overrunning the Bay Area. In reshaping bits of the older novels, I was influenced by Jennifer Cole's anthropology text Forget Colonialism? Sacrifice and the Art of Memory in Madagascar, which struck me and stayed with me because what it described was so different from what I knew of my relatives' experiences of colonialism in Tamil Nadu. It's in Tarini's dislocation that she confronts herself as a potential colonizer, but also experiences the freedom to be reinvented.
I suppose my fiction grows out of my desire to escape both identity and place, even as it depends on noticing all the concrete aspects of identity and place —the plants, the smell of the air, the food on the table, the texture of skin, the feeling of being free or not, the feeling of being in control or not — for its lifeblood. Fiction is the only magic that allows us to believe, wrongly or rightly, we might have gotten away from ourselves.
+++
Anita Felicelli's short stories have appeared in The Normal School, Joyland, Kweli Journal, and Eckleburg, and have been finalists for Glimmer Train awards. She's contributed essays and reviews to the New York Times (Modern Love), Salon, the San Francisco Chronicle, LA Review of Books, The Rumpus, and elsewhere. She is the recipient of a Puffin Foundation grant for poetry and two Greater Bay Area Journalism awards. Her work appears in several anthologies and has been nominated for Pushcart Prizes. She holds a B.A. with honors in Rhetoric, English and Interdisciplinary Studies (visual art) from UC Berkeley and a J.D. from UC Berkeley School of Law. She was bitten by the travel bug, and has never recovered— she's visited all the continents except two. Born in South India, she lives in the Bay Area with her family.