Research Notes · 12/12/2014
Liner Notes
Our Research Notes series invites authors to describe their research for a recent book, with "research" defined as broadly as they like. This week, James Brubaker writes about Liner Notes from Subito Press.
+
0 | [Untitled Hidden Track] | James Brubaker | -0:43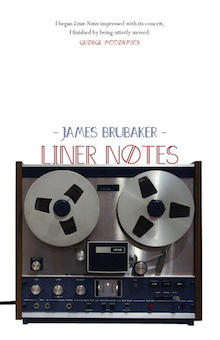 I'm hesitant to admit this, but Liner Notes grew out of my workshop experience while working toward my Ph.D. at Oklahoma State University. When I arrived in Stillwater to begin the program, I primarily thought of myself as a person who would eventually be a novelist. Despite having written a few short stories, I wasn't particularly interested in the form. In my first workshop, under the direction of Toni Graham, everything I thought about myself as a writer was broken. I turned in three stories I wrote that semester and all of them were met with discouraging remarks. Frustrating as this was at the time, in retrospect, it was for the best. The following semester, in a workshop run by Jon Billman, I wrote two stories that would go on to be included in Liner Notes: "Of Muscle Memory" and "Oh Yoko." While both stories were quite rough, workshop comments zeroed in on something important: the passages in those early drafts in which I was writing about music, either in terms of performance or consumption, featured my most active, engaging prose. With a dissertation — which would certainly be a collection of stories — looming a few years down the road, I began considering the possibility building a collection of stories loosely connected by their interest in music. The following fall, in one of Toni Graham's Craft and Forms of Fiction course, focusing on narrative point of view, I had the opportunity to begin developing this project. The course in question was designed around a series of readings illustrating each of the narrative points of view, and then workshops of story "sketches" written in each point of view (of course, early in the semester we all realized that our "sketches" were being workshopped as finished stories, so we all started writing full stories). By the end of the semester, most of what I wrote was relegated to b-side and outtake status, but I had rough versions of "Four Walls Won't Hold You," and "Al's Sound, Big as God: An Interview." In the following semesters, in and out of workshop, I wrote around twenty more stories in various forms of completion, dug up and dusted off a proto-version of an older story (that became the first story in Liner Notes), and built my dissertation, and ultimately the book itself, from those stories. What follows is a track list of songs that informed the book's creation.
+
1 | "Closer You Are" | Guided By Voices | 0:00
"An Introduction to the Deluxe Edition of Arthur Cane Kills Moby Dick's Whales Drink the Ocean and… by Pete Welch" is about a music journalist who, after the death of his wife, becomes obsessed with tracking down a never released album by an obscure band from the 70's. I started writing the story in the winter of 2008, before any of the other stories in Liner Notes. I was still living in Dayton, Ohio, and wanted to write a story about the discovery of a long lost rock album. This was before some of the more recent high profile "private press" discoveries, so while those became an inspiration later on when I returned to the story, the piece's initial inspiration came from some of the high profile lost or semi-lost albums of the past. The original draft of this story focused almost entirely on the album's songs. The writer wasn't a presence yet, which meant that the original draft was basically nothing more than a long description of a fake album. Before writing that first draft, I wrote out a tracklist and several lyrical snippets that would appear in the fake essay, and devised some of the backstory that would later become an integral part of the story. When imagining the album, I thought of it as a cross between Neil Young's After the Goldrush, Silver Apples's self-titled album, Suicide's self-titled album, and Guided By Voices' Alien Lanes. I think I chose those albums because that combination seemed like it would have resulted in something pretty revolutionary for the time period in which the album was supposed to have been recorded.
+
2 | "3 Types of Industrial Pollution" | Merzbow | 1:59
"Oh Yoko," a story about addiction and obsession in the aftermath of a destructive relationship, evolved out of an idea. I wanted to explore the way people adapt culture to fit their lives, and adapt their lives to fit to culture. I thought the idea of a woman named Yoko who only dated men named John was funny, so I ran with it. And even though there are a number of nods to songs by The Beatles and John Lennon (which I hope I don't somehow get sued over), the moment where the story started to feel like something real is when the story's speaker recounts meeting Yoko at a gallery opening: "She was covered in paint, wearing a leotard, interpreting conceptual textual history through dance to a Merzbow record." The passage goes on to describe Yoko's dance in vaguely poetic terms. This passage sort of went on to shape the rest of the piece and its voice. Also, even though this story was written in Oklahoma, I think of it as my Dayton story. While none of the characters are based entirely on anyone I know in Dayton, bits and pieces of a lot of people wormed their way into the story's characters, some flattering, some not. The Golden Nugget Pancake house is (was?) a real place in Dayton. Also, the story the narrator tells about trying to return to his dealer a crack rock that he'd started smoking was inspired by a story told to me by a person I knew in Dayton. When the person told me that story, almost a decade ago, I said, "You realize I'm going to put that in a story someday." The person said, "Please do."
+
3 | "Star Trek: The Next Generation – Main Title" | Jerry Goldsmith and Alexander Courage | 08:39
"Flavor Flav Travels Through Time and Reads About Himself on Wikipedia" started as an essay. I was serving as the senior music editor for The Fiddleback, which I miss dearly, and Jeff Simpson and I had talked about trying to bring more essays into the mix. I'd long been fascinated by the disparate stages of Flavor Flav's career, and started writing towards the distinction between Flavor Flav as a member of one of the most important, influential musical acts of the last thirty years, and Flavor Flav as a featured player and star for reality television garbage (as enjoyable as the garbage may have been). I read Flavor Flav's Wikipedia page and I read portions of his book, Flavor Flav: The Icon The Memoir as I tried to write the essay. But an essay wasn't happening. Instead, I ended up with fictionalized scenes from Flavor Flav's life, but I didn't know how to connect them. Around this time, I was finishing up my third or fourth re-watch of Star Trek: The Next Generation, and watched the show's lovely series finale, "All Good Things," in which Jean Luc Picard's consciousness shifts between three historical moments in his life — past, present, and future — as guided by the omnipotent Q. This made sense for Flavor Flav, so I borrowed to the structure with much different results.
+
4 | "From Darkness, Light: II. Fugue" | Emily Howell | 10:24
One night, while procrastinating, I found an article online about artificial intelligence composing music. I followed that idea down the internet rabbit hole and learned about things like David Cope's "Emily Howell" program, which uses algorithms to compose music. This was the small seed that led to "A Speech On the Occasion of the Discovery of the Last Melody Known to Man (Dedicated to Philip Adler, Ph.D.)." The story is written as a speech given by a member of the project that has used their own algorithm to compose every possible melody. The story also centers on some controversy caused by the project's founding member, Philip Adler, deciding that the program was bad for human artistry, and trying to shut the program down before his mysterious demise. In describing the origins of the program, I had to find the examples that inspired Adler's initial research. My decision to bring the song from The Jerk into the story was largely arbitrary, but was probably because our First Year Writing director at Oklahoma State would go through periods where he'd talk about the film a lot, and try to make sure that everyone had seen it. I'd seen it, already, but every time I think of the film, I think of that magical scene where Steve Martin and Bernadette Peters sing "Tonight You Belong to Me." I'm pretty sure I made up the name of the hymn that was similar to it, "Ascending to the Heavens, Our Almighty Lord," but I don't really remember. I can find no record of that hymn online.
+
5 | "Hast Thou Considered the Tetrapod" | The Mountain Goats | 13:37
I wrote the first version of "Four Walls Won't Hold You" — a story about a boy who takes shelter, in Thriller, from his alcoholic mother — as second person exercise in Toni Graham's craft and forms course on Point of View. It wasn't long after Michael Jackson died, and I remembered how important Thriller was to myself and a lot of kids I knew when we were growing up. I decided to set the story not long after the album's release, and decided that the child in the story would use the album as an escape from a bad home life. Around the same time, I was working on my "favorite albums of the 00's list" on Rateyourmusic.com, and had been revisiting The Mountain Goats' The Sunset Tree. As I revised my story, a few allusions to "Hast Though Considered the Tetrapod" and "Dance Music," from that album, wormed their way into the story. Most of them were cut in later edits, but I left a few because these songs certainly added flavor to the story. Also, just to be clear, this story isn't autobiographical. I lived a charmed childhood.
+
6 | "What a Wonderful Puddle" | Braid | 16:59
If you've read Liner Notes or the story "Of Muscle Memory," which appeared in an early issue of Rabbit Catastrophe Review, this song choice will make no sense. The story — about a bass player who begins losing his memory, a sort of inversion of Borges's "Funes the Memorious" — revolves almost entirely around jazz music. I almost chose a David Hasselhoff song for this entry because an earlier version of this story included a scene where a character was drunk and eating a burger and his son told him he was pathetic like David Hasselhoff. But I digress. The reason I chose this song for this story is because of the pranks listed in the story. The high school pranks in this story were real. We really covered someone's windshield with cheese in the summer. We really froze pages from porn mags to our friends' cars (which, in retrospect, is horrifying and I feel awful about it. I didn't really understand how problematic this was when I was sixteen). Anyway, on the cheese night, I had a tape playing in my car with a version of this song taped from an old seven inch or something. I remember screaming along with the part where Bob Nanna shouts "We hit back" as we sped away from the scene of our prank.
+
7 | "How We Sound" | Saturday Looks Good to Me | 21:15
The character Noah Bracken from "Living On Tape: Re-thinking Noah Bracken's 'Our Sound' as a Narrative of Mechanical Decay," is based more on a time and place than a single person. The story is about the death of a musician who was obsessed with re-recording one of his songs into oblivion. Much of the inspiration for the story came from going to shows in Michigan when I was in college at Bowling Green State University, which is less than an hour from Ann Arbor and an hour or so from Detroit. Fred Thomas's music was a big part of those shows, and this song was in the back of my head while writing the story. Of course, Basinski's The Disintegration Loops was also a big influence on this story, what, with its focus on mechanical decay and the like, but that was just this story's starting point. It was inspiration from going to shows in Northern Ohio and Southern Michigan between 1999 and 2003 that helped this story take shape.
+
8 | "Anne You Will Sing" | The Promise Ring | 24:48
"How We Did Not Become Extinct," a story about memory and culture freezing in time as listeners stop listening to new music, grew out of a weird music nostalgia binge I went on using Spotify. Due to my obsession with music, and my writing about music for The Fiddleback for three years, I got into the habit of staying very current with music. When I started to rely on Spotify, though, I found that from time to time I'd dig up an old song I hadn't listened to in ages and end up spending hours listening to mid-to-late-nineties "emo" songs, or whatever. The story repeats, a few times, the idea that "We will not be seventeen forever," which was a bit of an homage to The Promise Ring's lovely song, "Anne You Will Sing," which included the oh-my-god-it-was-so-poetic-when-I-was-18 lyric, "We're only seventeen forever for a moment." The truth is, when I was on one of my music nostalgia binges, I listened to this song and was kind of blown away by it. I'd come to think of a lot of the music I listened to towards the end of high school and during my first couple of years at college as overly mopey and myopic — turns out it was me who was mopey and myopic and heartbroken due to the end of a brief relationship that burnt way brighter than the young woman and I could handle at our tender age, not necessarily (all of) the music. Anyway, that lyric, in mutated form, crept into this story, which was, in a strange twist of fate, published in an issue of Pear Noir! that included a lovely poem by one Davey Von Bohlen (who, if you don't know, was the singer/lyricist of The Promise Ring). To this day, I don't know if the editors of Pear Noir! did this on purpose.
+
9 | "Tristan und Isolde Act II, Scene II: O sink hernieder, Nacht der Liebe" | Richard Wagner | 27:28
I came to a point in the writing of stories for Liner Notes when I had a story featuring Flavor Flav, a story featuring Brian Wilson, and a story, which nobody who read it liked, about Billy Corgan (which was called "Billy Corgan Shoplifting From a Carnival," a too-on-the-nose parody of Tao Lin's books). I had a feeling the Corgan piece was going to be dumped, and I wanted at least one more "celebrity" piece to help balance the collection. Then one night, I dosed myself with Tylenol PM (hard living, I know) and watched Luis Malle's Black Moon. Earlier in the day, I'd reread a bunch of weird rumors about Phil Spector, and I just kept imagining Phil Spector in all of the film's scenes. This was the impetus for "700 Stitches: Phil Spector in Five Scenes." For the other sections of the story, which place Spector in iconic moments from other violent films, I thought about weird rumors about and events surrounding Spector, then sought out film scenes analogous to them. Off the top of my head, these involved a gun and The Ramones, a glass casket in his basement, a Batman costume, and a car accident. The love duet from Tristan und Isolde is the track for this piece because it features prominently in Black Moon.
+
10 | "Ghosts: Variation 1" | The Albert Ayler Trio | 36:03
"Al's Sound, Big as God: An Interview" started as a piece all about Albert Ayler's disappearance, but became something else. That something else is the story of the person talking about Ayler during the interview, a semi-failed jazz musician who knew Ayler, and how never had the guts to commit to play music the way Ayler played music. I want to say the form was inspired by that fantastic Millhauser story about Edison, but I think that was more of a first nudge, to explore a real historical figure, than anything. Sure, I'd watched a documentary about Ayler, and read the liner notes to the Holy Ghost boxset several times, and read everything I could about Ayler online, and all of that informs this story, but in the end, this story that is kind of about Ayler's mysterious disappearance, came to be more weirdly personal to me. Writing it, I kept thinking about how I grew up playing the saxophone, grew up playing a lot of jazz in school ensembles. I once had a big solo during my high school's marching band show. You can find that competition show on YouTube, but I'll provide no more information than that. When I went to college, I thought about being a business major (what the fuck, right?), and then tried to be a music major but I couldn't hack it. The other saxophone majors were insanely committed. They would eat and sleep in the practice rooms. They would practice hours and hours and hours a day. I wanted to play, but I wasn't ready to commit to playing to that extent. Or maybe it just wasn't the thing I was supposed to commit to, as I eventually had no problem committing to writing the way those kids committed to the saxophone. Still, this failure has always kind of haunted me. I won't say that this is what "Al's Sound, Big as God: An Interview" is about, entirely, because my hope is that it's more than that, but I will say that the memory of my failure to keep making music was very much on my mind when I was writing this story.
+
11 | "Sleep Dealer" | Oneohtrix Point Never | 41:15
"The People's Musical Heritage Museum" began as an experiment. I had an inkling that I wanted to dabble in genres beyond literary fiction, but I was kind of nervous about it. I'd eventually go on to embrace time travel in the Flavor Flav piece, then embrace time travel and more to a much greater extend in the stories I wrote when I moved on from Liner Notes, but that all sort of started here, in a story I wrote when, in one of Jon Billman's workshops, we ended up with an extra couple of weeks at the end of the semester and he told us if we wanted to bring in an extra story, the class would workshop it. This was my extra story, a series of moments about a museum curator collecting antique musical instruments after the production of new music has been outlawed by humanity's robot overlords. Looking at this now, I'm sure I must have done research, but I couldn't tell you what it was. The Stradivarius, the Stratocaster, the Mbira — those were all things I knew about, and thought would fit the story's shape. If I had to guess, the bit on Walter Kuznetsov's computer probably grew out of research I did for the "Last Melody Ever Composed" story, but I'm not sure.
+
12 | "Our Prayer" | The Beach Boys | 44:27
"Brian Wilson and the Universe" is barely a story, more a prayer. Everytime I read it out loud for audiences, at least one person comes up to me and asks me why I repeat Wilson's name so much. I think of it as an incantation, as a prayer, as an homage to the spirit behind the spirit of some of my favorite pop songs ever recorded. The research for this piece was done over years, through reading tons of books about Wilson and The Beach Boys and their albums. The story began when I watched the episode of Saturday Night Live, hosted by a young Jodie Foster, in which Wilson performs on a soundstage set up like a sandbox. That seemed like a pretty sad thing for him to be doing, and I wanted to explore that sadness.
+
13 | "What's Good – The Thesis" | Lou Reed 45:32
It used to be a common occurrence that my wife would say to me, "I need to die before you, because I'm not sure I can function without you." That's kind of an awful thing to say to someone, but there's also something painfully romantic about it. This story grew out of the fear of being alone after a significant loss. There is real love in this story, but also fear, and a little resentment at the selfishness of the original sentiment. I don't know that there's much more to say about this, except that this piece was heavily informed by my reading of Marvin Lin's 33 1/3 volume on Kid A, and a few more pieces of music writing I was reading at the time, Christopher Small's book Musicking, being the other big one. Also, there's a reference to an old friend writing a story about someone with cancer and Graceland. A college friend of mine actually wrote that story, and it was really a pretty good story, if memory serves. Finally, the story includes the Cyrillic translation for the phrase "Come inside me." This was provided by my old friend, Matt Miller, who happens to be married to a lovely Russian woman named Lana. They were very kind and non-judgmental when I asked them how to type that phrase in Cyrillic.
+++
James Brubaker is from Dayton, Ohio, originally, but now teaches and lives with his wife in Missouri. He is the author of one book of short stories, Liner Notes (which won the 2013 Subito Press Book Prize in Fiction, and which will be published in 2014), a short volume of pilot episodes for fictional television shows, Pilot Season (Sunnyoutside Press), and a number of short stories that have appeared online and in print. James is also associate editor of The Collapsar, and served as music section editor of The Fiddleback for that journal's entire run (2010-2013). In 2013 James received his Ph.D. in English, with an emphasis in Fiction Writing, from Oklahoma State University. He is currently hard at work on a novel without a name, and a second collection of stories, tentatively titled (Science) Fictions.