Research Notes · 06/27/2014
Everything I Never Told You
Our Research Notes series invites authors to describe their research for a recent book, with "research" defined as broadly as they like. This week, Celeste Ng writes about Everything I Never Told You from The Penguin Press.
+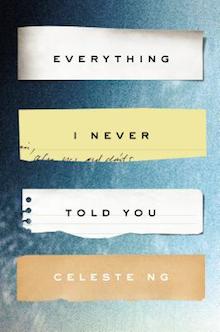 People have asked me how much of Everything I Never Told You is made up and how much is "real." While the plot of the novel came from my imagination, I did do research on the time period and the setting and what I think of as "props" — all the objects that fill out the characters' lives. The main action takes place in 1977, and it was important to me to get the period right, from what kind of perfume sixteen-year-old Lydia would wear to what TV shows would air on a Saturday night. This is where the internet comes in amazingly handy. Want to know what time Captain and Tennille was on, or what phase the moon was in on May 3, 1977? There's a website out there that will tell you.
Beyond that kind of scene-setting, there were several major bits of the novel where research was crucial. Here are the four main things I took straight from life — and one thing that, to my immense surprise, I had to make up.
+
The Stuff That Came Right From Life:
Marilyn's cookbook.
Right around the time I started the novel, I happened to be flipping through my mother's old 1968 Betty Crocker cookbook. I had looked at this cookbook dozens of times before, but I'd never bothered to read anything other than the recipes themselves. To my surprise I found little jabs of domestic and personal advice woven into many of the section intros: "Does anything make you feel so pleased with yourself as baking bread?" "If you care about pleasing a man — bake a pie. But make sure it's a perfect pie." I wrote this same cookbook into the novel for Marilyn, the mother, who has given up her career to be a wife and mother; all the quotes I use in the book were taken directly from my mother's real-life cookbook. What clearer way to show the incredibly limited, incredibly pervasive view of women and women's roles in the 1960s than with this advice from Betty Crocker?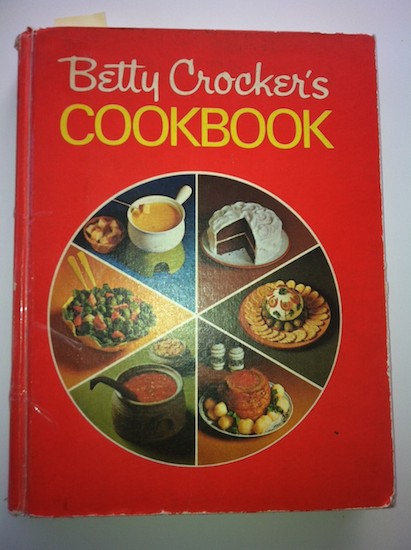 My mother's cookbook
How to Win Friends and Influence People.
The granddaddy of all self-help books was published in 1936 and has never been out of print. I stumbled across a copy lying around our house when I was a teenager and was morbidly fascinated. The advice, in most cases, is actually often sound — hence the book's popularity — but in the right (or perhaps wrong) context, I thought, it would be heartwrenching. Who wants to be told, when wrestling with personal misery, "Remember that the people you are talking to are a hundred times more interested in themselves and their wants and problems than they are in you and your problems"? So of course I gave this book to Lydia, the troubled daughter in the novel, who is wrestling with just that.
The Gemini 9 launch:
In 1966, the space race was still on, and missions were breaking news, to the point where the whole morning's coverage was devoted to following launches. For the Gemini 9 launch — which Nath, Lydia's space-crazed brother, watches in the novel — Walter Cronkite's desk was indeed set up outside at Cape Kennedy, and CBS aired hours of coverage, including a simulation of the spacewalk (since there were no cameras in space yet!). Thanks to the magic of YouTube, I watched all of the footage in order to describe Nath's wonder. To our jaded eyes, some of it looks a bit hokey, but even now there's still sheer magic in watching something leave earth's orbit.
The racism:
One reviewer on Goodreads commented that the racism was unbelievable for the 1970s — possibly believable in the 1920, she suggested, but by the late 1960s and 1970s, weren't we much more open-minded? To that, all I can say is: with one exception, every bit of racial tension the characters experience — from the woman in the grocery store who pulls her eyes into slits to the boys chanting "ching chong" to the use of "Oriental" to describe the family — is something I or family or friends experienced directly. And I don't think our experience is particularly unusual. I wish the reviewer were right, but sadly, this wasn't a place where I had to do much research other than consulting my memory. Attitudes about mixed-race marriages change slower than you might think, too. Gallup has polled Americans on this question since 1958. The first year that a majority of Americans approved of mixed-race marriages? 1997. In other words, before 1997, most people felt mixed-race marriages were unacceptable. It's easy to forget how recent a lot of our open-mindedness really is.
+
And one thing I had to make up:
The science books:
My mother was a chemist and provided me with plenty of books about women in science, to make sure I never felt any paths were closed to me. On my childhood bookshelf, besides Roald Dahl and Frances Hodgson Burnett and Laura Ingalls Wilder, I had books like Nobel Prize Women in Science and not one but two different children's biographies of Marie Curie and the emphatic I WILL Be a Doctor! The Story of American's First Woman Physician. I wanted to put those books on Lydia's shelves — though with much more pointed implications. But I couldn't: none of them were published until the mid-1980s or early 1990s, or even later. In fact, I couldn't find any real books from the 1960s or 1970s that even suggested a career in medicine, or any sciences, was a legitimate possibility for a woman. So I had to make up all of the science books that Marilyn gives to Lydia in the novel. Frankly, we're still struggling with getting girls into the sciences today — but at least now there are growing numbers of role models to use as inspiration. It's startling to remember how different things were for women just a generation or two ago.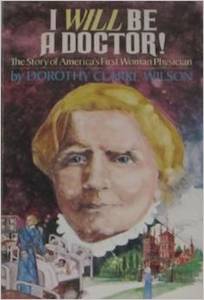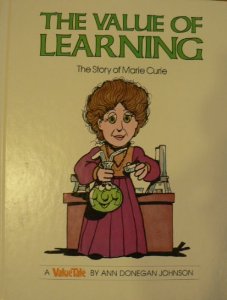 +++
Celeste Ng
is the author of the novel
Everything I Never Told You
(June 2014, Penguin Press). She grew up in Pittsburgh, Pennsylvania, and Shaker Heights, Ohio, in a family of scientists. Celeste attended Harvard University and earned an
MFA
from the University of Michigan (now the Helen Zell Writers' Program at the University of Michigan), where she won the Hopwood Award. Her fiction and essays have appeared in
One Story, TriQuarterly, Bellevue Literary Review, the Kenyon Review Online,
and elsewhere, and she is a recipient of the Pushcart Prize.