Research Notes · 07/11/2014
Echo Lake
Our Research Notes series invites authors to describe their research for a recent book, with "research" defined as broadly as they like. This week, Letitia Trent writes about Echo Lake from Dark House Press.
+
The Missing: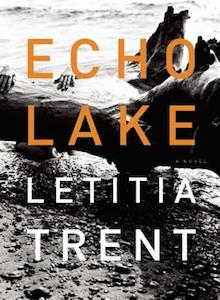 Echo Lake began after a conversation with my in-laws about mysteriously missing people and unsolved murders in the towns surrounding Sardis Lake, the area where my husband grew up and where I lived from ages twelve to seventeen. I was particularly struck by something a friend of the family said: Some of those crimes aren't solved because people don't want them solved. People know who did it and figure that the person had it coming anyway.
After that discussion, I started researching missing persons in rural Oklahoma. I went to true crime forums and encountered posts by "imissmydad" from Poteau, who came on weekly to beg for leads around his father's unsolved murder. I read about the murder of an elderly woman who was found with her throat cut in a house walking distance from my high school. Around the same time, an entire family went missing in the nearby town of Wilburton, their car abandoned on an empty stretch of road. Years later, those crimes still haven't been solved. I went to the Topix discussion board page for every small town I knew: Talihina, Clayton, Buffalo Valley, Tuskahoma, Wilburton, etc., and spent hours reading threads about local murders, some lamenting the lack of interest by the Oklahoma State Bureau of Investigation, some the lack of action by uncaring local officials, others spreading suspicion about the victim and their lack of purity and possible culpability in their own death, and most expressing the general fear that if you came to a bad end in a rural, isolated area, your death might never be solved.
+
The Lake:
Echo Lake is based on Sardis Lake, a man-made lake that I passed every day on the school bus (it took an hour to get to school every morning: we took a labyrinthine, impossible route that I never could keep track of). I always found it a little sinister, mostly because of the dead trees with black, slimy limbs that poked up through the surface of the water. When my in-laws told me about a flood in the 80's that involved unearthed coffins that popped up to the surface of the water (Sardis Cemetery juts out into Sardis lake, the stones now on a grass-covered former landfill, the older graves far underwater), I was obsessed and knew I had to put the event in a book, somehow. Unfortunately, there isn't much information about this flood online, but I did find out that Sardis Lake itself is quite recent — built from 1977 to 1982 — and that the ghost town of Sardis was flooded to create it. I couldn't shake the image of a town under that lake, of a whole history of human life having happened in a place that was now under the weight of so much water.
+
Outsiders:
Most of my research for this book was personal. The primary tension in this novel, maybe in all of my prose, is my twin desire to be both an insider and an outsider. I came to Oklahoma as a teenager, and I landed in a particularly rural, tightly-knit community where everybody is related to everybody else by blood or marriage and school yearbooks contain the names and faces of family members tracing back generations. People who went to my school had known each other since childhood, and even other "new kids" had simply shifted around from Clayton to Talihina to Buffalo Valley schools and knew each other already. I had arrived too late to learn how things worked or to ever seem completely at home.
I still feel a sense of being outside that culture, even after years of going back to visit family. I never quite fit in. But I enjoyed being an outsider, too: it meant I was free to leave, free to live whatever kind of life I wanted without feeling any obligation to people or places, free to reject the things that didn't interest me, and free to observe. I felt completely and utterly unattached to anybody else's expectations for my life when I left Buffalo Valley high school. There was something exhilarating about that. And something lonely, too. This desire to both have a home and be free of a home is something that I used to build my main character, Emily, who, like me, is still trying to figure out who she is in relationship to community.
Although my research did involve some digging into rural Oklahoma history, the Heartshorne that shows up in Echo Lake is not any place I've lived: it is an amalgamation of emotional and psychological terrain, rumors, history, and personal experience. Still yet, research helped me to help
ground this imaginary landscape in detail, human emotion, and a specific culture.
+++
Letitia Trent is the author of the novel Echo Lake, published by Dark House Press in 2014, the full-length poetry collection One Perfect Bird, published by Sundress Publications, and the chapbook You aren't in this movie, published by dancing girl press. Trent writes regularly for The Nervous Breakdown and the film magazine Bright Wall in a Dark Room. Her work has appeared in The Denver Quarterly, Fence, Sou'Wester, H_ngm_n, and The Adirondack Review.