Research Notes · 05/23/2014
Don't Start Me Talkin'
Our Research Notes series invites authors to describe their research for a recent book, with "research" defined as broadly as they like. This week, Tom Williams writes about Don't Start Me Talkin' from Curbside Splendor.
+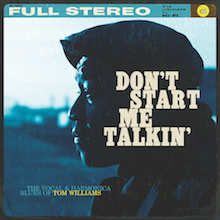 Despite three degrees and ample opportunities to improve as an academic researcher, I am little different from the freshman I once was, an idle loiterer in libraries who'd rather engage with the books and periodicals I encountered along the way than the ones my paper required. Many was the time, back in the middle 1980's, when I'd wish in vain for an article or monograph that would support the audacious claims (at least to me) I was developing. Many was the time it occurred to me that I might make up an author, title, city of publication and date and try to pass it off as something other than a complete fiction. As long as I had it in MLA format, I figured, none would be the wiser. I'm pretty sure I resisted such dishonesty, but the mischievous seeds found some fertile ground and flowered much later, in the two books I've seen published, The Mimic's Own Voice (a novella) and my current novel from Curbside Splendor, Don't Start Me Talkin'. In both fictions, I tasked myself with crafting bibliographies of entirely fictional scholarly works, and saw as much pleasure with these inventions as I experienced with plot, character, and point of view. Probably because I've been a writer in the academy for so long I just can't resist making up titles of scholarly texts: " 'The Roach Mugged the Rat for His Cheese': The Aesthetics of Social Critique" was my favorite in The Mimic's Own Voice while Jug Bands, Coon Cans, Bottlenecks and Criers: Blues and Its Performers topped the list for Don't Start Me Talkin'. Got to love those solemn colons.
But even with this clear foregrounding of my tendencies to invent sources, Don't Start Me Talkin' was not born wholly out of a counterfeiter's imagination. Four indispensable sources were Honeyboy Edwards's memoir, The World Don't Owe Me Nothing, Robert Palmer's Deep Blues documentary, Bill Ferris's incomparable study Blues From the Delta, and the alternately harrowing and hilarious Blues in the Mississippi Night, a CD version of a conversation between Big Bill Broonzy, Memphis Slim and John Lee "Sonny Boy" Williamson, recorded by Alan Lomax. (I heartily recommend everyone look up each.)
Whereas the freshman I once was wanted to make up sources when I couldn't find any, I now had in just those four above titles — along with the file of blues tidbits I've maintained since the first time I heard "Hellhound on My Trail" — almost too much. For blues musicians, perhaps by design, are among the most prolific mythmakers ever. Never mind that the abovementioned Sonny Boy Williamson was likely born and certainly recorded first, the Sonny Boy Williamson I adore was born, maybe, Aleck Ford, and also known as Rice Miller, yet he claimed he was the "original" Sonny Boy and swore he was born in the nineteenth century as evidence of same. I like to think the preceding demonstrates my dilemma: how can you make up something as great as that? Why wouldn't you just, as I was occasionally tempted to do, write biography or history of any of the blues' giants?
Well, the answer to that question is both simple and foolhardy: I wrote a novel because fiction is what I write, and I wrote a novel because I wanted to try and see if I could keep up with these great masters of self-invention, even though I was born in the 60s, and grew up in Midwestern suburbia, far away from the regions most associated with the blues: the Delta, Chicago, Texas, the Piedmont area. I wanted to see if, without the requisite talent to play any instrument or sing in anything approaching a pleasing manner, I could create my own kind of blues, one that drew upon all the stories that bluesmen have been telling each other for years, that bluesmen have been telling folklorists and scholars, have been telling their audiences. And in this endeavor, too much research, then, might still the heart of the fiction; too little would keep it from having enough resemblance to reality.
And yet I must have found the right balance. The novelist Steve Yarbrough was some help in this, as he told me that whenever he got stuck during the composition of Visible Spirits, he would pull out a copy of his Sears and Roebuck catalog contemporary to the book's historical period and would always find some object therein that spurred him forward. With Don't Start Me Talkin', I kept on hand many such inspirations: reference book entries, photographs, oral histories, the in between song patter between tracks on a live album, and of course, the music itself. I knew it unwise to try and tune my prose to the language of the blues (What the hell does Sonny Boy mean when he says, "Her daddy must have been a millionaire, I can tell by the way she walks?") but I could always find in its spirit and, sometimes, in its patterns, a way to get from one place to the other. I literally wrote the first draft of this book by hand, an array of postcard photos staring back at me, my ears cradled by headphones while Little Walter blew harp, Memphis Minnie moaned, Buddy Guy stung the strings, Professor Longhair "agitat[ed] the ivories" (to borrow a phrase from Sterling Brown — another important source), Irma Thomas wailed and Howlin' Wolf, well, howled. We say too often that such and such "inspired" us to write a book. Well, blues sustained me. Sonny Boy Williamson II thrilled me. So married had I been to this form and its makers, I can well recall listening to the Clash and Big Star in the days after I'd finished the book and feeling like I was stepping out. But, I can say, the blues forgives.
So, in the interest of symmetry, I'm trying to imagine what might happen should some indolent freshman accidentally happen upon Don't Start Me Talkin'. I hope that she or he recognizes that it is a novel and won't worry whether the characters are based on quote-unquote real people. But that when she or he does recognize some real personages among the fictions, that she'll use that opportunity to find out more about Mud, and Wolf and Koko and Mamie and then go and listen to their music, and keep following the thread back to whatever is the prime source, and then do whatever she or he can to keep the blues humming, which is what I hope I was doing all along.
+++
Tom Williams is the author of The Mimic's Own Voice (Main Street Rag Publishing Co). He has also published numerous stories, reviews, and essays, most recently in RE:AL, The Collagist, Booth, and Slab. An associate editor of American Book Review, he is the Chair of English at Morehead State University.