Research Notes · 11/29/2013
Creature
Our Research Notes series invites authors to describe their research for a recent book, with "research" defined as broadly as they like. This week, Amina Cain writes about Creature from The Dorothy Project.
+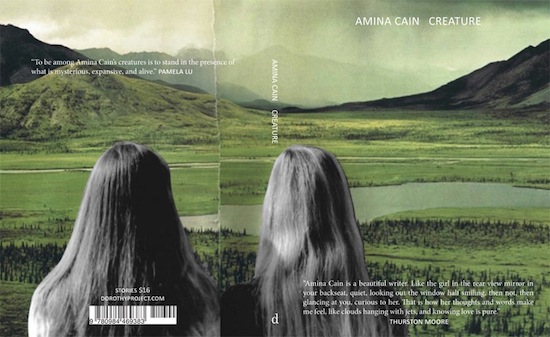 1. rejection in The Ravishing of Lol Stein by Marguerite Duras
2. California  
3. a cameo necklace
4. Dorothea in George Eliot's Middlemarch
5. Fred Wilson's Maryland Historical Society exhibition "Mining the Museum"
6. "The Blind Man" by D.H. Lawrence
7. Unnatural Acts
8. The Smoky Mountains 
9. plants
10. friendship
11. Ancient Dragon Zen Gate 
12. "Gallows" by CocoRosie
13. Marguerite Gardens 
14. The Frozen Thames by Helen Humphreys    
15. fulgurites
16. "Snow scene of a courtesan holding an umbrella being ferried across the Sumida River by a porter," after Utagawa Kunisada
17. Hannah Weiner's Open House
18. The Olympic Spa
19. a performance hall
20. Grizzly Man by Werner Herzog
21. The Columbia College library
22. Marya Timofeevna in Fyodor Dostoevsky's Demons
23. Daytona Beach
24. food
25. The Art Institute of Chicago
26. When Does It or You Begin?
27. Vitoria and a tropical farm in Clarice Lispector's The Apple in the Dark
28. waves
29. gold 
30. The Flower Ornament Scripture and The Diamond Sutra
+++
Amina Cain is the author of two collections of stories:
Creature
and
I Go To Some Hollow
. Her writing has appeared or is forthcoming in
n+1,

BOMB

, The Encyclopedia Project, Two Serious Ladies, the Denver Quarterly,
etc. She lives and works in Los Angeles. Visit her
website
.