Research Notes · 01/27/2013
Almost Gone
Our Research Notes series invites authors to describe their research for a recent book, with "research" defined as broadly as they like. This week, Brian Sousa writes about his novel-in-stories Almost Gone (Tagus Press).
+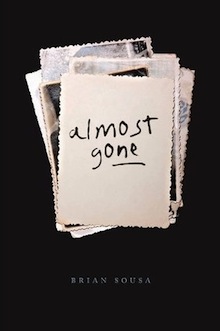 There are a lot of ways that I could begin this. Almost Gone almost didn't make it to the page. Almost Gone almost made me lose faith in the written word. Almost Gone almost forced me to realize that I should have stuck with being a parking lot attendant.
Or, Almost Gone was a result of sweat and patience. It was an indirect result of trips from California to Boston to Spain to Brazil to Portugal and back again. It was a direct result of reexamining and re-envisioning my roots.
But it was more than that. For six years, Almost Gone was almost a piece of me. A phantom limb in limbo, like a soccer match ending in a tie, or a bare-bones melody without harmony.
This is not a story that can be neatly untied. Rather, the notes here come in the form of a sprawling, disorganized road map. And it's probably best to start at the beginning.
In 2004, I went back to school at Emerson College in Boston. I'd only been out three years, and I'd spent most of them in Lake Tahoe. There'd been a brief stint in Brazil, where I was fired from my job and spent a few months backpacking through sweaty surf towns, sleeping on buses full of squawking chickens, and writing. To my cement-block basement apartment (which housed spiders, cockroaches, and one curious rat) I carted back a bunch of unfinished poems and stories. Years later, one story, based on the real-life experience of being hustled in the city of Salvador, would see print. Another, featuring a protagonist living a transient life in Fortaleza, would fall into place as the first chapter of Almost Gone.
At Emerson I was inspired by writers such as Lise Haines, Ben Brooks, Margot Livesey, and others. I soaked in ideas and began consistently writing at night, often with a tuna sandwich in hand, and if I was lucky, a can of cheap beer.
After a few rounds of scattered stories, some of the characters that began to emerge in my fiction seemed strangely, abstractly familiar. They were Portuguese-Americans, like my father, and his father, but I had no idea where they came from.  In the first piece, a gruff, elderly man named Nuno lounged in a dark bar, watching soccer on TV, but I didn't expect him to fall in love with a much younger woman in his neighborhood. And I was shocked when his son, Paolo, fell for the same woman.
Other characters and plot-lines emerged, and the stories intertwined. Almost Gone became my tattered thesis, and I finished my MFA. I began working at a college bookstore for nine dollars an hour, moved to South Boston, and spent my bus rides to work wondering what the hell I was doing with my life. Then, two small presses, one being Tagus Press out of Umass Dartmouth, expressed interest in the book. Before I'd received an advance, I had quit my job and was drinking a Stella-Artois at the pub next door, recounting the time that a customer steadfastly refused to believe I had both a BA and an MFA, because "I wouldn't be working here if I did."
To make a long story more convoluted, months passed, my book was put into a long line and, through no fault of the overwhelmed press, began to languish. I began teaching; it monopolized my time, but I liked the challenge, and I wasn't wrapping shot glasses in tissue paper as I did at the bookstore. My late-night writing habit resumed. Classes continued. I published a story from Almost Gone. The press gave me about a three-year estimate toward uncertain publication and let me out of my contract. I got to keep my advance. I'd spent my advance. I got an agent, who advised me wonderfully regarding edits, and began to shop my book around. Another agent, in LA, barked into the phone: "Write a novel!" I started one. I harnessed a few student loans and spent a few reckless weeks visiting my sister in London and backpacking through Europe. More writing ensued, especially in Spain.
At the behest of my agent, I revised even more intently. The semesters stacked like cards, the months thin and fleeting. I was lucky enough to go to Lisbon with my family, and my grandfather, to meet cousins and watch the European Cup, (my sister won the tickets) which, to a family like mine, is akin to grabbing breakfast with Pelé and President Obama. This trip, in particular, provided a visual reference point to everything I was describing, and better yet, offered insight into my characters and my family that I didn't know existed.
I returned to Almost Gone using my notes from Portugal. One month, I even burrowed into my journals from Brazil and wrote two new stories, and one lined up in perfect serendipity. We pitched Almost Gone to publishers and editors. I learned what "really nice passes" were, outside of the soccer field.
My home state, Rhode Island, awarded me a writing fellowship, and I spent a summer living with my parents near the ocean. There, I finished a draft of my novel; writing in the early mornings now, and spending nights at my favorite dive bar, where seagulls peered at me skeptically from their pilings. When I left Rhode Island for Boston, I wrote several stories that took place at the beaches there, then realized that these, too, were extensions of Almost Gone. One of them would later become an important chapter. The book was changing shape as my world rotated and spun.
One fall, my agent went back to school, and I endured a tenuous relationship with a new agent, but not before we'd gotten 'close' to a two-book-deal. The highs were drastic and addicting, and the lows were sticky and static—it felt like snowboarding all over again. I'd begun to feel as though I would simply continue to fill up separate desk drawers with different manuscripts. However, the latest agent left me with some resonant advice about a key character in the book—the woman that Nuno and Paolo had both fallen in love with—and I wrote an entirely new beginning to the book, which took place in Spain, and featured some of the writing from my trip there.
The rejection letters, passes, and occasional letters of encouragement from agents and editors trickled in, and the book now resembled a jigsaw puzzle that lay invitingly on the table. In 2011, on the suggestion of a friend, I applied to the Disquiet Literary program in Lisbon. As with any application, I worked hard and then put it out of mind. A few months later, I learned I would be going back to Lisbon to study under Frank Gaspar, a legendary Portuguese-American novelist and poet. That summer, the Disquiet program, Frank Gaspar, and the magical vibe of the city of Lisbon provided an excess of inspiration. At a bar, a conversation with Frank about surfing in started a chain of events that resulted in Almost Gone being placed back on the table with Tagus Press—which was now teamed up with the University Press of New England.
Back in Boston, I revised with a singular focus. I had notes from readers and editors at the press, and from Frank, who selflessly invested his own time in the book. The book was accepted, copy-edited, and is now due out next month. After all of the conjecture, the confusion, and the elation, Almost Gone is almost published.
Except for one thing. There was talk of changing the name of the book from Almost Gone to… something else.
About this, there could be no 'almost.' I stuck to my guns. I held fast. I wouldn't go back.
I couldn't revise.
+++
Brian Sousa's stories and poems have been published in various journals and anthologies. He teaches writing at Boston College.