Research Notes · 06/19/2015
A House Made of Stars
Our Research Notes series invites authors to describe their process for a recent book, with "research" defined as broadly as they like. This week, Tawnysha Greene writes about A House Made of Stars from Burlesque Press.
+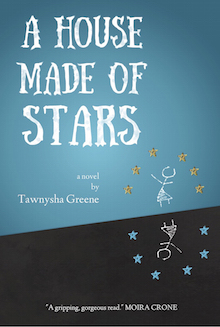 The final assignment for one of my first graduate classes in fiction writing was to write a secret story — one that would not be workshopped by the rest of the class and read by my professor only. The main stipulation was that this story needed to take risks whether they be in the form of content, form, style, or all of the above, and these risks needed to be ones I had never before tried. I decided to write a series of flash fiction pieces from the point of view of a child — I had never tried to write flash fiction, and many of my stories up to that point had been centered around older characters.
The secret story became the central narrative of my dissertation, a novel with short, flash-like chapters, and encouraged by my writing teachers, I began to research child narrators and what exactly a coming-of-age process entailed. This was an invaluable experience for me, and some books became my constant companions as I would revisit them and study their characters. Bastard Out of Carolina by Dorothy Allison, White Oleander by Janet Fitch, Housekeeping by Marilynne Robinson, Salvage the Bones by Jesmyn Ward, and my favorite, The House on Mango Street by Sandra Cisneros, were my lifelines and gave me glimpses into how to create a young narrator.
I found that communication played a large role in the coming-of-age processes for these narrators as they learned to speak for themselves, so I decided to explore a language that I had always loved while growing up — American Sign Language. While the novel is fiction, my narrator and I do share some similarities — we are both hard-of-hearing and have one or more deaf sibling. I revisited a lot of the sign language dictionaries I had used when learning to sign, but most helpful were the dictionaries I discovered online as these had short video clips of a model forming each word with his or her hands. These were wonderful resources as I could pause these videos and play them in slow motion so that I could write down how these signs were made and better describe these words to a hearing audience.
I along with my three siblings were also homeschooled much like my narrator, so I went into my attic and dug out the things I still had of these years — old essays I had written, the illustrated copy of Pilgrim's Progress I had read, and the Bible I had used year after year as part of my studies. The Bible was well-worn — falling apart, truthfully — but many of the passages were highlighted and underlined, the words read and memorized many times as part of our homeschool curriculum. Even so, it was interesting to go back and read through the notes I had written in the margins during the church sermons and Bible studies my family attended during the week. The stories I secretly liked most were ones in which the women defied the traditional feminine model of meekness and submission — stories of Jael, Esther, and Deborah — and these anecdotes began to find their way into A House Made of Stars, symbols for the journey my narrator finds herself undertaking in the novel.
My favorite part of the research, however, was on a topic of which I knew nothing about — the stars and the stories of how those constellations were named. I found the story of Cepheus, the King of Aethiopia, fascinating and relevant to the novel. Depending on its position in the night sky, the constellation also resembles a house tipped over on its side, hence the title of the novel, A House Made of Stars. This research led me to discover other stories I had never before heard about Cassiopeia, Andromeda, and Perseus, and the tales behind these constellations are also relevant in their own way, playing small roles in A House Made of Stars and the novel's sequel, an untitled book I am currently writing.
Regardless of the stage of writing, research is something that I have found continually enriches a story. Therefore, I am constantly researching and never isolate it as its own stage of the creative process. Hours of combing through archives, perusing databases, and even scrolling through Google search results always unlock something for me, whether it be an important plot point, character trait, or even the title of the novel itself. They are breakthroughs much like the ones my professor wanted me to discover years ago when she told me to write a secret story, to open my mind and try something new.
+++
Tawnysha Greene
received her PhD from the University of Tennessee where she served as the fiction editor for
Grist: The Journal for Writers
. Her work has appeared in
PANK

, Bellingham Review,
and
Weave Magazine
.